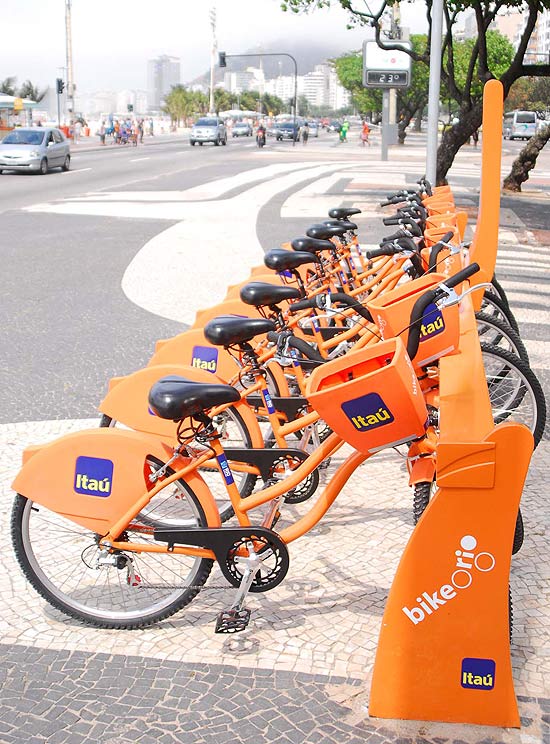 São Paulo will install 300 bicycle stations, each with 100 units available for rental. The scheme is similar to those in Paris, London, and Rio de Janeiro.
They will likely be free to use for the first hour or so, then incur charges after that. They're sponsored by Brazilian bank Itaú.
It's a bit of an understatement to say that São Paulo is not a bicycle friendly city. The streets are completely packed with cars, many of which appear just as happy to take out a cyclist as they are to slow down and go around them. Many who cycle to get around in London, Paris or New York would never think of trying it here.
But that could be changing. As the number of cars skyrockets, deciding to sit in traffic makes less and less sense.
There is still an outdated social status attached to driving a car here. But that has disappeared in much of the world, even in car-crazy California.
Ten years ago no one in Los Angeles used a bike to commute. Now it's perfectly normal. Twenty years ago few in London were doing it either. Now the mayor of London bikes to work. It's hard to imagine São Paulo mayor Gilberto Kassab doing the same.
But for the sake of the environment and urban harmony, let's hope the rental scheme is a push in the right direction. Extremely powerful Itaú is behind it, and it has been a success in Southern Rio de Janeiro.
But it's a different world over there. The Zona Sul Carioica is a flat beach community and people there go through life leisurely. That is not the case here.