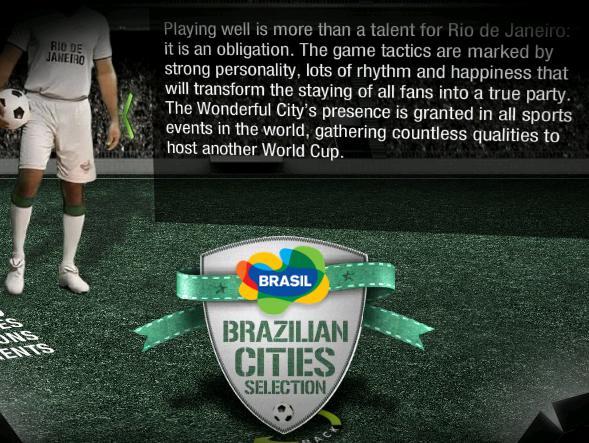 This does not look promising.
The good news is that Brazil has unveiled a site that allows potential visitors to get to know the host cities for the 2014 World Cup. The bad news is that you must learn another language. No, not Portuguese, but some kind of bizarre English-Portuguese hybrid.
There are some real gems here:
São Paulo: "One of the players that master the halfway line. Leading the main moves of the team"
Brasília: "Headquarter to the Government of Brazil, Brasília leaves nothing to desire when compared to the main metropolises of the world. And if you are seeking for a true great game, there is no better place."
Salvador: "Cheers the fans with brilliant moves full of swing, typical to its people."
Cuiabá: "Known for the gold extraction in past centuries, it is now rich in diversity of the Amazonian fauna and flora, and that of Pantanal."
It goes on like this.
It is a bit too easy for foreign journalists to continually beat up on Brazil for supposedly not being prepared to host either the 2014 World Cup or the 2016 Olympics. With so much time before the events, I think this question often dominates international coverage much more than it should, and I have little doubt that despite whatever problems may arise, both will be great experiences for most everyone involved.
But, as Andrew Downie points out:
Brazil's Tourism Ministry has a reported annual budget of 180 million reais (around $100 million) to spend on enticing visitors to come to Brazil.
Would it really be that difficult to hire a native English speaker to do the translations?
No. Brazil is not a poor country, nor is it lacking in expertise.
Note to the Brazilian Ministry of Tourism: If you're looking for an official translator, I'm available. I'm not joking.
Thanks to Andrew Downie's Brazil Blog for spotting this.