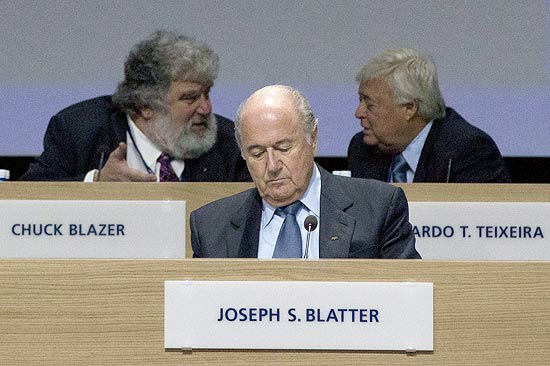 If you were President Dilma or Sports Minister Aldo Rebelo, would you be happy to receive this letter from FIFA boss Joseph Blatter?
I just got a curious email from a PR, and the obvious intent was to inform me, the journalist, that everything is getting better between FIFA and Brazil. But: 1) the fact that this letter needs sending at all is a problem and 2) it seems like Blatter is saying the same thing General Secretary Jerome Valcke said, but with fancier words.
If you haven't been paying attention, Valcke told Brazil the country needed "a kick up the backside" to get things going in preparations for the World Cup, setting off a huge diplomatic row and leading Brazil to refuse to deal with Valcke anymore.
This is the letter in full. I have bolded the parts that would make me mad if it was sent to me.
Dear Minister,
First of all, please allow me to express my deepest regret for the present situation. I am gravely concerned about the deterioration in the relationship between FIFA and the Brazilian government, a relationship that has always been characterized by mutual respect, as you rightly point out in your letter of 5 March 2012. In the meantime, you have also received a letter from the FIFA Secretary Jerome Valcke and I have no further comment on this matter other than to say that both as FIFA President and personally, I would like to apologize to all those – above all the Brazilian government and President Dilma Rousseff – who feel that their honor and pride has been injured.
Nevertheless, dear Minister, we should and must work together. We have a common goal – the organization of an extraordinary World Cup in the land of football, in the land of champions. Brazil deserves to host the World Cup and the entire world is looking forward to it. However, the sands of time have been running since 2007. Therefore, let us not waste time on entrenching our positions. Let us instead build something great together, as promised by President Lula during his presidency. I will be travelling in Asia in India, Bangladesh, Bhutan and Nepal until 10 March, and afterwards I would like to meet President Rousseff and yourself as soon as possible – ideally next week.
I trust in your understanding and willingness to arrange such a meeting. Furthermore, I would like to convey to you my utmost respect and also kindly request you to send President Dilma my very best wishes.
Yours sincerely,
 FIFA
Joseph S. Blatter
President
"Brazil deserves to host the World Cup" ? Well, that is just so very, very nice of you to say, Joseph.
Links:
World Cup Planning at a standstill as FIFA and Brazil trade insults (Andrew Downie Blog)
Brazil World Cup – Please enjoy your staying (terrible English on Cup site, from this blog) 
About this blog