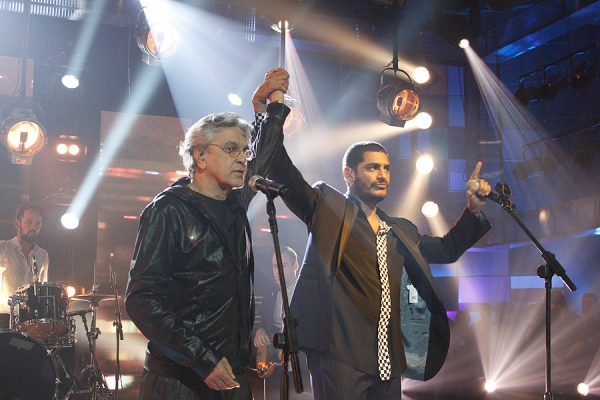 Brazil's reigning musical deity has given his blessing to its newest national poet. Criolo has broken out of the the ghetto, but he has taken the ghetto with him.
by Dom Phillips, in Rio de Janeiro
The thousands packed into Brazilian rapper Criolo's show last Saturday at Rio's cavernous Fundição Progresso were already jubilant when God walked in. God's appearances are rare these days, and this one came unannounced.
God was silver-haired, wearing what appeared to be an elegant, if casual, blue-grey Nehru suit and what was most definitely a huge smile. He danced enthusiastically with Criolo as the two performed the rapper's biggest hit, the bitter 'Não existe amor em SP' ('Love doesn't exist in São Paulo). God takes many guises, as any good Christian knows. In this case, his name was Caetano Veloso. And the response that greeted his arrival on stage was suitably ecstatic.
I am joking, of course. There are a number of religions in Brazil (Catholicism, Evangelicalism, a spiritualist movement that combines Christianity and reincarnation, inspired by 19th Century French philosopher Allan Kardec, who in turn has given his name to more than one soccer star, amongst others, but I digress…), and Veloso is not a God in any of them.
But he is a sort of demi-god in the stellar universe of Brazilian pop, or MPB, one of those stately, dignified, intellectual figures – philosopher kings, if you like – that Brazilians adore and admire and whose opinions are both venerated and newsworthy. Like fellow MPB artist Chico Buarque, and perhaps, if only in São Paulo and at the breaking point, former president Fernando Henrique Cardoso.
Both Caetano and Buarque have given Criolo their all-important blessing: Caetano even performed the same duet with the rapper at the Brazilian MTV Awards, where Criolo won three prizes for his debut album 'Nó Na Orelha'. His appearance on stage at Criolo's show was not just a surprise, but a powerful endorsement of how far into Brazil's pop mainstream Criolo has reached.
Released in 2011, 'Nó na Orelha' ('Knot in the Ear') has become that gift horse that the music industry calls a 'crossover hit' and never looks in the mouth. It has spread beyond Brazilian hip hop's natural base of disadvantaged youth living in poor suburbs, the perifería, or shanty towns, favelas, to land in the living rooms of the descolado (switched on, cool) Brazilian bourgeoisie. And it deserved to, for the intelligence and sensitivity of its lyrics, for the dexterity with which it blends rhythms as varied as bolero and samba with hip hop beats and luxuriant melodies. For songs of quality that can be sung along to.
Thanks to its success and shows like this, Criolo has become a crossover urban artist with mainstream appeal – much like British rap group Massive Attack in the 1990s, or British Sri-Lankan singer/rapper M.I.A. this decade. He is perhaps the first Brazilian rapper to do so.
Unlike in the United States, where the appearance of an in vogue rapper like Nicki Minaj or M.I.A. on a Madonna album is of benefit to both sides – Madonna gets the youth cred, Minaj and M.I.A. get the visibility of a duet with the Queen of Pop – Brazilian rappers are not part of the pop culture mainstream. Hip hop is a culture apart.
When saccharine pop singer Wanessa Camargo wanted a guest rapper on a pop-rap hit, she chose an American, Jar Rule.
Rio has its own, frenetic, tinny, electronic style called 'funk', whose lyrics are frequently x-rated. A style more reminiscent of hip hop's North American roots thrives in São Paulo's endless asphalt jungle, out in the periferia, where Criolo has been rhyming for 20 years.
Like classic New York rappers such as Nas or Guru before them, the better São Paulo wordsmiths don't just deal in cliché. Criolo's song 'Não exist amor em SP' describes a bleak, urban hustle of bars packed with empty souls, where greed vibrates and vanity excites. Caetano wasn't alone in recognising its poetry.
I interviewed Criolo for a music magazine in December 2010, in the far-flung São Paulo favela of Grajaú where he grew up and was still living in with his parents. Their house was piled high with books: his mother Vilani ran a 'Philosophy Café' in Grajaú. Later, his performance was the highlight at a festival of independent hip hop, held in a stiflingly-hot warehouse by a reservoir.
Then, wearing the shirt of his football team, São Paulo's Corinthians, he performed an uncompromising set of hardcore urban hip hop over a backing tape to a crowd of hundreds of the faithful. Now he has a backing band – and is dancing on stage with God, looking every centimetre the rock star, charismatically jerking in a white collared shirt as if possessed by invisible demons. In one of Rio's biggest venues.
A handful of songs – all sung, not rapped – took the sound in intriguing new directions. But hip hop also made its presence felt – a forceful guest appearance by another São Paulo rap star, Emicida, playing the much smaller Circo Voador next door that night, set the crowd jumping, as did performances of the album's rawer rap tracks.
Grajaú was not forgotten: a member of the favela's community samba ensemble, O Pagode de 27 (27 Pagode – or street samba) put in a guest appearance, in the troupe's red and white, soccer-style strip. Nor were richer members of the audience able to buy their way into a cordoned-off 'VIP' area stage front – as they were at the show British rock singer Morrissey performed weeks before. Criolo's crowd is as varied as his music is democratic. Brazil's first crossover rap star may have successfully broken out of the ghetto, but he has taken the ghetto with him.
Dom Phillips is a British journalist and writes for The Times of London, Bloomberg View, The Daily Beast, People Magazine, and British Soccer magazine 442. He has been in Brazil since 2007 and now writes From Rio for the From Brazil Blog. He is the author of Superstar DJs Here We Go (Ebury/Random House 2009).