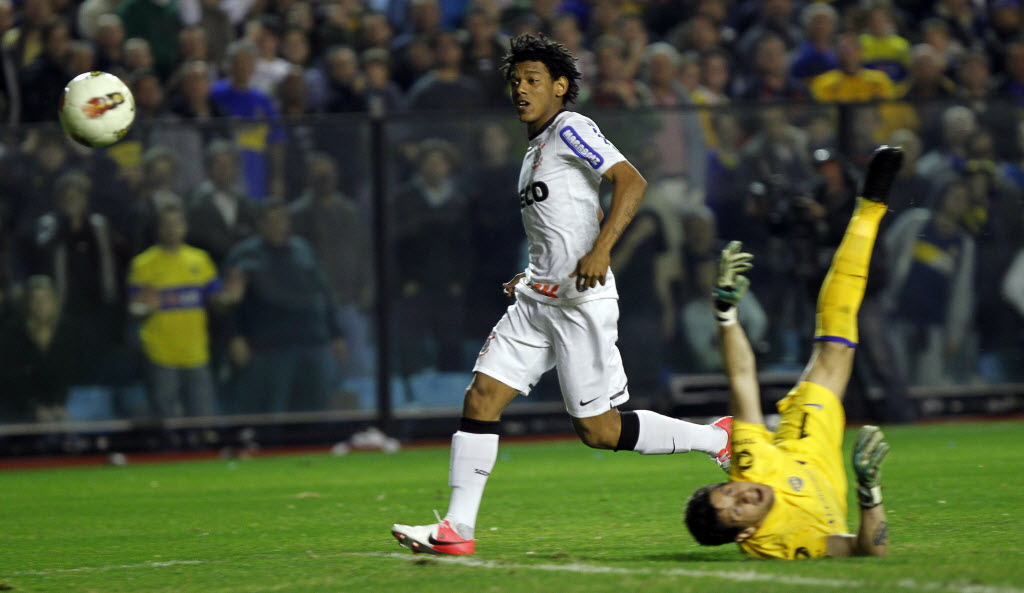 São Paulo's gritty Corinthians will take on Boca Juniors of Buenos Aires Wednesday, in a rematch of last week's thrilling tie. The match, set for 21:50 at São Paulo's Pacaembu stadium, is the second of the two-part final that will determine the champion of the continent.

By Dom Phillips
One-nil down to Boca Juniors in their gladiatorial La Bombonera stadium in Buenos Aires is not a good place for any team to be. Especially when it's the final of the Libertadores Cup – South America's equivalent to Europe's Champions League. But Corinthians went down 27 minutes into the second half, after a shot by Roncaglia emerged from a goalmouth scramble.
But with the sense of drama that is one of their trademarks, São Paulo's Corinthians somehow pulled it back with a dazzling and opportunistic goal from 21-year-old substitute Romarinho that silenced La Bombonera. In the 40th minute of the second half, four minutes after entering the pitch. It was the stuff soccer folklore is made of.
The young hotshot had already scored against twice against São Paulo rivals Palmeiras the previous Saturday. He's scored three goals in just four games for the team. But it doesn't get much bigger than a Libertadores final – and now everyone in Brazil knows who he is.
And Corinthians are a team currently lacking a matador, killer, or goalscorer. Instead it is a job divided amongst the team. Consequently Romarinho's moment didn't just put Corinthians back in the game, it put the trophy that has eluded the team for the 53 years of the championship's existence back within reach: with away goals counting double in the event of a draw, 1-1 is not a bad starting point for Wednesday's decisive second game at São Paulo's Pacaembu stadium.
But there is still a long, tense 90 minutes to go for Corinthians, in front of a crowd rabid for victory. Nerves could very easily fail them. Boca have a strong team with strikers like Riquelme capable of putting the wind up the home side. History is not on Corinthians' side: in nine Libertadores games in Brazil since 2000, Boca have only lost one.
And Boca goalkeeper Orion has been stoking the Brazilians' nerves with provocative talk of a Boca turnaround victory. "Brazilians feel troubled against Argentineans," he told Fox Sports Monday. "Boca's statistics weigh heavily. I hope we can continue feeding this." He added: "We're going to win and bring home the cup."
Not if Corinthians can do anything to stop them. This is a team that can feel the hands of football history on their shoulders, along with the weight of expectation of 30 million fans, and the eyes of the whole of Brazil. Whatever happens, it should be one hell of a game. And if all else fails, there's a 21-year-old substitute called Romarinho on the bench with stars in his eyes.
[photo above: The now-famous Romarinho slips one by Boca and makes a name for himself, last week in Buenos Aires]