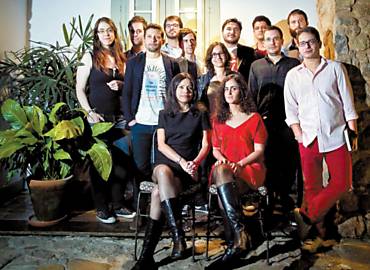 A collection of work from 20 of Brazil's 'best' young writers has set off a mini firestorm of discussion, including as to what Brazilian literature really is these days.
By Claire Rigby
As the Flip literary festival recedes into the past and the São Paulo Book Bienal approaches, last week's series of post-Flip events included a gathering in São Paulo to celebrate the launch of the new Granta anthology of Brazilian writing. Published by Alfaguara, the local licensee of the British literary magazine, the collection of short stories and excerpts from forthcoming novels features the work of twenty promising new writing talents, born since 1972. Or as the book's title puts it, The Best Young Brazilian Writers (Os Melhores Jovens Escritores Brasileiros). And with that blunt 'Best', and no qualifying 'of', the polemics commenced.
The keyboards of literary journalists, bloggers and tweeters clattered into action, and an Off-Granta blog was launched to host the submissions that didn't make it into the collection (Granta received 247 in total). Granta's UK editor, the American John Freeman, in Brazil for Flip and for a series of engagements in Rio and São Paulo, found himself questioned repeatedly about the title, the selection and the selection process. At Flip and at later events, Freeman was unruffled by queries about the wisdom of Granta's calling these twenty writers 'the best', good-naturedly pointing out that anyone has the right to state that something is the best, and everyone has the right to beg to differ.
Raquel Cozer's books blog here at Folha, A Biblioteca de Raquel, has hosted much of the debate in the comments section; and in a memorable post on his blog, Uma Confraria de Tolos, the critic André Barcinski threw in a little perspective: 'Hardly anyone has read it, but the collection … has already provided a lot to discuss. "A lot to discuss" might be a bit of an exaggeration: like everything to do with literature in Brazil, it has been the subject of intense debate by 13 or 14 people on Twitter, and at the odd table in [Rio's] Baixo Leblon, or at [São Paulo's] Mercearia São Pedro.'
Referring to the latter, a bar favoured by journalists, novelists, culture vultures and wannabe creatives in the neighbourhood of Vila Madalena, Barcinski observes, 'If a runaway lorry crashed into Mercearia São Pedro as it was rounding the curve, it would take out half of that new generation of writers, and about 70% of its readership.'
Literary lineup
Granta, meanwhile, is accustomed to the occasional hoo-ha: you can't make omelettes like its decades-long series Best of New British Novelists without breaking a few eggs, and there has been the odd small, polite scuffle before in the wake of its anthologies, mainly based around this or that writer's eligibility. But beginning with its first Best of British anthology in 1983, Granta prides itself on having included future literary stars of the likes of Ian McEwan, Kazuo Ishiguro, Salman Rushdie and Zadie Smith in its top twenties – although Brazilian novelists wounded at being omitted might comfort themselves with the many 'best of' authors of whom little has been heard since.
Curiously, the British and American anthologies do include a mitigating 'of' in their titles – Best of Young British Novelists – which may suggest that it was the Brazilian editors who decided to leave the book preposition-free in Portuguese. Consciously? Thoughtlessly? We don't know.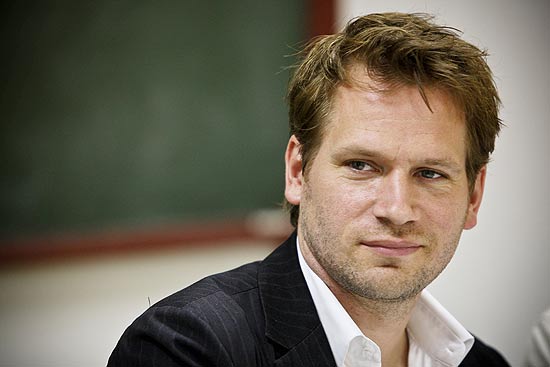 Either way, with the stories in the process of being translated into English for release in the UK in November, followed by editions in Spanish and Chinese next year, and possible versions in German, Finnish and Hebrew (Granta has branched out into international licensing operations in all those languages and more in recent years), the most interesting upshot of the anthology has been to bring new Brazilian fiction into the spotlight.
Fictional heroes
So what does new Brazilian fiction look like? If this anthology is anything to go by, it's thoughtful and cerebral, given to memory and to the confessional. It's keen on the first-person, and often semi-autobiographical. It's controlled, careful and polished. It's serious rather than comic or satirical. And it's predominantly white and middle class, concentrated in the prosperous south of this almighty country. Most of the twenty writers are from the states of São Paulo, Rio de Janeiro and Rio Grande do Sul, and many are journalists, some even literary editors. 'No surprises there,' reads part of a delightfully bitchy blog post, 'E Lendo a Lista da Granta', from one author, Santiago Nazarian, who didn't make it into the book. 'They're all academics, all heteros, dressed like writers. That's important: to APPEAR to be a good writer.'
So literature favours voices from society's culturally and economically hegemonic, well educated classes. So what's new. Speaking compellingly at Granta's British Council-sponsored event during Flip, the British–Caribbean writer Andrea Stuart, a contributor to Granta's most recent UK magazine issue, made the same observation of Britain's literary and cultural scene, zooming in to detect establishment blind spots regarding the lives of many of London's people. 'When Britain is being sold abroad, so much of London life is completely excluded,' she said, in a discussion with Freeman and the Welsh writer Cynan Jones. 'I'm interested in updating its narrative, making it interesting and complex rather than contiguous with a long, unworkable story of the past.'
Cosmolândia
As these twenty stories roll out into the world to represent Brazilian literature, as they must whether they like it or not, with Granta's gravitas behind them, one of the most noticeable aspects of the selection is the 21st-century, flattened-out internationality of many of the texts. (I've read a quarter of the stories, and read parts of most of the others in the course of writing this post.) Antonio Prata's beautifully written tale of social mobility and its attendant childhood oneupmanship, triggered by a remote-controlled car, could be taking place in almost any suburb anywhere in the Western hemisphere. Luisa Geisler's stressed-out business traveller protagonist hurries, fretting, to meetings and flights via a series of anytown escalators. In other stories, characters think back to Paris, London, Montreal; and Michel Laub's engaging chronicle of dead pets and memory slips backwards and forwards in time easily against a backdrop of Porto Alegre and of São Paulo's Rua Augusta; but it, too, might be a tale being told in any city.
None of the stories are less enjoyable or well written for it, but you wonder how they'll read in all these other languages: in Chinese. As readers, are we content with great writing from our foreign literature, or do we crave exoticism? The story by Cristhiano Aguiar, a writer from Paraíba in Brazil's vast North East, has a little more of it than most, and the two stories in the anthology set in Rio de Janeiro are drenched in the stuff, notably in Tatiana Salem Levy's gorgeous account of a return to Rio from years in Lisbon, where Rio is thick with heat and sweat, the summer, the sea and a delicious sort of tropical melancholy.
But all of the stories, if only the translations manage to preserve some of it, gleam with the rounded, corpulent beauty of Brazilian Portuguese. As Ian McEwan observed, spot on, during his debate with Jennifer Egan at Flip, it's 'nasal and liquid at the same time, like a very full-bodied red wine being poured'. And there's a lot of it about. This anthology is just one of a series of anthologies recently launched (see below), and further developments await Brazilian writing in the world – Brazilophilia has spread to publishing, too, with next year's Frankfurt Book Fair featuring Brazil as the spotlight country. Saúde.
Other recent anthologies of Brazilian literature
Photo above: Some of the 20 'best' at the launch party at FLIP