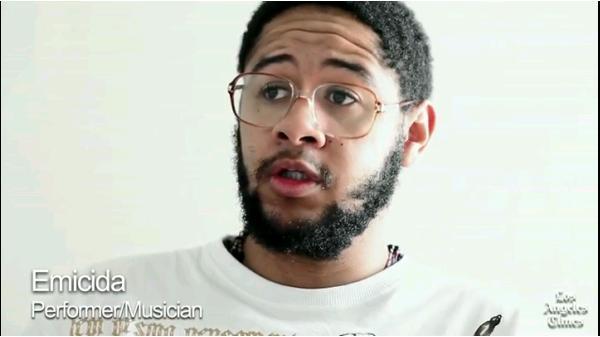 Emicida, one of the stars bringing Brazil's intelligent, poetic, and radical hip hop scene into the spotlight, speaks to us for the Los Angeles Times.
On Sunday, I published this article on the rise of rap music in Brazil, featuring quotes from interviews with Criolo and Emicida. Below is the (relatively) complete transcript of the interview with Emicida. Criolo transcript coming next.
In the in-depth discussion, Emicida he takes on a broad set of issues, and doesn't shy from controversy. He compares Brazilian rap to US rap. He calls out Brazilian media as "racist" and "ridiculous." He calls for land reform and better treatment of the poor and indigenous.
"At the closing ceremony of the Olympics, we put on display all the things we love to sell to foreigners – native Brazilian culture, capoeira, samba, but these are all things that are being killed back at home."
Click here to read the original LA Times article, or click "continue reading" below to see the full transcript
VB is Vincent Bevins, EMC is Emicida
VB What is Brazilian rap? How is Brazilian hip hop different than hip hop in the US?
EMC: Well, both countries have distinct literature, and this influences the forms the rhymes take and the way the words flow. English is a much more monosyllabic language than Portuguese, so you [English speakers] can find different lyrical solutions whereas we have to employ some more clever subterfuges. Our poetry is different, but the themes were the same: the ghetto, the margins of society, drugs, violence, ascendance.
From the beginning of the 80s until the early 90s, we were highly influenced by everything that came from the US, so a lot that happened in Brazilian rap, just like in other countries at the time, was basically just ripped off from what the Americans were doing.
But then it began to take on Brazilian elements. I can see in [1990s left-wing rock group] Nação Zumbi some spoken word music, something like rap, but with tambores and more Brazilian instrumentation, in this case derived from Northeastern Maracatu. Then you have Marcelo D2, Rappin Hood, Filial. The themes changed, the metric schemes changed.
But I think the main difference between our hip hop and US hip hop is that here, we've been more daring, because the market is smaller. There, the market is so big, and they have to supply a demand according to certain standards and certain requirements.
People outside Brazil see a similarity here now with the moment that American hip hop went through in the 90s, the famous "golden era", where they were flirting with jazz, with soul, when so many revolutions took place. And we're going through that moment, but with one addition: in addition to knowing jazz, to knowing soul, we have this huge cauldron of Brazilian music to drink from.
So that's it – we're able to insert elements of our culture without losing what is so rich in rap – its simplicity and its impact.
VB: It seems there's another similarity with the 1990s – the rap scene here is now entering the mainstream. Why did that take so long here, and will that change Brazilian hip hop, like it did the in the US?
EMC: I think the delay was partially because of our posture. Racionais MCs, Brazil's greatest rap group, had a rule of not appearing on TV. A lot of people were influenced by this, and even if they didn't agree, refused to interact with the media. That created a blockade. But as the years passed, some people pierced that blockade. That's been developing slowly for 15 years.
But it's a delicate question, because now we may be losing that freedom that I spoke of, because now we need to sell…we're creating a demand and now maybe we have to sell millions of CDs…but one thing that comforts me is that the major groups continue to be independent. Racionais MCs, Rappin Hood, MV Bill…so we still do have this freedom. It has been the radical political discourse that brought hip hop the respect it enjoys now.
[[Editor's note – Racionais MCs did appear at this year's MTV Video Music Awards, where their video, "Mil faces de um homem leal" won. It's not a compromising video, to be sure – it celebrates radical Marxist guerilla Carlos Marighella. When it won, Emicida jumped up and cheered]]
VB: But you talk with everyone, right? You talk to Globo, etc.
EMC: Right.
VB: So why don't you personally agree with that old prohibition?
EMC: Let's start with the main point: we started making music because we want to change the world. We started making music, because, before anything else, we want to show that art could change our reality.
So, any show that respects me, that respects my music, I'll go. I'm relaxed there. My mother was a domestic employee, cleaning the houses of the rich, and I've always lived between these two worlds. I always wanted to build a bridge, not a wall, between them.
VB: So what brought you into the rich neighborhoods as a kid?
EMC: My mom had no one to watch us, so she took us to work with her.
VB: Let's talk about that. How else did your childhood, your personal story, affect your music?
EMC: Damn, that question is big as fuck, isn't it?
VB: Ha, yes, yes. What parts stand out especially?          
EMC: Man, I had a relatively tranquil childhood. There were some tough paths, such as the loss of my father.
VB: What happened?
EMC: Well he died in a fight, you know? A fight with my cousin. He pushed him and he hit his head and later died from cranial trauma. That was in 91-92. That really affected me. From then on I became a real quiet kid, and I found my escape in comics, in those stories, and in music. I started to read a lot because I wasn't going out to play with the other kids.
That's when hip hop entered my life as some kind of therapy, you know what I mean? I wasn't talking to anyone. I still have a hell of a time with that, but I can write a song about a certain theme.
And on the streets the kids were going to paint graffiti. Today there's a lot of talk of rap, rap, rap but at the time it was the hip hop movement. B-boys, graffiti, DJs, MCs, all of that. It wasn't a market, just a scene. Market came later.
VB: And what were the musical influences when you entered that scene?
EMC: Well my dad was a DJ, he played at dances.
VB: What did he play?
EMC: Black music – Earth, Wind and Fire, The Manhattans, Dionne Warwick, Marvin Gaye…so I was close to that. I got to know rap later, and I got to know Brazilian rap before American rap. So if you listen to "Pânico na Zona Zul", by Racionais MCs, it's very similar to Public Enemy. But I thought Public Enemy was ripping off Racionais MCs! Crazy.
Later I got into Cypress Hill, Tupac, Notorious BIG. You know, we always gravitated to the "gangsta" side of hip hop. Boney…
VB: Boney?
EMC: Bone, Thugs, N Harmony. But here we called it Bone. Lost Boys, and Wu Tang Clan. When Wu Tang Clan arrived it was crazy, I got the cd as a present from a rocker friend. They'd given it to him saying it was rock. And he said, "This shit isn't rock!' and gave it to me.
VB: But if I'm going to compare Brazilian hip hop with American hip hop, there are more similarities with the 90s – it is more intelligent, more poetic, and political than hip hop tends to be now in the US. Now it's club music, party music.
EMC: Without a doubt.
VB: Like, we have songs about taking shots of tequila. Is that going to happen here?
EMC: I think the themes will change, but I pray that people here will opt for quality. But we have a unique opportunity, because we can look at everything American hip hop did, and we can grab the things we think were correct, and leave aside the errors.
There will be new names here rising here as a result of the press attention. But it's been the same there. At the same time that you have 50 cent or Ja Rule, you also have on the other hand KRS One, or Mos Def, You know? Talib Kweli. Artists closer to hip hop's roots.
VMB: What do you want to do with your spotlight. What was the thing you said at last year's VMB, for example?
EMC: It's a part of a song, called "Samba do fim do mundo". It's about the revolution…for common people, you know? We're seeing new horizons. It goes like this:
We are the debunkers of Carnaval/
Runaway slaves on digital drums/
The phoenixes of Ash Wednesday/
The Landless Workers Movement of the social networks/
We know where kids come from, don't be alarmed/
Like the kids know where weapons come from/
Money comes from Jews. Oil from Arabs, businesses/
But the blood and sweat is always ours
It's about an agrarian reform in Brazilian music. It's necessary. Just like the rich landowners dominate physical space in Brazil, this works as a metaphor for the media and communications conglomerates that dominate Brazilian culture.
I think Brazil is going through a new moment, getting to know itself as a result of social networks. For example, it's a huge victory to have an artist like Gaby Amarantos, from Belem do Pará, who comes from completely outside of the standards dictated by the culture industry in Rio and São Paulo. It's amazing to see her be able to succeed.
VB: That works as a metaphor, to be sure, the agrarian reform. But do you think Brazil needs real land reform, literally and physically?
EMC: Yes. I think we need it urgently. At the closing ceremony of the Olympics, we put on display all the things we love to sell to foreigners – native Brazilian culture, capoeira, samba, but these are all things that are being killed back at home. They've just passed a law approving quotas for black students in universities and people took to the streets protesting, can you believe that? We put our indigenous population on stage in London, while we build the Belo Monte damn that will throw them off their land. Brazil has been killing our indigenous population for 512 years without the slightest bit of remorse.
VB: You've just launched a company and label, Laboratório Fantasma. Why?
EMC: I want to grow. KL Jay [[Dj and producer of Racionais MCs]] always said: "If you give people a dirty cup of water, they'll drink it. If you give them a clean one and a dirty one, they're going to drink the clean one." That's what we're doing here. The idea is to give people an option.
We saw that our music was being sold in the streets, and that meant we could really be part of the culture of the people. So now you have both someone like Ivete Sangalo, signed on Universal and hugely present in the media. And then you have Emicida. The option is there, it's there in the streets, and the people buying music in the streets now what is going on. Even with the police chasing them around for selling pirated cds, they know.
In Brazil there's a culture of trying to kill off all other options. Take a look at our media…what can I say? Now, they can finally be questioned. They're in panic because of social networks. That's ridiculous in the 21st century. This is something the big newspapers haven't learned to deal with.  We had a big paper like Folha de S. Paulo actually sue a blog for being called Falha de S. Paulo [[São Paulo Fail]], you know? That is ridiculous in the 21st century. If you believe in what you're saying, you have to be able to say it.  And these same guys love to talk about freedom of speech.
VB: What do you think of Brazilian media generally?
EMC: They're ridiculous.
In reality the papers here function based on the interests of a small group of people that don't want to relinquish power in any way. They're the people that have been running Brazil for 500 years. They're the descendents of those that came over on the first ships from Portugal.
I've always considered the Brazilian media to be extremely racist. And it is.
VB: You said you descend from slaves. What are your roots here in Brazil?
EMC: Well, my mom and my dad were born here in São Paulo. But my grandparents are from Bahia. In Brazil, it is fucked, because after the Revolta dos Malês the elite came down with a vengeance. They burned all the books, and burned all of our possibilities of finding out who our ancestors were. So I don't know where I come from. And that's tough, because if you don't know where you're from it's tough to know where you're going.
[[Note – the transcript is translated, and edited for length. If anyone wants access to or wants to publish the original in Portuguese, get in touch with me]]