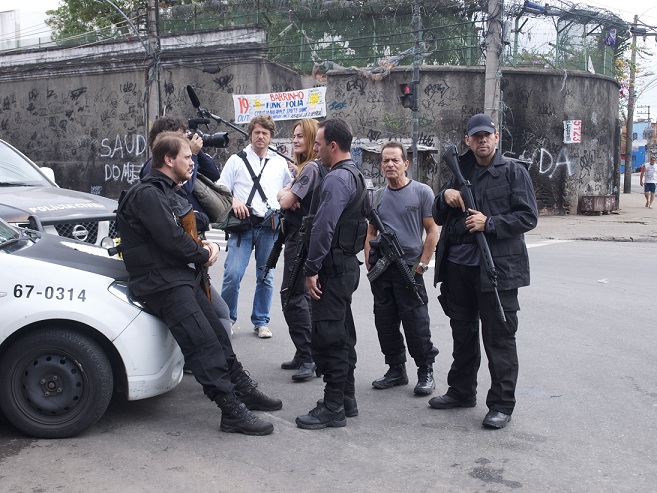 Dom Phillips reports on the tension, cautious optimism, and small media circus involved in the recent invasion of the Manguinhos favela, one of the latest to be re-taken by the state.
By Dom Phillips in Rio de Janeiro
2,000 heavily armed police and marines, with 13 armoured cars and helicopters, set off at dawn Sunday October 14 to occupy one more of Rio's notorious favelas. For years Manguinhos and the surrounding slums in North Rio had been run by the Comando Vermelho, or Red Command, drug trafficking gang.
It made for a dramatic scene, in the dark before dawn, as a mob of press in flak jackets and helmets buzzed around a row of urban tanks and a battalion of police and marines.
Armed cars began to roll at 4.45am and crushed concrete barriers gangs had placed at the entrance of the Manguinhos slum. Across the street in Jacarezinho, piles of rubbish had been set on fire.
But the bandits had long since fled – earlier, one had even suggested he offer himself for amnesty in an interview with this blog's editor Vincent Bevins for the LA Times, like members of Colombia's FARC can.
Nevertheless, it was still tense as the press pack followed police sharpshooters as they inched down alleyways with rifles at the ready in the nearby Jacarezinho favela, home to one of Rio's biggest concentrations of crack users, with photographers careful not to get any other snappers in the shot.
Because it is a general rule of the media that no matter on how big a scale an event is being ccovered, reporters must always pretend that they are the only ones there. Even if just beside the shot of the correspondent doing that dramatic live report are another 20, doing exactly the same thing, just in different languages.
But much as in the invasion of Rocinha in Rio's more upscale South Zone a year ago, this occupation passed off without a shot being fired. It took just 20 minutes to occupy Manguinhos and neighbouring favelas.
The operation was hailed as a success for the city's policy of pacifying slums dominated by armed drug gangs. "What we achieved today was to improve the life of these people," said Rio security secretary José Beltrame, in a press conference the same day.
"This is a Sunday stroll with the family," said Officer Pittigliani, cradling a sub-machine gun, as he drove past in a black police pick-up.
36,000 people live in the area. Two armed police base, called UPPs, will be installed in incoming months – there are 28 such bases in Rio. "If the state decides to take control of a piece of land," said Officer Geraldo Arranha, "there is nothing the gangs can do."
It was all very different two years ago when police and soldiers fought pitched battles with drug gangs in Rio's Complexo do Alemão favela during an invasion. Now security forces advertise invasions in advance. They also begin operations days earlier. Five suspected bandidos were killed on the previous Friday night in the Juramento favela, also in North Rio, where members of the Red Command gang were believed to have fled.
In the run-up and aftermath of the operation, cocaine, crack, marijuana and weapons were seized. Gang leaders were arrested. But what did the population think? Those I talked to were cautiously optimistic.
At the Our Lady Helper catholic church in Jacarezinho, Father Dario da Silva, 60, led his congregation in a Sunday morning prayer for peace as police patrolled the streets. "We hope this will bring change," he said afterwards. "The community is very poor and needy."
The last gunfight took place a week earlier, Father da Silva said. Killings were frequent. But he argued that the Red Command gang fulfilled a sort of social role in the area that the state, up until now, had not. The gang bought medicine and gas for poor families, and even held a children's party on Brazil's Day of the Child. "If the state does not meet its obligations, they will want them back," he said.
In Manguinhos, in front of a wide, dirt avenue strewn with rubbish, Luciana Regina, 32, was hanging out washing in her tiny concrete-walled front yard. "There are always gunfights here. A lot of people come to buy drugs. It is frightening. Now it is going to stop," she said.
On the street in front of her, an enormous pig grubbed in a pile of rubbish, surrounded by vultures. "It has to get better. That's what they say. Let's see what happens," Regina said.
"It's great," said Antonio Bispo, 54, from behind the counter of his bar in Jacarezinho. "Those of us who are workers are going to have more freedom. We have been imprisoned, silent."
Critics say the favela pacification policy is just forcing gangs further out to the Rio suburbs. That it only affects those situated near tourist areas, World Cup and Olympic sites, or pieces of land slotted for gentrification.
This has largely been the case, but is certainly not true when it comes to Manguinhos, which is in a part of Rio tourists never venture out to. It is not on a hill, does not have sea views, and is not picturesque. It's dirty and poor. Media reports after the invasion suggested that this outpost of Comando Vermelho had been had been singled out because police suspect leaders of the gangs here of pulling off a jailbreak this July, in which one of their fellow traffickers was freed.
Rio governor Sérgio Cabral said that 9,000 new homes would be built and that the Brazilian development bank BNDES would lend R$100 million ($49.3 million). The Rio government also moved to seize an oil refinery situated nearby as a place to build new homes.
Will the government deliver on its promises for Manguinhos? Will it just open up room for property speculators to move in? Residents and critics will be watching keenly. If experience in other pacified favelas is any guide, property values, prices, and profits will likely rise here.
By late Sunday morning, life in Manguinhos was returning to normal. As a soldier watched from the turret of an armed car, a man laid second hand shoes out on a blanket to sell and a fruit and vegetable stall opened. People bustled in the streets as if nothing had happened. Perhaps what was most important about Sunday's occupation was that nothing actually happened. A sign that favela pacification is now part of the norm.
[Photo Dom Phillips]