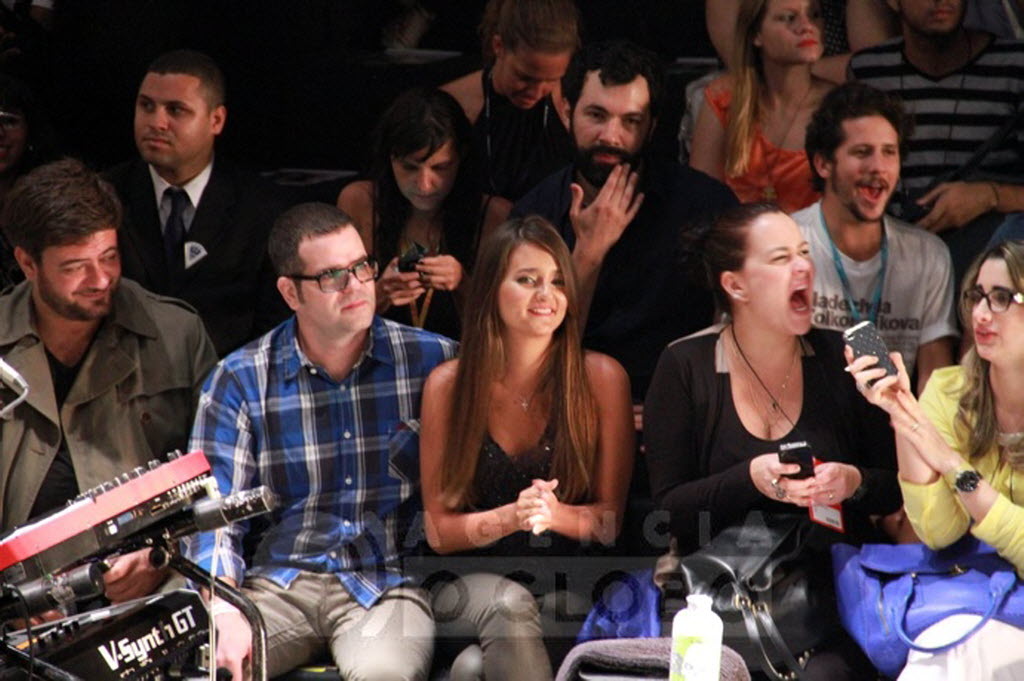 Selling her virginity for over 1.5 million reais earned her some fame and a place in the front row at Rio fashion week, as seen above. But how far would the culture of love and celebrity in let the stunt take her?
By Dom Phillips

Should we feel sorry for Catarina Migliorini, the 20-year-old Brazilian student who sold her virginity for $780,000 to a Japanese man on an Australian website?
One minute she was due to parade down the catwalk at Fashion Rio for the TNG label. The next, after being inundated with a barrage of complaints from customers, brand owner Tito Bessa Jr. withdrew the invitation – and Migliorini was relegated to the audience.
"When I saw the repercussion, I regretted the invitation," Bessa Jr. told Globo's celebrity site EGO. "If the customer doesn't identify with the action, I have to think again."
In this context, Migliorini can hardly complain. She took what the show producer described as a business decision to sell her virginity, earning a reputed $780,000.
"It's exactly this: a business," Migliorini told Brazilian TV. "What's different attracts me. And also, of course, the business fact, the auction." She also insisted the act was yet to be consummated.
The brand also took a business decision to cancel her catwalk display. Fashion, sex and money. Business as usual.
But the outcry is interesting in what it says about complicated attitudes to sex in Brazil. On one level, this is a country at ease with its sexuality. In a 2008 global survey by Durex, Brazilians scored highest in the world in confidence about sex and level of confidence in knowing how to have a happy and fulfilling sex life.
Sexual relationships between men and women are well-organized, and compared to the US or UK, social rules are permissive and clear.
The country is dotted with 'love motels' that can be hired by the hour or the night. Prostitution is not only effectively legal, but often, socially acceptable amongst some men. The bestselling autobiography, The Scorpion's Sweet Venom, by Bruna Surfistinha, detailed the true-life story of a São Paulo call girl. The film, which starred one of Brazil's most famous actresses Deborah Secco in the leading roll, was a huge success.
So why the outcry? "We live in a patriarchal culture which is losing its base but still exists," argued writer and psychoanalyst Regina Navarro Lins, author of a book called 'O Livro do Amor' (the Book of Love), on the women's lifestyle page of the site IG. "The question of virginity was always used as if it was something precious and is still seen in this way by many people."
Perhaps also the cold, calculated nature of the act, and its inherent lack of romance, was a problem. Actress Tania Khalill, publicizing a play called My First Time, said in a recent interview that her first time, after two years with her then-boyfriend, was everything she had dreamed off. "It was a lot of fun, really cool, unforgettable, with a lot of care, a lot of love," she said.
Purely coincidentally, Khalill has just entered into Globo's new soap opera Salve Jorge, in which love and romance, as usual in Brazilian novelas, feature heavily. In one scene, playing a woman in a Turkish village, she swooned when a handsome stranger on a horse picks her up after a fall. (The star of Salve Jorge ended up taking to the catwalk for TNG instead of Catarina.)
In the same episode, Nanda Costa, who plays a girl in a Rio favela called Morena who has fallen in love with a dashing cavalryman, spent a good five minutes in front of a mirror, in her wedding dress, clutching a bouquet and welling up with tears at the overwhelming romance of her upcoming nuptials.
It could be because Brazilians are incurable romantics. It's not just the soap operas they adore that are full of such stirring emotions – it's also their own love lives. Emotion is everywhere, according to Giovanna Antontelli, an actress, also from the Salve Jorge novela.
"I don't remember having gone to bed (with someone) without being in love – even if the passion only lasted one night," she said.
Catarina Migliorini didn't just sell her virginity. She sold the romance of the first time, and in doing so trod on the dreams and memories of millions of Brazilians. And that is not going to help anybody sell clothes.