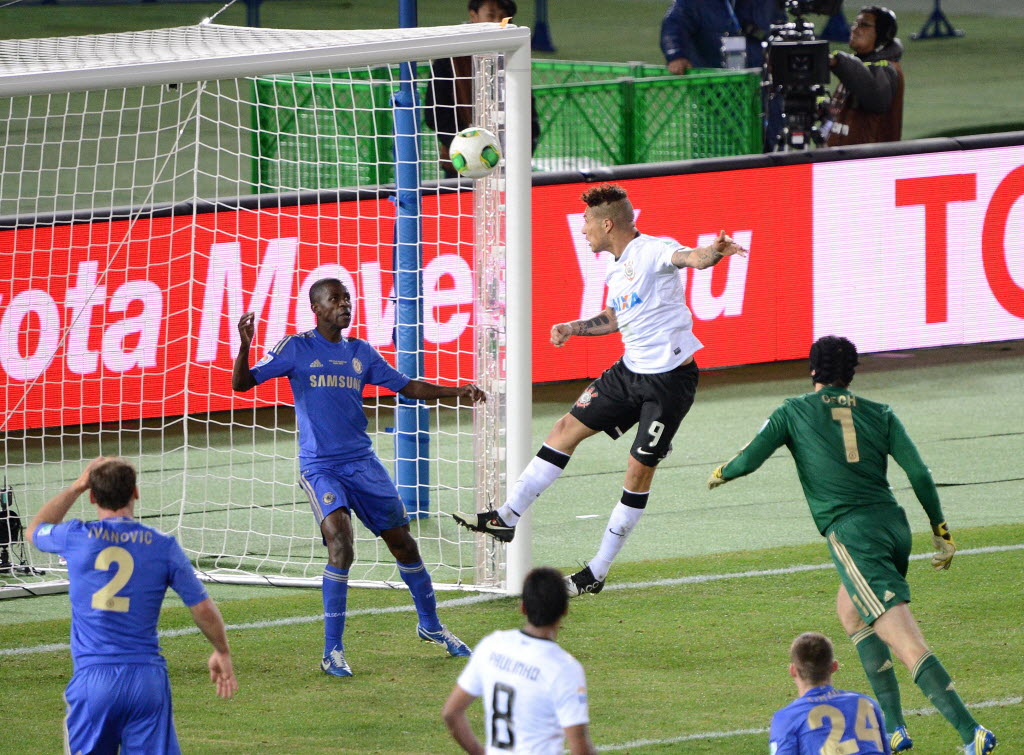 The 'people's team' from São Paulo upset Chelsea this morning in Japan and delivered Brazilian football a particularly delicious triumph. Above, Peruvian Paolo Guerrero knocks in the winning goal.
By Dom Phillips
It has been six years since a South American team won the FIFA Club World Cup. But today Corinthians deserved every centimetre of their 1-0 victory, having outplayed Chelsea with a performance that showed the São Paulo team at its very best.
Owned by a Russian billionaire, managed by a Spaniard, with a team stocked by expensive, international players like Spain's Fernando Torres and Brazil's Ramires, Chelsea were far and away the favourites.
But Corinthians played with the technique, the skill, the defensive capacity, and most of all the garra – or sheer force of will – that characterises their game at its best. And with a headed goal by Peruvian forward Paulo Guerrero that gave them the trophy, the team have caused a major upset in world football.
At kick-off, it did not look so balanced: Corinthians had struggled to beat Egyptians Al-Ahly 1-0 in the semi final, whereas Chelsea had effortlessly disposed of Mexico's Monterrey 3-1. Even Corinthians coach Tite had refused to promise victory, saying instead the team would leave fans proud.
This was precisely what they did, taking the game to Chelsea from the beginning, while growing in confidence and stature as the match developed and it became obvious that, yes, the team from London could be beaten. Chelsea threatened time and again. But when the Corinthians defence did falter, goalkeeper Cássio held firm – a goal-line save with his legs was just one of his heart-in-the-mouth, match-saving moments. He deserved his man-of-the-match prize.
This was a tense, but fluid game. But Corinthians kept coming back and kept coming forward. Tite's advance defence system – in which every player, no matter how far forward he is, has the job to close down the opposition and get the ball back – saw Corinthians winning possession time and time again.
It took them 69 minutes to score as the ball rebounded from the Chelsea goalmouth, out to midfield and back again. In a deft and determined play, Danilo moved laterally across the area to shoot – and Guerrero seized upon the rebound to head the ball home. Even then, Corinthians did not sit back: they defended hard, fought for the ball in midfield, constructed attack after attack, while Chelsea, technically superior, always looked dangerous on the break.
And when the whistle blew, Chelsea looked stunned in defeat. They had not expected to lose. With the game over, the cameras panned over the sour, disbelieving faces of Chelsea's Frank Lampard and Fernado Torres. "Chelsea fume after world final defeat," read the Guardian headline.
The victory tops a remarkable year for Corinthians. In December 2011, on the same day that they were mourning the loss of their former captain Sócrates, Corinthians sealed the Brazilian championship. Six months later, after decades of disappointment, the team beat Boca Juniors to win the Libertadores – South America's Champions League. And now, a hard-fought and, outside of Brazil at least, unexpected victory over European champions Chelsea.
It was all very different a year ago, when the high hopes that Santos would beat Barcelona were crushed 4-0. And it is a victory Brazilian football should be grateful for. Two years away from hosting the World Cup, the Brazilian national team still struggles to find its rhythm and has just been given a new manager: 'Big Phil' Scolari. In Brazil, attendances are low and the game even in the country's top division cannot compare to the pace and finesse of Champions League teams. Corinthians are not celebrated for playing the fluid, creative 'beautiful game' Brazil is famous for. But today they gave Brazilian football a much needed shot in the arm.
Because for a team from São Paulo that is largely made up of workmanlike Brazilian league players to go to Japan and beat one of the richest, most famous, and most successful teams in Europe with its multi-million dollar line-up of global talent, is a particularly delicious Brazilian victory.