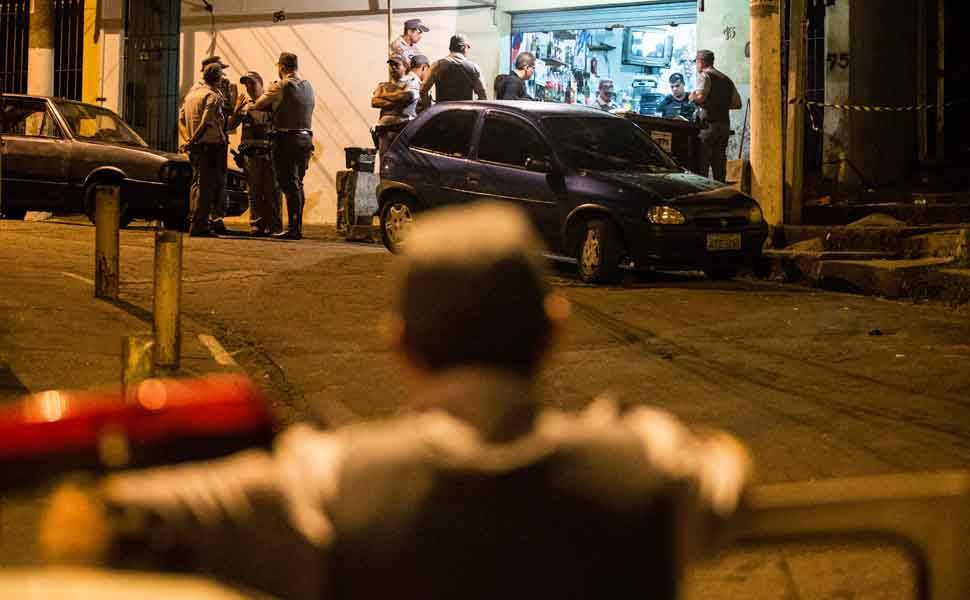 Death squads within São Paulo's military police are widely suspected of mass killings and extra-judicial executions in poor neighborhoods on the city's outskirts. Above, police inspect the scene of a bloodbath in Jardim Rosana that six of their colleagues are now accused of carrying out. 
By Claire Rigby
With a grim tally of almost 100 police officers murdered in 2012, news stories of off-duty cops being ambushed and killed continued to send ripples of fear through São Paulo as 2012 ended and the new year began. But the start of 2013 has also been marred by the continuation of a different epidemic of executions and mass killings – chacinas, or slaughters – of civilians, in which all too frequently, police officers are suspected or directly implicated.
Last Thursday (24 January), it was announced that six military police officers ('PMs') were under arrest, accused of having taken part in a massacre that took place on 4 January in the working-class neighbourhood of Jardim Rosana, district of Campo Limpo. In the attack, around 14 gunmen (and perhaps at least one gunwoman – one of the officers arrested is female) poured from three cars into a simple corner bar, firing dozens of shots that left seven dead and two wounded.
The killing was widely billed in the Brazilian press – ominously, resignedly – as the 'first massacre of the year', while hundreds of friends, family and local residents took to the streets of the neighbourhood, deep in the endless sprawl of south São Paulo, on 14 January to protest the killings and the spate of chacinas and apparent executions that has accelerated since October last year.
Small, heartfelt demonstrations for peace and an end to the violence are all too frequent in São Paulo. But this time, for the first time in the recent round of killings, someone relatively well known was among the dead: Laércio de Souza Grimas, aka DJ Lah, a former collaborator of the legendary Mano Brown of Racionais MC's, Brazil's most influential rapper. DJ Lah, a 33-year-old father of four, was a member of the band Conexão do Morro, whose melodic rap narrates the story of violence in the favelas from a first-hand point of view, and whose videos offer a glimpse of life in São Paulo's poor periphery. (Listen on Radio UOL.) And far from pop-a-cap-in-your-ass gangster posturing, many of the band's lyrics are suffused with fear and loathing of police brutality, harassment and murder.
'Crooks like them are murderers in grey uniforms,' go the words to the song 'Click Cleck Bang': 'rats and more rats circulating in the favela. They're the ones who push it, they're the ones who shoot. Pray you survive.'
Police under suspicion
Suspicion of police involvement in many of the 24 chacinas that took place in São Paulo in 2012, only one of which was solved, is widespread. At a meeting held on Thursday afternoon at Parque Santo Dias in Capão Redondo (a district just beyond Campo Limpo), to air public grievances triggered by the Jardim Rosana murders, there seemed to be little doubt in anyone's mind as to who was behind this and many other unexplained murders. Speaker after speaker railed against police violence against the young, poor and black of São Paulo's vast perifería – the city's outlying neighbourhoods and favelas.
Even one of the elected officials present at the meeting – billed as a 'public audience', and also attended by Rogério Sottili, São Paulo's Secretary for Human Rights, and Gabriel Medina, the city government's Youth Coordinator – concurred with the assumption of state-perpetrated violence. Netinho de Paula, SP's charismatic Secretary for the Promotion of Racial Equality, said, 'The military police has always killed a disproportionate number of the perifería's young, black poor. I say that with confidence, since an actual PM commander has given an order that black and dark-skinned [youngsters] should be stopped and searched. That's a result of the way the PM thinks, it always has been, and nothing has changed. That's how I lost my brother and many of my friends.' The Secretary's brother was murdered in 1993. 'My life changed completely when he was killed,' said de Paula at the meeting, which was streamed live on #posTV, and is available for viewing in its entirety here.
Also at the meeting was Francisco José Carvalho Magalhães (see photo below), the father of Pedro Thiago Souza Magalhães, a young man shot dead on 14 October. 'He went out to pick up a pen drive for his college work,' said Francisco. 'But he ended up dead, at 3 o'clock on a Sunday afternoon, with seven bullets in his back.' Aged 20, Thiago was studying administration at the Centro Universitário Anhanguera, and had worked at Band News, and at the Instituto Tomie Ohtake. He was in the street outside a bar in Jardim das Belezas, close to Jardim Rosana, when three hooded men got out of a car and started shooting, killing two and wounding two.
Does his father suspect the police? 'I can't open my mouth and say that. We have suspicions. But I don't have proof, and people tell me, don't say it, especially after what happened [the chacina in Jardim Rosana on 4 January]. I've still got four other children to bring up.'
Magalhães plans to return with his family to the state of Piauí, from which he migrated to São Paulo 18 years ago. Asked what he hoped for, he said, 'I'd like a response from the government. They wrote on the report that my son was a bandido, but he was not a bandido. They don't even know who my son was. They said he had a police record, but it's a lie. They say that without even knowing who the person was to try and shift the focus of the investigation.'
Doraci Mariano, president of the Jardim Rosana Residents' Association, was 50m from the bar on the night of the massacre in which DJ Lah and six others died. 'It's a normal local bar,' he says, 'where people just call in for a beer, or a soft drink. Working people.'
He heard the shots at 11:20pm. 'There were a lot of shots. It sounded like there was a war going on. There was instant panic: family members rushing to the bar, saying such-and-such was in there. The police wouldn't let anyone in – nobody could get close or get inside the bar to help the people.' Were they military police? 'Yes. They arrived very quickly, about three minutes after the shooting. The civil police came a few minutes later. The PMs pulled down the shutter on the bar and nobody could get close until the civil police arrived and opened the bar.' Who do you think was responsible? 'People think it was an extermination group.'
Death squads

Extra-judicial killings, many claim, are a specialty of SP's military police, carried out by 'extermination groups': death squads formed by officers. And although no explanation at all is by far the most likely outcome of a suspicious murder – as is the case for the family of Pedro Thiago Souza Magalhães, and of countless others – on the other hand, occasional news filters through of officers being investigated on suspicion of carrying out executions.
On 14 January, four PMs were arrested and accused of executing a 16-year-old boy they had apprehended for robbing the house of a taxi driver. Witnesses reported seeing them take the boy, crying for help, to a piece of wasteland in the neighbourhood of Cidade A. E. Carvalho and shoot him. The officers claim the boy died in a shootout.
And in November 2012, an alleged execution was filmed by a neighbour and later broadcast on the TV programme Fantástico. The film shows four police officers dragging a man, a 25-year old builders' assistant named Paulo Batista do Nascimento, out of his house. As a shot is then fired, the person doing the filming hides. According to the police version, Nascimento escaped police custody and, following a car chase in which shots were fired, was later discovered dead in an alley. The five officers involved were all arrested and accused of the execution. Nascimento's house was directly opposite the bar in which DJ Lah and his companions were murdered two months later, and there has been speculation that it might have been DJ Lah who filmed, or who was suspected by the police as having filmed, Nascimento's execution.
In November, the outgoing delegado-geral of the civil police force, Marcos Carneiro Lima, told journalists that there is considerable evidence for the existence and activity of military police 'extermination' groups, referring in particular to cases in which murder victims' criminal records had been examined shortly before their deaths. He said, 'When people hear that eight murders have been committed over a short period of time in a small geographic area, they know something is going on. Criminals are cowards. They kill, then leave the area – they don't kill and keep killing. They don't kill then collect the spent cartridge cases to conceal evidence.
Concealing the evidence
A chilling account of the internal structure of extermination groups within the PM, written by the journalist Tatiana Merlino and published in the magazine Caros Amigos in September, details the bullying and even torture rife within the military police, to ensure participation in illegal violence and murder. Using testimonies from a sergeant in the PM and a civil police officer, the article explains the structure of the death squads, brought into action when it has not been possible to arrange a 'resistance' murder.
The anonymous sources explain how murder scenes are subsequently interfered with: 'The important thing,' says the account, 'is to adulterate the scene of the crime.' Bullet casings are quickly collected by a follow-up member of the group' (in the Jardim Rosana killing, a black Corsa drew up and its occupants gathered up bullet casings, leaving some behind, nevertheless, that led civil police to the 37th Battalion of the military police, and to the officers now suspected of having taken part in the massacre). The article goes on, 'when necessary, a small quantity of drugs and an untraceable weapon are placed in the victim's hand to justify the homicide. Sometimes, a cell phone is planted on the victim.'
If possible, the victim is taken to hospital even if he is dead, in a further attempt to destroy crime scene evidence. In apparent confirmation of that problem, last week, a decree prohibited São Paulo police officers from giving first aid or moving the injured victims of crime, ordering them to wait instead for the ambulance service.
What is to be done?
At the meeting in Capão Redondo on Thursday, proposals included the urgent need to generate and maintain detailed information on the cases of every person killed in chacinas or suspected executions, demanding autopsy reports and police data and collating evidence given by families and neighbours. Other speakers called for the impeachment of state governor Geraldo Alckmin. Alckmin has suggested that reporting of SP's high rates of violent death is overhyped, and could be partly attributed to its large population.
A number of speakers stressed the need for cultural, educational and sporting opportunities in the perifería, and Rogério Sotilli, City Hall's new Secretary for Human Rights, echoed those proposals, saying, 'We need to bring policies to these areas that develop culture and valorize citizenship, the individual culture of the community.'
But elevating the investigation of suspected death-squad murders to high priority would also be an obvious step in the same direction, since in the absence of credible action against it, the inevitable conclusion drawn in the affected neighbourhoods is that this kind of violence is tolerated, if not promoted, by the Brazilian state – a state, it bears mentioning, that has no legal death penalty. There can be little doubt that news of the arrests of the six officers suspected of involvement in the Jardim Rosana murders – news that came shortly after the public meeting on Thursday – provides some level of relief to the families, friends and neighbours of the dead, not to mention the community at large.
It might also help if the sense of palpable outrage felt in poor communities were shared city-wide in São Paulo, where a deeply entrenched kind of social apartheid can work to make such deaths seem abstract, happening very far away – or worse, somehow justifiable; and where news items on the violent deaths of victims of robberies appear to have more lasting impact than do the deaths of favela-dwellers. The names and faces of the former become familiar in the days following a new tragedy, while more often than not, images of chacina victims are anonymous-looking corpses, lying dead on badly paved streets. (A notable exception is a gallery created on Globo.com's G1 website, featuring the faces and profiles of each of the 345 people killed in the bloody month of October – here.)
As the former delegado-geral, Carneiro Lima, put it a candid set of comments as he made way for his successor, 'Why don't we have any massacres in [the upscale neighbourhood of] Jardins? Why is it so easy to kill the poor today in the periphery? Because there exists a large section of society that thinks that to do so is to kill the outlaw of tomorrow. It's a prejudiced view held by society itself that assumes such killings to be legitimate actions. They are not legitimate.'
Photos by Claire Rigby, except main image.