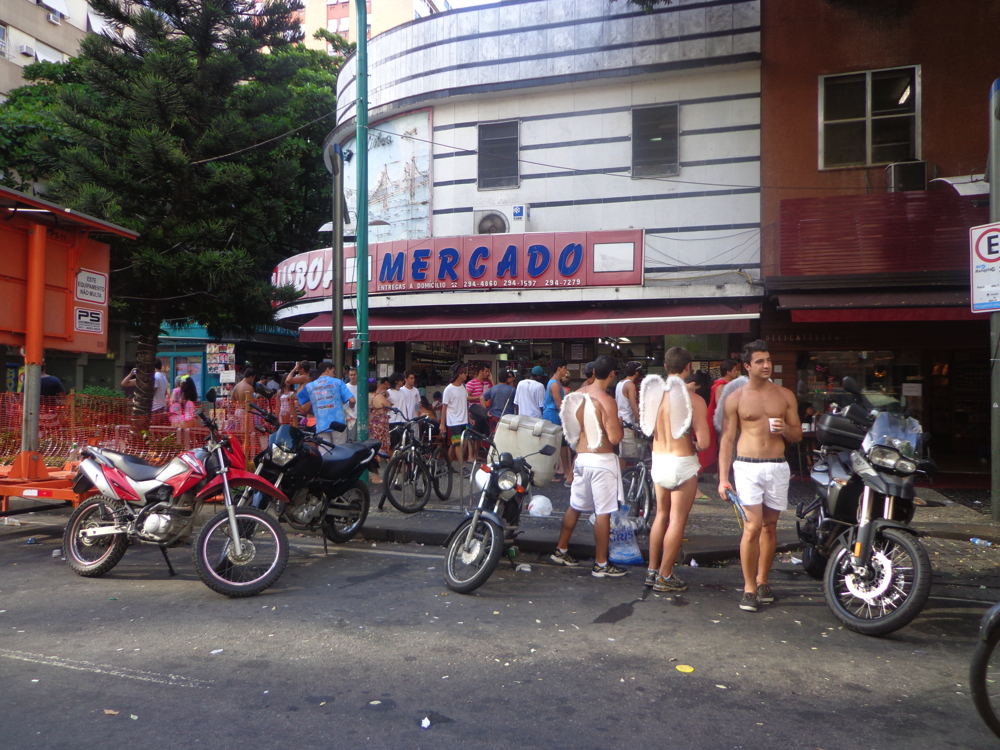 Claire Rigby takes us behind the televised spectacle and into the free and fluid world of the street party – Rio's true Carnaval. Above: The outskirts of a bloco in Leblon, on Tuesday morning.
By Claire Rigby
From the world-class razzle-dazzle of the sambadrome to the endless, hedonistic celebration that takes place in its streets, Brazil is more compelling than ever during Carnival. I spent it in Rio de Janeiro, where the sambadrome reigns supreme – if you're looking from outside Brazil, that is, where images of the floodlit parade ground, the Marquês de Sapucaí, have become synonymous not only with Carnival, but sometimes with Brazil itself.
But there's way more to Carnival, and Brazil, than that.
Growing in popularity over the past ten years or so, the street carnival has seen a huge resurgence in Rio, where millions this year took to what seemed like a never-ending festival over four full days. 'Blocos de rua' (street Carnival groups) are the heart and soul of Carnival in places like Olinda, in North-East Brazil, but have become a much-loved fixture in Rio too – and in São Paulo, where they go hand-in-hand with a wave of new, politicized interest in street life and street culture.
In Rio this year, hundreds of blocos comprised an endless, rolling, moving party, from young pretenders like Toca Rauuul and Boa Noite Cinderella, and favourites like Sargento Pimenta and Santa Teresa's Céu na Terra, to the gigantic Monobloco, and 95-year-old Bola Preta – the latter took place in Rio's Centro on Saturday morning and is said to have pulled a crowd of more than a million.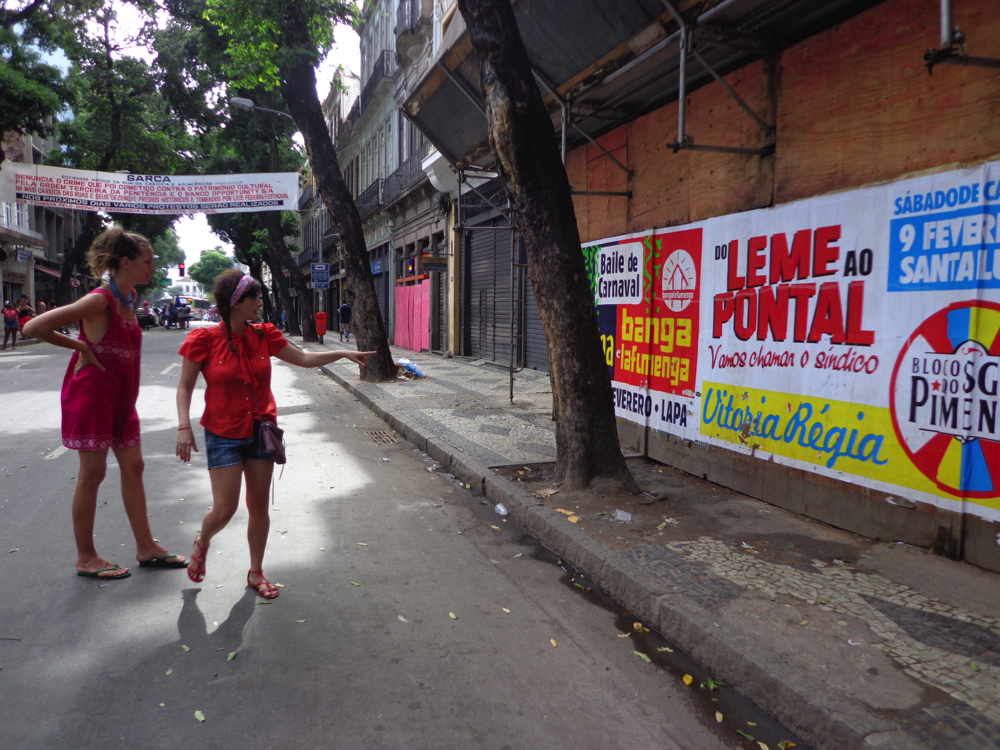 What goes on in a bloco? Music, dancing, drinking and general carousing in the style that Brazilians were apparently born to do best. (For a glimpse of one particularly musical bloco in action, see video: A street bloco during Carnival in Rio de Janeiro, 2013, on Vimeo.) Dressing up is de rigueur, and some go all out with their costumes, often in teams of uber-coordinated friends. One of the best this year in Olinda, in North-East Brazil, was a group dressed as a rollercoaster, rolling down the street in a long train, two by two, each dressed as one of the cabs. A favourite of mine from Olinda another year was a platoon of fruity soldiers with hollowed-out half watermelons for helmets. But not everyone goes full melon jacket: as Rio resident Dom Phillips noted in his expert Pre-Carnaval post before the event – just a sequinned tie, a sparkly eye mask or a sprouting of feathers are enough to mark you out as one of the gang –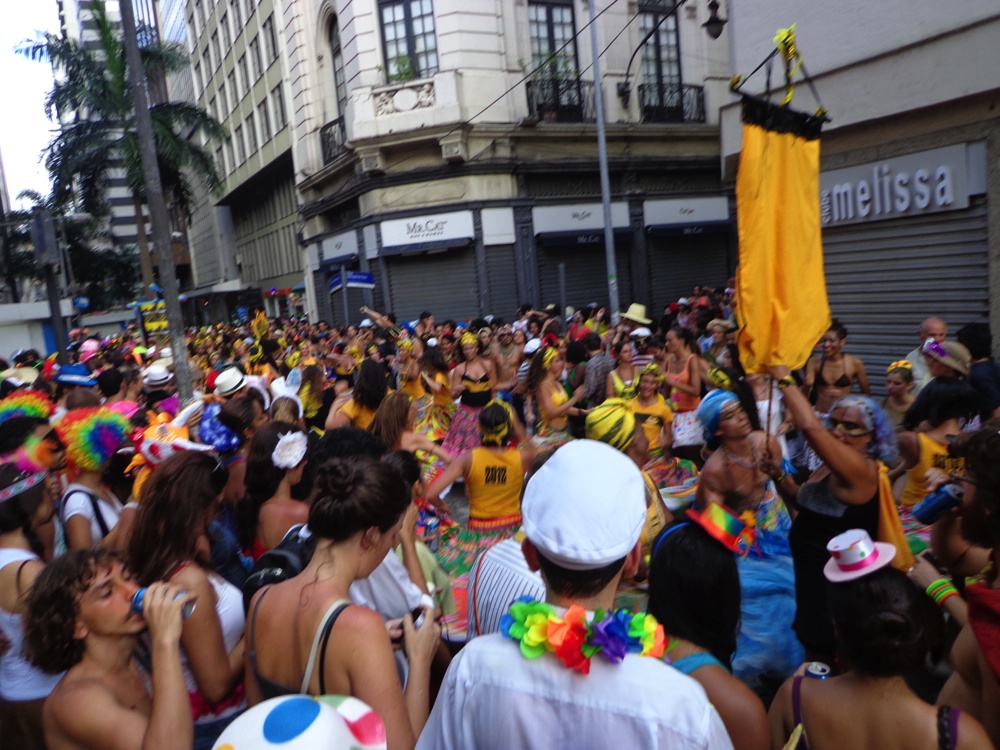 — or one of the gangs, plural, since there are blocos kicking off throughout the day, with some of the best starting out as early as 6am. People carouse from bloco to bloco as the day wears on, stopping off for a dip in the sea, a break on the beach or a mid-afternoon disco nap before heading out again. And despite complaints from local residents about blocked roads and litter, drunkenness and noise, there's very little of the bad behaviour you'd associate with no-holds-barred drinking and frolicking elsewhere. Naming no names but staring guiltily at Northern Europe. 
Roaming the streets and the beaches since the early morning, we encountered the true spirit of Carnival on Saturday night, under a small clutch of trees just up from Copacabana beach. A motley crew of musicians, refugees from some bloco or other, were playing a ramshackle set of sambas under the trees on drums alone, while an equally ramshackle, eclectic set of people, drawn like moths to the samba as they passed along the road, swayed and sang or simply gathered round.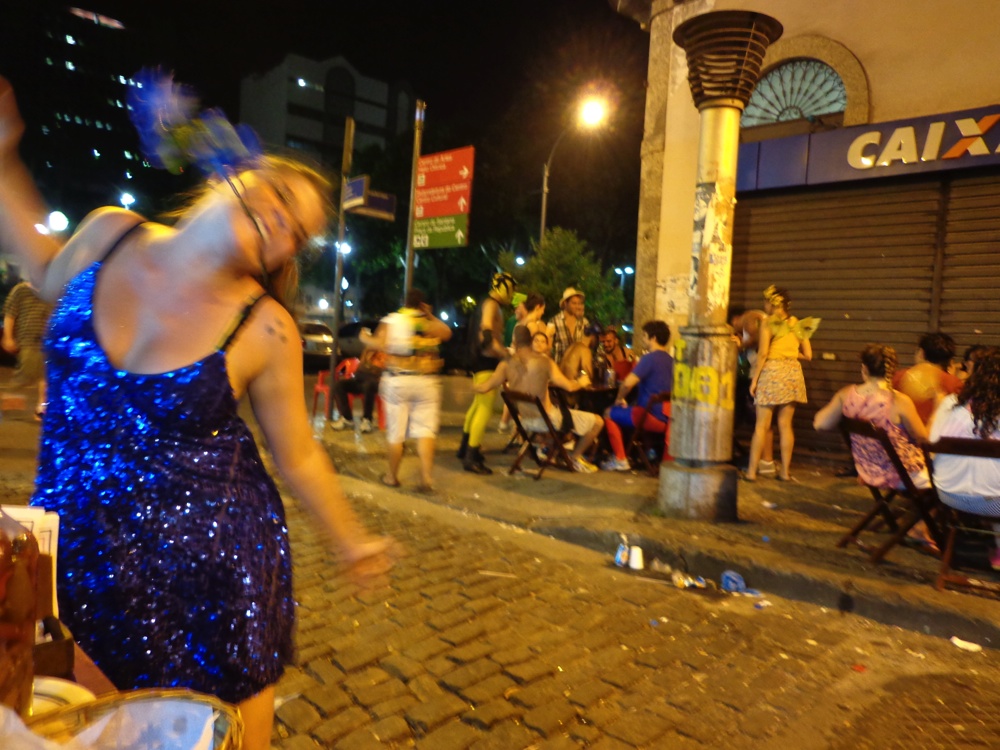 It's a long way from the excess, the precision, the sheer spectacle of the sambadrome – and at the opposite end of the commercial spectrum. Street Carnival is by its nature free – open to all and free to join, whereas the institutionalised form of Carnival – the sambódromo – is a hyper-commercialised sugar rush of grandiose, magnificently gaudy floats, casts of thousands singing their hearts out, and goddess-like, gold-dusted Carnival queens.
The sambadrome has to be seen to be believed; but for good old-fashioned fun it's hard to beat the big-hearted bagunça (mess) of Brazil's street blocos, with their fancy-dress gangs of teddy bears, tipsy girls in day-glo wigs in the early morning light, the just-met couples up to who knows what on the beach in the darkness, and the thousands upon thousands of men dressed as women. Carnivalesque.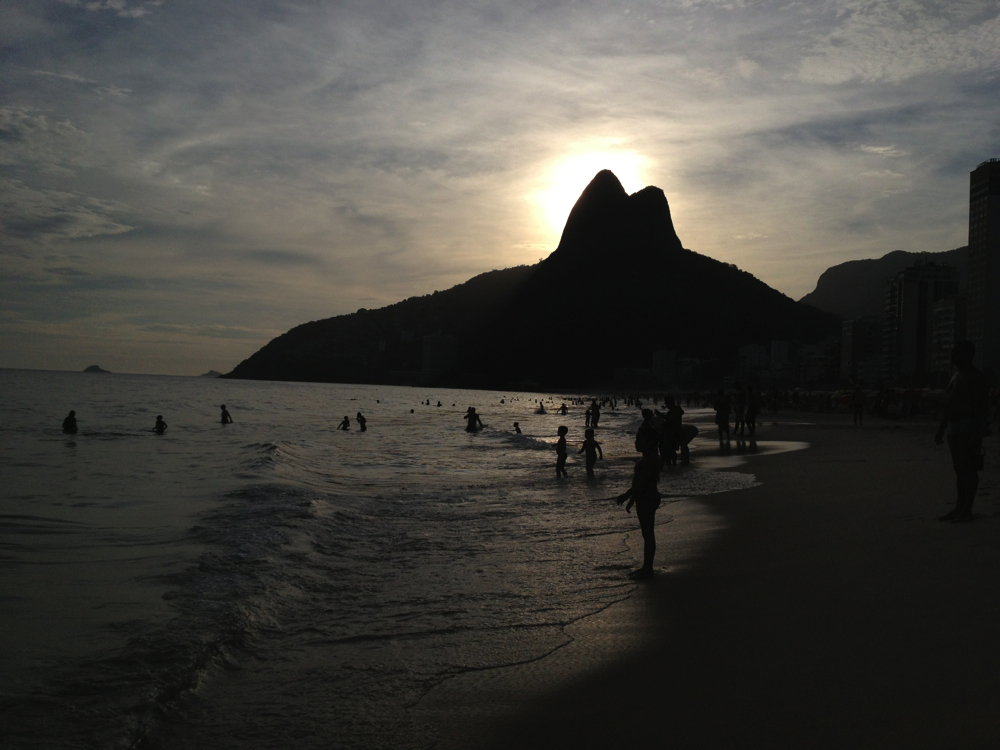 All images (c) Claire Rigby.