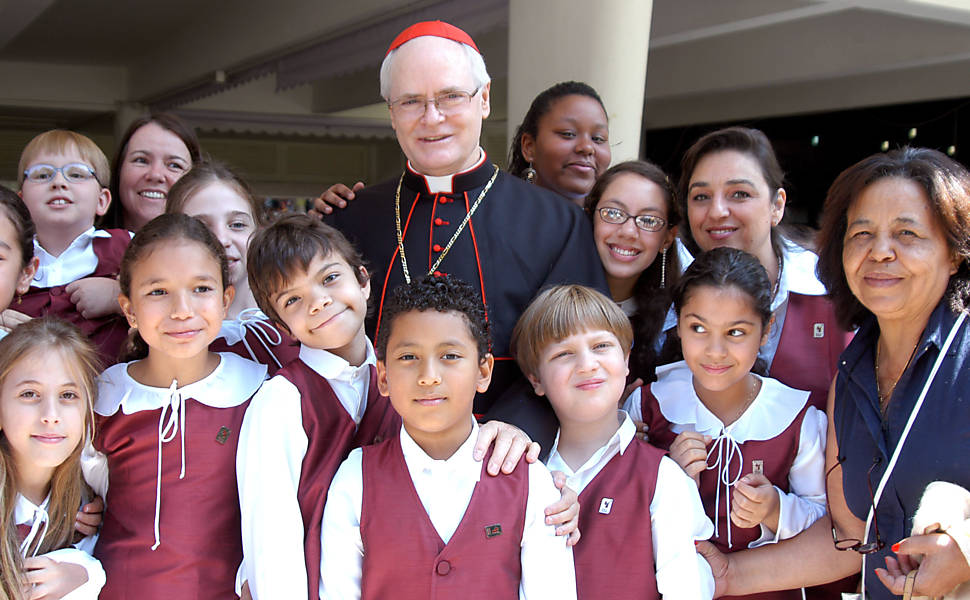 Brazil 'lost' to Argentina at the Conclave in Rome last week. But São Paulo Cardinal Odilo Scherer will remain a towering figure for the world's largest congregation.
By Dom Phillips
There was surprise and disappointment here when the white smoke pouring from a Vatican chimney meant a new pope had been chosen – and he wasn't Brazilian. Cardinal Odilo Scherer, the Archbishop of São Paulo, had been widely tipped as a favourite and was the preferred candidate amongst Brazil's 123 million Catholics, the largest congregation in the world.
But the cardinals voting in the secretive and archaic ceremony in Rome took everyone by surprise, and chose Cardinal Jorge Mario Bergoglio as Pope. Pope Francis, as he became, is the first South American papal leader. And to the chagrin of many Brazilians, he is Argentinean.
Brazil and Argentina enjoy a fierce, if friendly rivalry, not just in soccer, but in business and economics as well. Jokes focused on this were soon being kicked around Brazil's garrulous social networks.
Scherer, however, insisted in an interview with Porto Alegre newspaper Zero Hora that he did not even know he was one of the favourites because he did not read the newspapers, and welcomed the new Church leader. On March 14 he put out a video interview on the Archbishop website welcoming the choice of the new pope.
"We are certain that Pope Francis will be a blessing for the Church in the whole world," he said, noting with approval that Pope Francis is also from Latin America.
What then of the Man Who Was Nearly Pope? The signs are that Cardinal Scherer will continue to be one of the most important church leaders in Brazil. The 63-year-old is lauded here for his adept use of social networks like Twitter – where he has 30,000 followers – and Facebook. But he uses modern communication methods to transmit traditional doctrine: a diplomatic reaffirmation of the Roman Catholic status quo. Plus the odd, light-hearted joke.
"He is considered a moderate conservative," said Virgilio Arraes, a contemporary history professor at the University of Brasília who specialises in the Vatican. Friends, colleagues and former employees of Odilo Scherer bore this out.
"He is absolutely firm in the fundamental principles of the Catholic Church. On the other side, he is very caring," said Ives Gandra Martins, a prominent São Paulo attorney who has known Scherer for ten years.
Anuar Battisti, 60, Archbishop of Maringá in Southern Brazil has been a friend of Scherer's since they met at seminary school in 1973. "He is a moderate," Battista said. "He follows the doctrine."
At seminary school, said Battista, Scherer was highly independent, disciplined and organised. He enjoyed country walks – he could name species of trees and plants. He loves classical music and Romantic, Gothic and Byzantine art. But he also liked to keep abreast of world affairs – be that politics, business, or the Church.
Scherer was born on September 21, 1949 in the small town of Cerro-Largo in Rio Grande do Sul state in Southern Brazil, to a large family of farmers of German descent. "It was a very simple family, born to work," said Archbishop Battisti. "At home, between themselves, they only spoke German."
He was a theology teacher before becoming a bishop and then, in 2007, Archbishop of São Paulo and a Cardinal. He studied in Germany, France and London and is fluent in English, French, Latin, Italian, Spanish and German, as well as his native Portuguese.
For seven years he was a member of the Congregation of Bishops – the Roman Curia that oversees the selection of new bishops. Those who know him describe a calm, diplomatic, focussed and extremely hard-working priest. "I only ever saw him get angry once," said Father Valdeir Goulart, 51, a friend who worked with Scherer from 2003-2007. "He has the patience of Job."
On a 2007 trip deep into the Amazon jungle to visit Indian communities with Father Goulart, Scherer wore shorts, T-shirt, baseball cap and flip-flops, and adapted well  to the basic conditions of Indian life. "Sleeping in hammocks, travelling in boats, eating what they ate, praying with them, celebrating with them, the day to day of the tribe," said Goulart. "He must have taken 1,500 photos."
Indeed, Scherer is a keen photographer and frequently updates his Twitter via his smartphone with his own pictures. Fernando Geronazzo, 29, worked for him from 2008-2011 editing the Archdiocese website but also knew him when Scherer was a bishop and Geronazzo, for a time, a trainee priest. The picture Geranazzo paints is of a modern corporate leader, who knows exactly what he wants to communicate and how.
"When you talk about institutional communications, he takes it very seriously," said Geronazzo. "He wanted the site to be dynamic." Scherer is a tireless worker – when the day's work is done, he starts sending emails.
Until recently he took the São Paulo metro or drove his own car to visit parishes on the city's poorer outskirts. "He likes things to be done properly. He likes people to be dedicated to work like he is, but he doesn't demand more than a person can do," Geronazzo said.
Kiara Castro e Castro, 39, worked with Scherer on the Catholic Expo fair in São Paulo she runs and he supports. "He was always frank, very serious on the liturgy. What he didn't agree with, he said right there," she said. But she added: "I see him as being very conservative."
This came out in the Brazilian television interviews the Cardinal has done. Scherer can be good-humoured and charming. But the 'key messages' remained the same.
Priests should not marry, he told popular chat show host Jô Soares in 2009. Divorced people are welcome in church but that doesn't mean the church accepts divorce. Sex can be an expression of love within a marriage, and is not just for procreation. But the church is not about to sanction the use of condoms.
"The church sees this in a wider way. Evidently, people have to protect themselves. But the use of a condom could lead to sex becoming more banal," Scherer said.
Asked about more controversial question of the paedophile scandals that have repeatedly battered the Catholic Church as a guest on the discussion program Roda Vida in February 2012, Scherer replied:
"This is a problem that exists in Brazil. There have been some notorious cases, lamentably. They exist in the whole world and I would like to say they don't just exist in the ecclesiastical environment."
Priests needed to be properly educated and their emotional balance examined carefully, he said. The National Conference of Bishops of Brazil, or CNBB, of which today Scherer is a former general secretary and today permanent council member, had outlined a list of orientations to be followed in child abuse cases.
"But all of this is not enough if there is not also a moral, Christian maturity, an interior force capable of resisting all sorts of temptations which today are innumerable," Scherer said.
Soares asked Scherer if there would ever be a Brazilian pope. He deflected the question, and joked about the Brazilian national colours of green and yellow in St Peter's Square. "It would be more of a commemoration than the Olympics," he said. 50 years ago it would have been unthinkable. But these things mature, he said.
Everybody said he would not have done anything to advance his candidature. At an event in São Paulo just before Scherer flew to Rome for voting, he diplomatically brushed off suggestions that he might become pope, said Geronazzo, who was there.
Would Scherer have made a good pope? Those I spoke to said he would. But his old friend Archbishop Battista suggested the Cardinal may have lacked the deviousness necessary to deal with the machinations of Rome.
"He is very determined, and looks to do things very correctly," Battista said. "There is what he would like to do and what is possible to do… But from what I know, what is lacking in the Roman Culpula is transparency," Battista concluded. "I believe he will suffer a lot."
For now, the question is academic. The Man Who Would Be Pope remains a cardinal. And Brazilians are praying the Argentines don't pull off a similar upset in the 2014 World Cup. Pope Francis said his choice of name was inspired by another Brazilian cardinal, Cláudio Hummes, who he called a "great friend". And Brazilian Sports Minister Aldo Rebelo cited the joke going around social networks.
"It's okay that the new pope is Argentinean," Rebelo said. "But everybody knows that God is Brazilian, and that the World Cup will be ours, for sure."