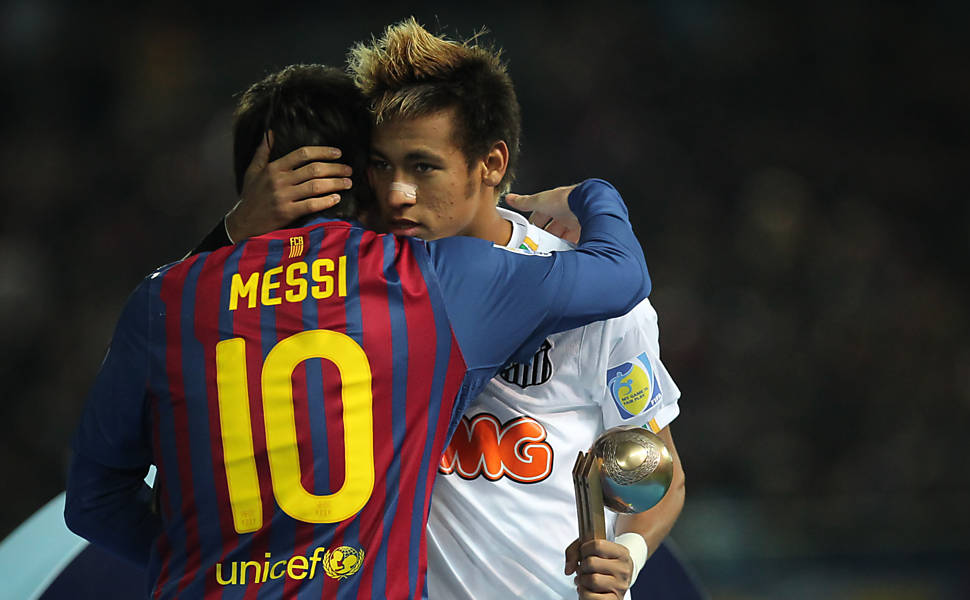 By Dom Phillips – As Brazilian soccer star Neymar himself says, it has been four years that people are relentlessly asking him if and when he is moving to a club in Europe. And he keeps saying, "I'll let you know when it happens." And the rumours keep coming. And he keeps denying them.
Well now they are noisier than ever and this time all the noise seems to be coming from Barcelona. According to the Brazilian press, Santos want to sell him before his contract runs out in July 2014 because they will make a ton of cash from a fine to be paid. After July 2014, Santos would make less.
This week Barcelona upped their offer to 20 million Euros, having already thrown in two friendly matches for Santos against the full Barcelona team including Messi – one in Spain, one in Brazil. Given that Barcelona thrashed Santos 4-0 in the 2011 FIFA Club World Cup final, maybe the Catalans feel they have nothing to worry about
Former Santos great Pelé says Neymar should stay. Daniel Alves, Barcelona's Brazilian star, said he hopes Neymar accepts a Barcelona offer. "If he comes, it will be a relief, because he is going to help Messi a lot. Two phenomena are better than one," he said.
Will it all go quiet now until the Confederations Cup in June? Will Real Madrid and Chelsea – who have both been linked to the Santos star – get back in the fray, as Santos seem to hope? Neymar's father and agent said he did not want Santos auctioning off his son.
Lucas Moura, another young Brazilian star, has seen his football improve, he says, since moving from São Paulo to Paris St German for a rumoured Euros 45 million – more than twice what Barcelona are offering for Neymar. The Brazilian national team needs Neymar at the top of his game for the 2014 World Cup and there are many in Brazil who feel he won't get there if he doesn't play at the higher, faster and tougher level that the European league demands.
It's coming down to the money versus the football. Neymar has a lot of cash tied up in Brazilian sponsorship contracts, which some say run out in 2014. He could even end up worse off financially playing in Europe.
Having seen his team Santos lose the São Paulo state championship to Corinthians, and having not won a major trophy since the 2011 Libertadores triumph, Neymar and his team will also be looking at the bigger picture. Bet all on 2014 and hope Brazil win? And if they lose, how much will he be worth then? Or jump now, with most of a European season to play before the World Cup comes to Brazil.
I suspect we will see a move soon…