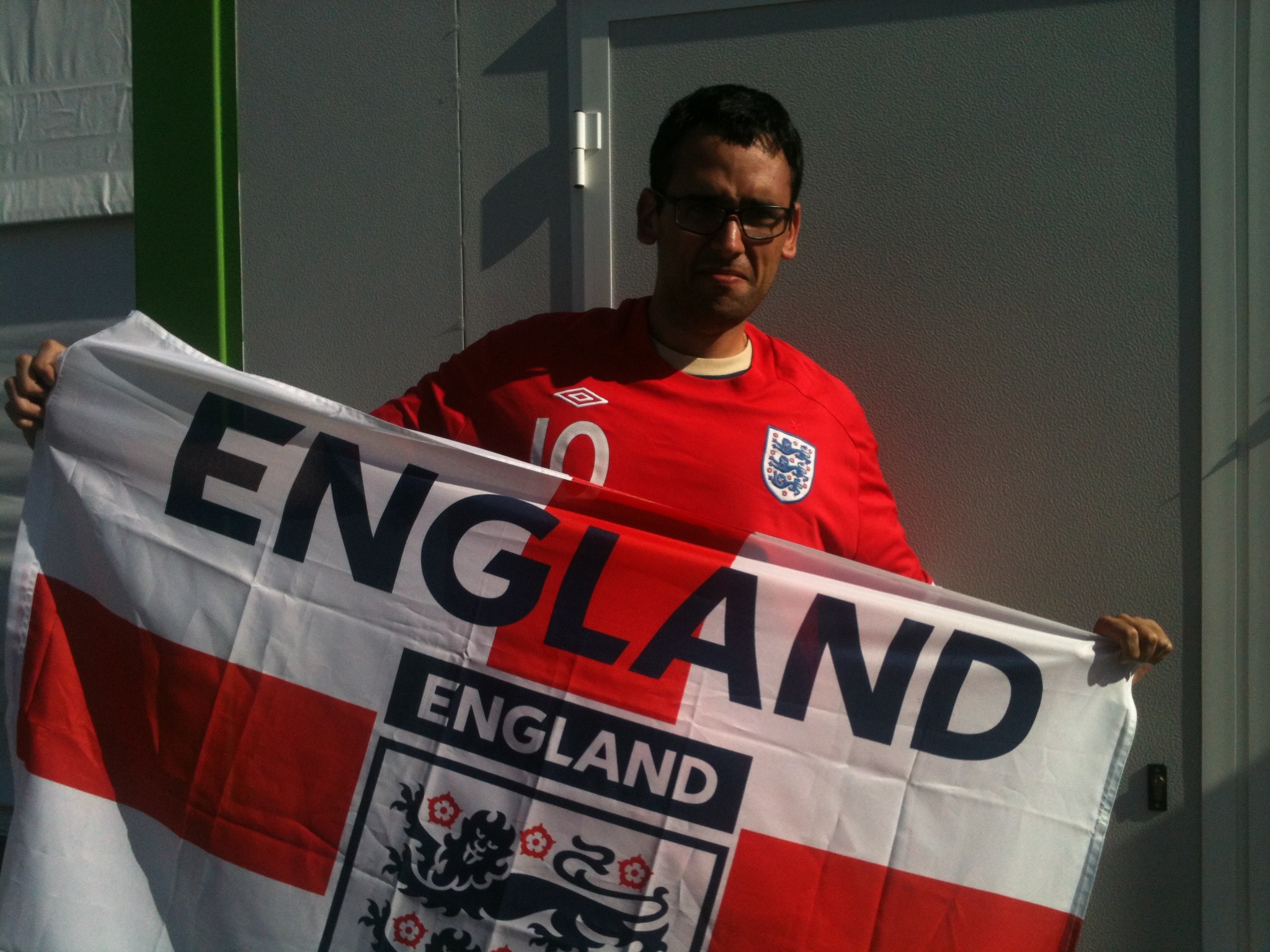 Though both the stadium and Brazil's national side are still 'under construction,' Sunday's match was a largely successful and inspiring example of what the World Cup here can be. Above, a dedicated England fan…who is Brazilian.
By Dom Phillips
Be careful around the Maracanã, because that part of town can be a bit sketchy, one carioca, or Rio native, told me before the world famous stadium's reopening game between Brazil and England on Sunday.
But instead of street kids hustling for change, I was met leaving the São Cristóvão station by smiling, green-clad helpers holding giant cardboard hands that pointed the way up a flyover, which had been closed to traffic and was now full of pedestrians snaking their way peacefully to the newly rebuilt Maracanã stadium.
It was clear on the metro journey out that this was going to run smoothly. In my carriage, a young, and very pale, English couple in England team shirts sat quietly, surrounded by Brazilians in green and yellow, including a baby on its mother's lap. At bars around the ground before the game, more England fans drank beer on the pavements in their red or white tops – some 900 apparently made the trip over, I was later told. They were an incongruous sight on Rio streets, particularly here in the centre, a long way from the Southern tourist beaches of Copacabana and Ipanema. A sign of how much of a shock Rio is in for when the gringos – as all foreigners are called – actually show up in force, and of how interesting that might be for everybody concerned.
One São Paulo-based English ex-pat, wearing a smart red England shirt, told me before the game that he actually wanted Brazil to win, because it would be better overall for the World Cup and that's what we all wanted. A British journalist even turned up to the game in a Brazil vest. The England supporters were drowned out with boos by Brazilian fans every time they attempted to start up a chant. But the mood amongst the 66,000 that watched the 2-2 draw in which both England's Wayne Rooney and Brazil's Paulinho both scored memorable goals was overwhelmingly affable, and while this was not a classic, it was still a hugely entertaining game.
Rooney's goal was a long, curling strike from outside the box that had TV Globo commentators discussing its "surgical precision" – exactly the sort of golaço, as a beautiful goal is called in Portuguese, the opening game needed. Paulinho's whiplash rebound volley to equalise exploded into the net. Fred hit his home hard. Neymar threw in some dazzles in a first half where Brazil played better.
Off the pitch, nothing went badly wrong. Sighs of relief all around official circles, you might imagine. Rio really needed this to go well, after a run of crimes and disasters made all the wrong international headlines for a city with two enormous international sports events to stage.
An American exchange student was brutally gang raped and her French boyfriend badly beaten on a collective transport van, and the vans have now been banned in South Rio's tourist areas. After an argument between a disgruntled student and its driver, a bus careered off a flyover in central Rio, killing seven. Shootings have broken out in so-called pacified favelas like the Complexo do Alemão. A German tourist was shot and badly injured during a hold-up in Rocinha, a favela pacified in 2011.
The Brazilian authorities had locked down the entire area around the Maracanã, sealing off a sort of protection zone around the stadium which was closed to traffic. A helicopter buzzed overhead, there were armed police and soldiers on the streets, as well as the army of green-clad helpers, some of whom used megaphones to move the crowds.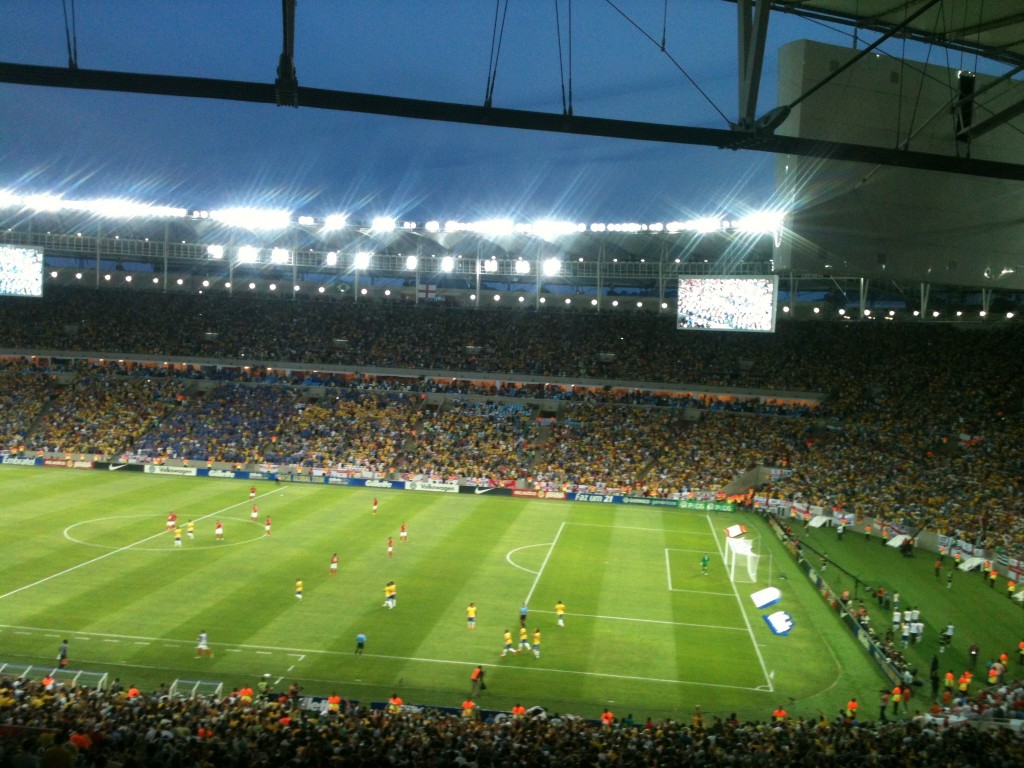 In the days before the match, a roof panel fell off a stadium in Salvador and a Rio judge suspended Sunday's match on safety grounds, later lifting the injunction. In March Rio's other big stadium, the Engenhão, was closed for safety reasons. Photos of the Maracanã looking like a building site have been bouncing around Brazilian news sites.
But on the day, even though it is covered in plaster dust and not quite finished, the stadium looked impressive – particularly on the giant screens, as the camera swept around the concrete circles of this enormous gladiatorial bowl. Even the view from the rear of the stadium was stunning, as the sun set on the mountains that circle it and glinted on a hilltop favela.
It was a reminder that the World Cup is, for the vast billions of people who watch it, a television event. And if there is one thing that Rio – this vainest of cities, home to Brazil's biggest television network and much of its cinema – knows, it is how to look good on television.
Sunday's football was not classic, nor did it leave Brazil fans, or even coach Luiz Scolari happy. But with four goals in the second half, plenty of pace, and a handful of great moments, it was enough to whet your appetite for more big, set-piece games in a setting like this. Exactly what the World Cup promises.
Brazil needs its national side to raise the bar: Brazilian media have joked that both the Maracanã and the team are "under construction". But the side did play with more bite. And the morning after the game, Brazil star Neymar was already at his new club Barcelona – many hope his long-awaited move to Europe will raise his game just as it has lifted that of his Brazil team-mate Lucas, now at PSG.
While for one Brazilian soccer fan, Sunday's game was a dream come true. Miguel Salek Junior, 31, who writes for a Brazilian football website and has never been to the UK, has been a fanatic England fan since he watched Bobby Robson's England side in the 1990 World Cup. Having waxed lyrical about Paul Gascoigne, Gary Lineker and David Platt, he showed From Brazil his red England shirt, with the name Lineker on the back, and his flag.
"The passion of the English fan for his national team is outstanding," he said. "I expect a great game from England." Miguel will not have been disappointed by Wayne Rooney's "surgical strike". While for even the most patriotic of England fans, the idea of someone from the country of Pelé and Zico glorifying as unglamorous a player as David Platt is, frankly, hilarious. But Miguel is a strangely heartening example of the kind of unlikely surprise football can throw up. Because this is a game that draws out the similarities between people from different nations, while simultaneously celebrating their differences.
Photos Dom Phillips