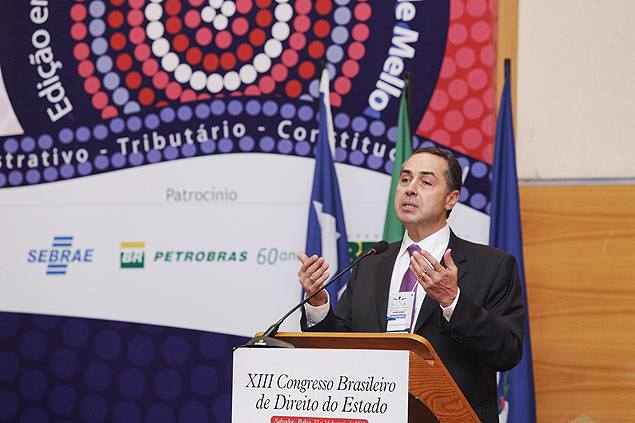 Dom Phillips spoke to Barroso in March and found him an impressively clever and composed man. He is a critic of Congress, which is in a power struggle with the Court, relatively liberal on social issues, and pro-market.
By Dom Phillips
New Supreme Court judge Luís Barroso, 55, landed in a hot seat when he was appointed last month. Brazil's Supreme Court is under intense scrutiny, following a series of rulings that have pitted it against Congress.
Last year the Court handed out custodial prison sentences to the operators of a political vote-buying corruption scandal called the Mensalão, or 'big monthly payment'. It has been trading blows with Congress ever since, and there has been talk of a crisis in Brazil's political and legal structure as a result.
Everybody wanted to know where Barroso stands on the big issues when he sat down for seven hours of questioning from Brazil's Senate before being approved last week. Like a good lawyer, he gave very little away, bar that he apparently agreed with the court in favour of a legal gay union, and on abortion for mothers carrying anencephalic babies during the first trimester of pregnancy – both of which are liberal positions to take in a country as conservative and Catholic as Brazil.
"I'm going to do what I think is right, what my heart says," Barroso said, when asked about the Mensalão, because the court now has to decide on the appeals being mounted by the accused.
One of those condemned in the Mensalão case was José Dirceu, ex-President Lula's former right hand man. The idea that corrupt politicians might actually be jailed came as a pleasant surprise to many Brazilians. But despite all the excitement the case generated, nobody has actually been jailed yet.
Joaquím Barbasa, the Supreme Court judge who led the case and is currently court president, is still enjoying a political bounce that even saw him discussed as a potential presidential candidate as a result (he said he wasn't interested).
Since then the divisions between both powers have been less clear cut. Congress ran into the Supreme Court over a law it passed that altered the way royalties from oil concessions were divided up between Brazilian states and counties. Congress wanted a more even split. States like Rio de Janeiro, which produces most of Brazil's oil, stood to lose billions of dollars in revenue and were against.
President Dilma Rousseff vetoed some of the law. Congress wanted to vote against her veto but to do that needed to 'fast-track' a vote because there were other vetoes in front of it. A Supreme Court judge ruled it couldn't in December last year. Then in March this year another Supreme Court judge suspended the whole law after the state of Rio de Janeiro launched an action arguing that the new law was unconstitutional. It was Barroso who handled Rio's case and it was then that we met when I interviewed him about the case at his chambers in Rio.
I found a calm, erudite and clearly very clever and patient man, who had studied in the United States and who did – and this is rare in Brazil – his entire interview in fluent, American-accented English.
Barroso cannot now rule on the royalties issue in his new role. But he will have plenty else to keep his hands full.
Barroso told me there has been a 'judicialization' of politics in Brazil, which he argued "has become an issue, mostly due to a crisis of legitimacy and functionality of Congress." He suggested that the Supreme Court was filling a political vacuum. "The court system, the Supreme Court is sort of occupying the space that has been badly and poorly occupied by the political system," Barroso said.
It is a deep criticism and poses fundamental questions for Brazil. To which point can the Supreme Court interfere in decisions a democratically-voted Congress makes? Barroso also told the Senate that the Supreme Court couldn't become like "extra time," for political disputes in Congress, referring to the overtime period for unresolved football matches.
Last year Brazil's Energy Minister Edison Lobão said the country could not hold more rounds on oil concessions until a new working oil royalties law was in place. This year Magda Chambriard, head of Brazil's National Petroleum Agency, said it could. A round was held in May. Until that round actually took place, there was a sense that nobody actually knew if it was going to work or not, and that Brazil was in the process of finding out.
My impression was that Barroso will contribute well to the debate.
He says he is on the side of market forces, rather than regulation. "We are still a young democracy here. There are stumbles. I think this is one of them," he said of the royalties impasse.
"We are still moving to creating a truly business-minded economy and behaviour," he added. "There is still a perception that some state intervention is indispensable to overcome under-development. But I tend to think that with all its imperfections, markets have been better than politics over the years, so we need to resist this temptation of regulating everything."
It may not be the sort of thinking much of the ruling left-wing Workers Party may want to hear.