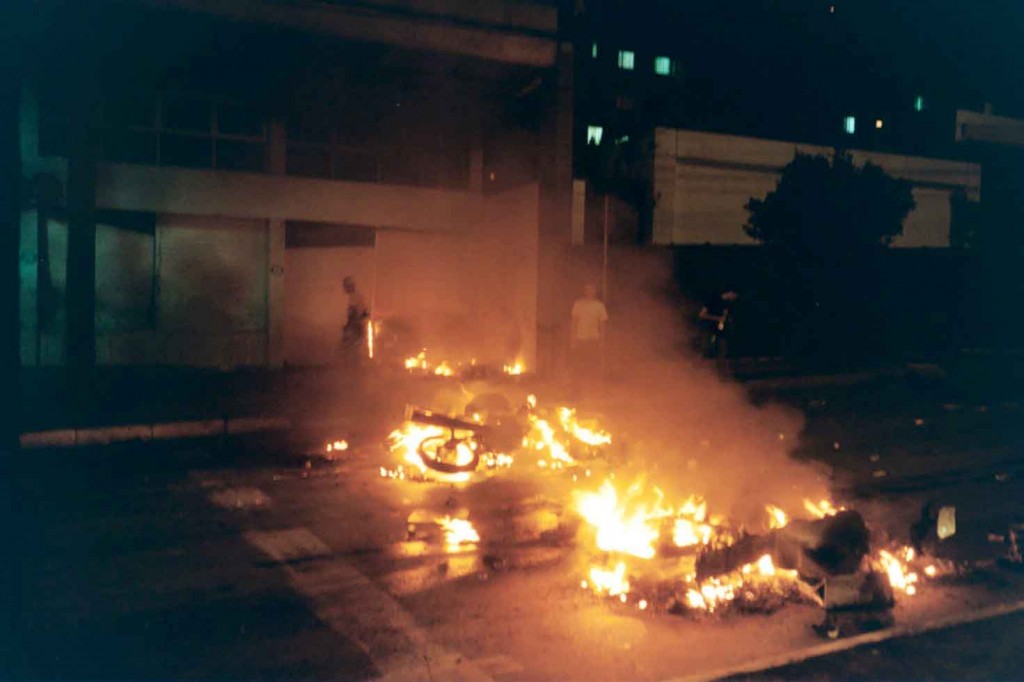 I was at the Brazil-Uruguay game on Wednesday, which was surrounded by protests marked by an especially large amount of property destruction and clashes with police. I left the game, and walked past a line of Police Shock Troops (I was wearing a big Fifa press badge, so they let me) into a bizarre world. I left a tightly organized sports mega-spectacle into what felt like a post-apocalyptic movie, with street fires, smashed windows, terrifying (though polite) police, and journalists and residents wandering aimlessly among the wreckage.  Above, some motorcycles on fire in the street.
My main camera was broken, and I was armed only with an old film camera and the wrong film. So these photos are bad. In my life I have taken a couple of
halfway-decent
photos
, but these aren't some of them.
I want to stress again that that these images of destruction and chaos should probably be the kinds of images that define this month (June 2013 will definitely go down in Brazilian history). As we've all said so many times, the vast majority of protests have been
peaceful
and are widely supported by the population. What we're seeing now is an over-enthusiastic and frenetic government response to the protesters, as they try to give them anything and anything and everything.
We'll see how that works out, and please check Claire Rigby's excellent post on the politics so far if you haven't already
. And for what most of the protests look like, check
Dom's videos
on this blog. But I took these pictures, so here they are.