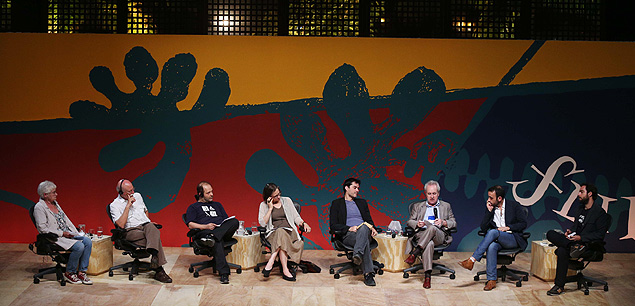 Brazil's annual literary festival is a clever, unfussy and efficient event, interspersed with moments of unpredictable intellectual drama. Dom Phillips shares some stories from FLIP 2013.
by Dom Phillips
Literary festivals, like soccer matches and movies, need big moments.
This one came during a 'table' – or mesa, as roundtable debates at the Paraty International Literary Festival, or FLIP (Festa Literária Internacional de Paraty), are called – on Saturday. It was about death.
The Chicago-based Bosnian writer Aleksandar Hemon was asked by somebody in the audience about how and why he wrote about the death of his daughter on a panel.
Silence. Collective intake of breath. Big moment. Jesus.
Hemon's one-year-old daughter Isabel died in 2010 and he later published an essay in the New Yorker about it. He explained that when he made the decision to become a writer, he had taken a decision to go wherever this vocation took him. The question, to him, was not "how could he write about the death of his daughter" but "how could he not write about the death of his daughter". No subject was off-limits. "This was the most difficult place I ever went to – and I came back," he said, to thunderous applause.
The stories told at FLIP can get this dramatic. Even the fluid, ever-changing recipe for the family's borscht that Hemon described was dramatic – because he had so many other literary ingredients in there, like the emigration of his family from the Ukraine.
But FLIP the event itself rarely is. It is a polite, and clever event, run with an unfussy efficiency. Things work – even complicated things like the simultaneous translation. Coffee is drunk. Restaurants fill up. People buy books. There are a lot of men in white straw hats and linen. Professional women in their 30s come in pairs and threes. There is a balmy atmosphere. People get tiddly but they rarely get drunk. It is completely unlike the rest of Brazil, which sometimes feels like it might stop working at any moment.
So the entrance of the immense, bristly moustache under Tobias Wolff's top lip, like a big, white brush glued to his face, was a welcome injection of the unpredictable into all this order. Wolff and his moustache had been paired with Karl Ove Knausgård, the Norwegian who achieved literary success with a series of no-holds barred books about his own life – and indeed, ex-wife.
This looked good. But FLIP lucked out with cancellations this year – Knausgård couldn't make it, French bad-boy writer Michel Houllebecq also cancelled, and poet Tamim Al-Barghouti either lost or had his passport stolen at an airport in London en route and didn't make it either.
So Wolff and his moustache faced off against the young Mexican novelist Juan Pablo Villalobos, who lives in Brazil and has written about narco-traffickers. Wolff read from his story 'A Bullet to the Brain' and mesmerised his audience with the way he plays with time in it. The two discussed violence – its role in their work and in their lives.
Wolff had presence. He is a professor of literature. He did elder statesman gracefully. He had the moustache. The roles were defined. But Villalobos, while deferent, declined to be intimidated. Maybe he is used to big moustaches in Mexico. He told a story about the town he grew up in, somewhere in the back end of beyond in Mexico was so dull that his brother, at the age of three, had invented a whole other family with whom he wanted to live. Wolff laughed happily. Rightly. This had been a big, powerful, stimulating debate.
The festival had organised three debates at the last minute to discuss the protests that swept across Brazil. I caught one. in which the British historian TJ Clark, philosopher Vladimir Safatle and psychoanalyst Tales Ab'Saber took on the theme of spectacle and utopia in the context of recent protests.
Interesting things were said, along the way. I know they were. I just lost them in the haze of the 10-15 minute monologue which each speaker delivered each time they were asked something. They were all in serious need of an edit button. The audience cheered what were generally pro-demonstration sentiments, often vigorously. But it felt like there was a yawning gap between this orderly, if at times impassioned, debate and the manner in which Brazil's wave of popular demonstrations communicated and organised themselves on Facebook, Youtube and Twitter, often in very few words, often very quickly, often relying on videos that people had filmed themselves on cellphones or twitter. Visual not literary. Talking a different language, a much quicker, more efficient one. One might expect a literature festival to have been more attuned to that.
And there was even more of a gap in communication style between this and the demonstration of a couple of hundred locals who had clattered across the bridge and past the festival that afternoon, banging drums and complaining about education and health, Paraty's murder rate – 31 this year alone in a city of 36,000 – and the lack of libraries.
Protests aside, the audience, festival and communication came together best in an innovative event that ended up being the surprise hit of the whole thing. It was a sort of live Bossa Nova show cummusic lesson, and took place not in the authors' tent, which feels a little like a television studio, but in the outdoor marquee where author debates are shown on a big screen at a fraction of the admittance price.
Critic and writer José Miguel Wisnik, guitarist Arthur Nestrovski, who is also artistic director of the São Paulo State Symphony Orchestra, Orquestra Sinfônica do Estado de São Paulo, or (Osesp), and singer Paula Morelenbaum did a show and tell on the work and songs of Brazilian poet and composer Vinicius de Moraes – a sort of combination of live show and music and history lesson.
Moraes is the guy who wrote the lyrics to 'The Girl From Ipanema' and dozens of other Brazilian music classics, which were dissected, explained and exquisitely performed with just voice, guitar and a little percussion box that Morelenbaum tapped with a brush. Bossa nova is the most bittersweet of Brazil's many musical forms, and also the most restrained: here its minimalist sweets of emotion were captured with economy and delight.
On Sunday, as it all began winding down, I asked Tobias Wolff and his moustache if there was an art to doing well on stage at a literary festival. "It would be the art of not being too conscious of it, of relaxing, and enjoying it, not thinking of it as a performance so much," he said, beaming, as he and his moustache were hustled into another debate.
And if that doesn't work, try Bossa Nova.