By Dom Phillips
Rio de Janeiro is a city with a strong libertarian and radical political tradition, that goes back to the dictatorship era. And though the numbers turning out to protests in recent weeks have come down drastically down, they continued before and during the Papal visit, as I covered in these two stories for the Guardian.
The 'SlutWalk' joined other marches on Monday July 22 and headed towards Guanabara Palace where Pope Francis, who had just arrived, was meeting President Dilma Rousseff. Violence later broke out – as I reported here – and controversy still surrounds the cause of that violence. This New York Times blog has the latest–
Last Saturday afternoon, July 27, with millions of 'pilgrims' (as World Youth Day called them) crowding Copacabana Beach, around 2-3,000 joined another Slut March – or Marcha das Vadias, as it is called in Portuguese. Above, her sign reads '"Take your machismo out of the way because I want to pass without shame."
[Below is a photo gallery from the Saturday protest.]
This was all potentially confrontational. The concept of the Slut March, in which women demonstrate for freedom, control over their bodies, and proclaim their right to sexual freedom, while dressed either provocatively or half-naked, is controversial enough. Even more so in a country as religious as Brazil and especially during World Youth Day.
One of the march's main demands was safe, legal abortion – which is illegal in Brazil. This can appear to be a country at ease with its sexuality, but it is also a deeply religious, macho and conservative society with high levels of violence against women. An estimated one million illegal abortions are carried out each year and are the fifth highest cause of death for women, representing some 400,000 deaths a year, according to this Associated Press story.
Thaísa Violante, one of the marchers, said she objected to the money spent on the pope's visit and that she objected to Catholic church doctrine which does not give women responsibility over their own bodies.
"It is against machismo. It is  in favour of abortion. It is against the pope's visit," she said.  "Today a bishop put out his hand and pushed me. This youth of the pope should learn something before they come to another country. They are making a big mess. The organisation is very bad, even though it is not their fault."
There was no violence. This could in part be because Rio police finally seem to be learning some 'intelligent policing' tactics to avoid violence – as was seen the previous night when a smaller demonstration of some 4-500 caused fear, confusion and chaos amongst pilgrims when it entered into the vast crowd in an attempt to reach the pope's stage on Copacabana Beach.
I was at Friday's demonstration too and noticed the very visible presence of a police officer in the middle of all the confusion who seemed to be doing his best to accommodate what demonstrators wanted while maintaining some police control and stopping hotter heads on either side coming to blows.
Anonymous Rio later shared this article about the police chief concerned on their Facebook page – the page is a widely-read source of information on Rio protests.
The Slut March was certainly the most celebratory of any march I have seen so far in Rio, with samba drums and instruments giving it a carnival street party atmosphere.
Later, after I had left, some of the demonstrators apparently conducted some gratuitously sexual acts using religious icons that have caused an unpleasant fall out. Not just amongst Catholics, but also amongst some who were on the march.
All photos Dom Phillips July 27 (text continues after photos)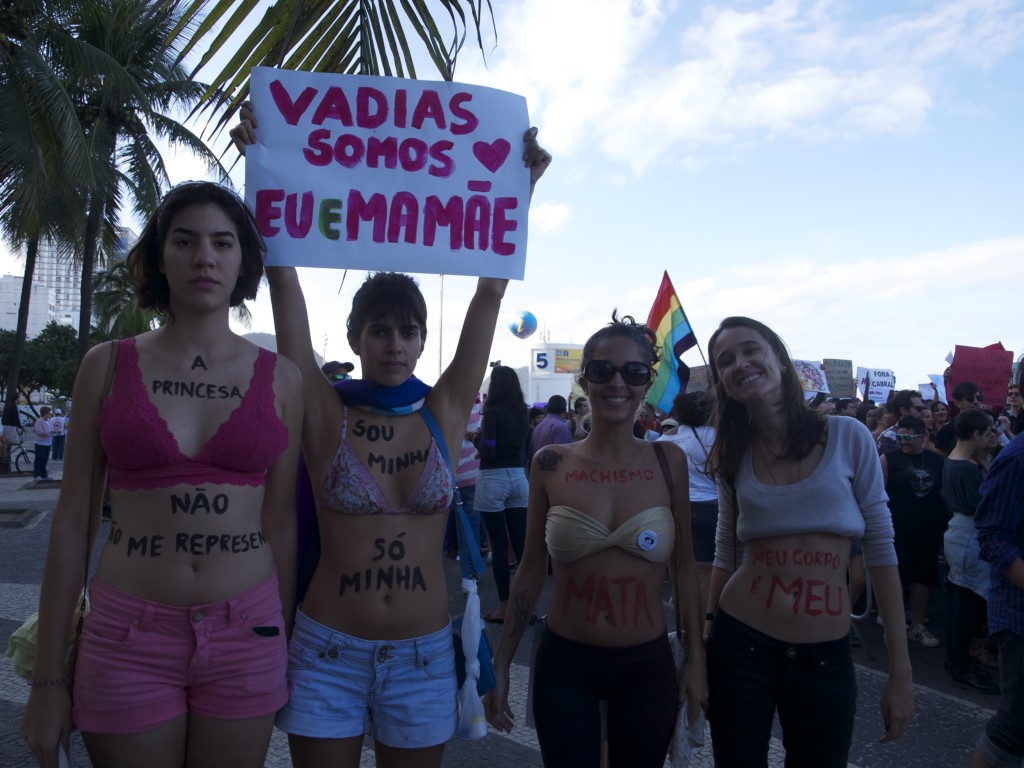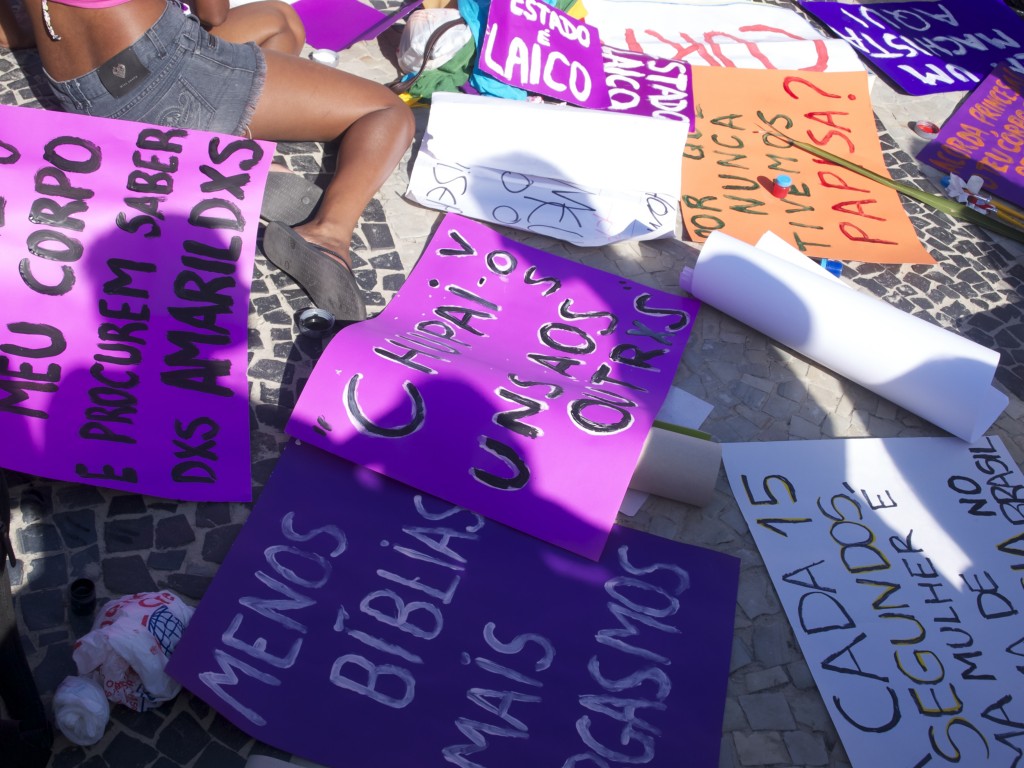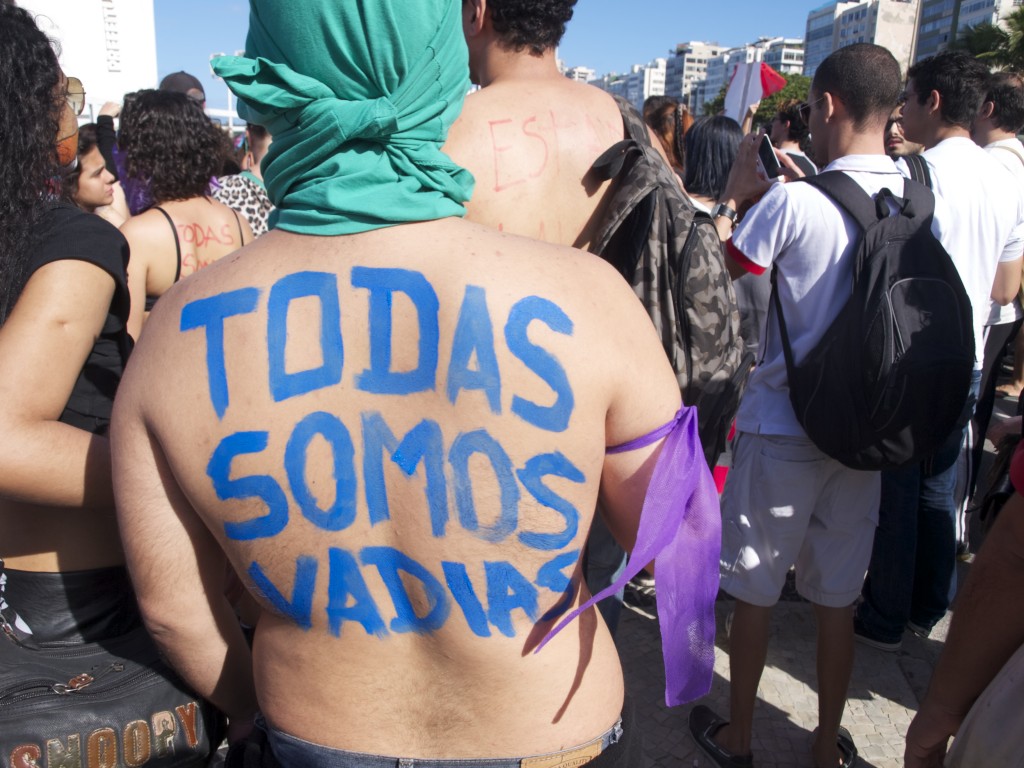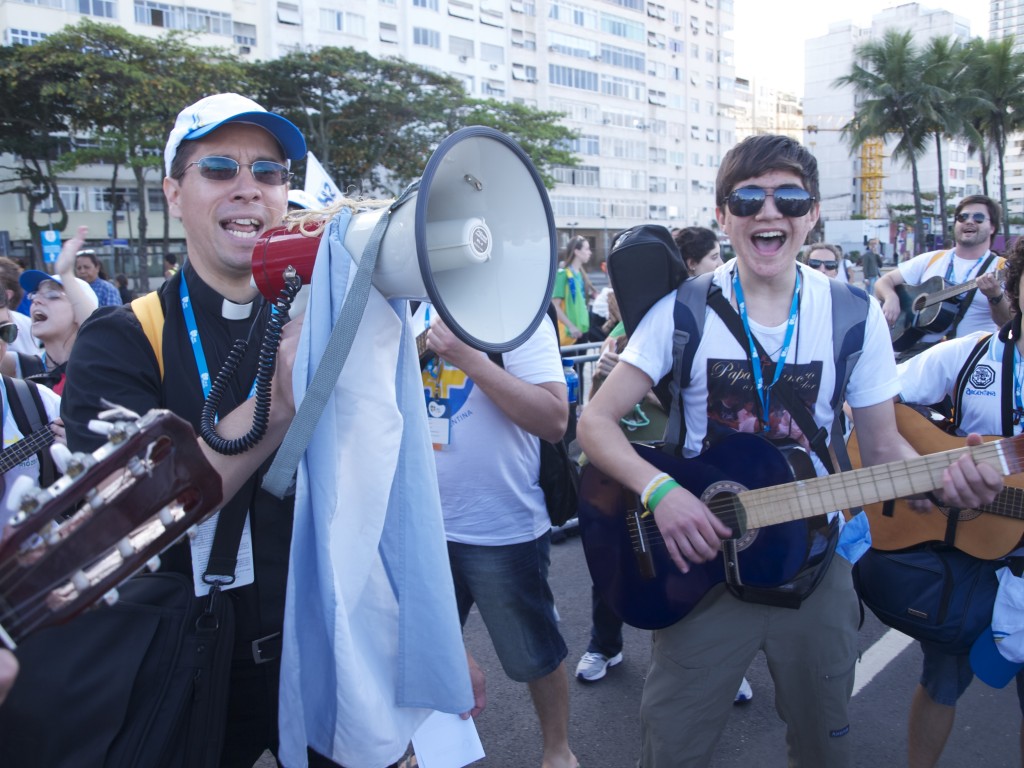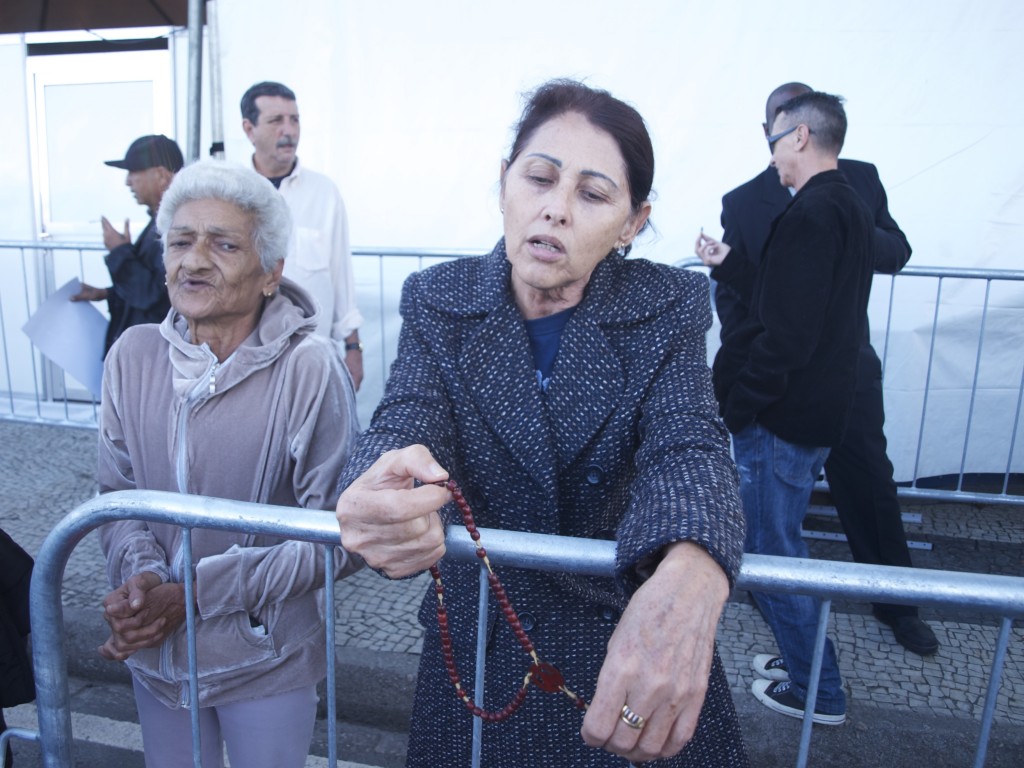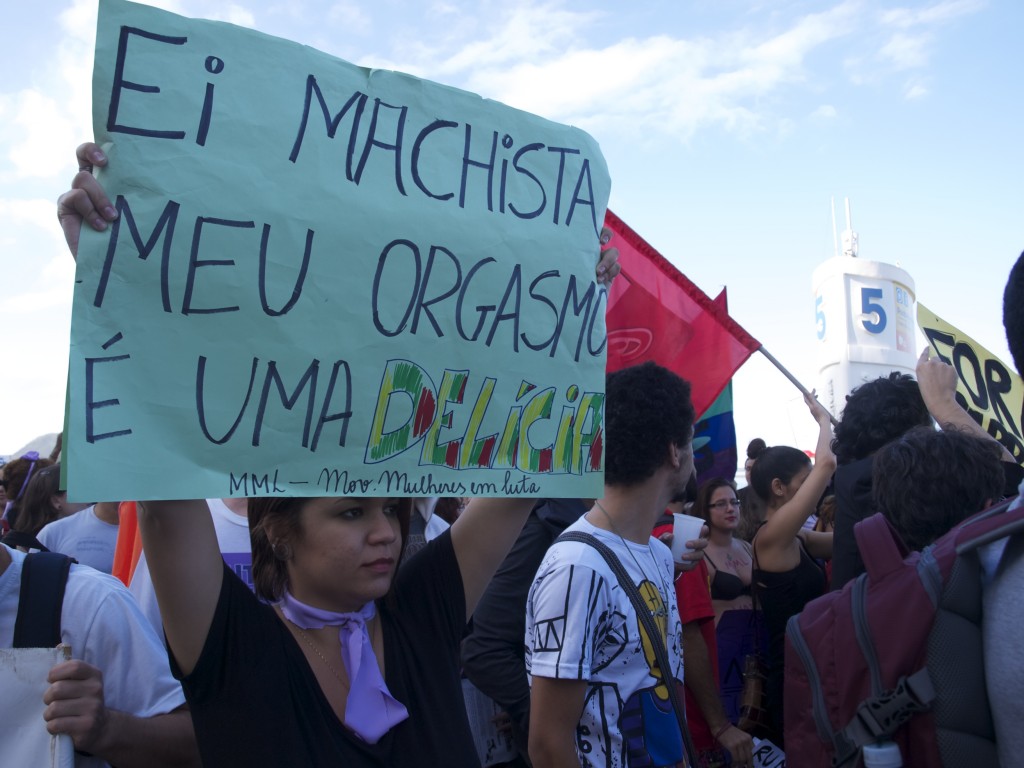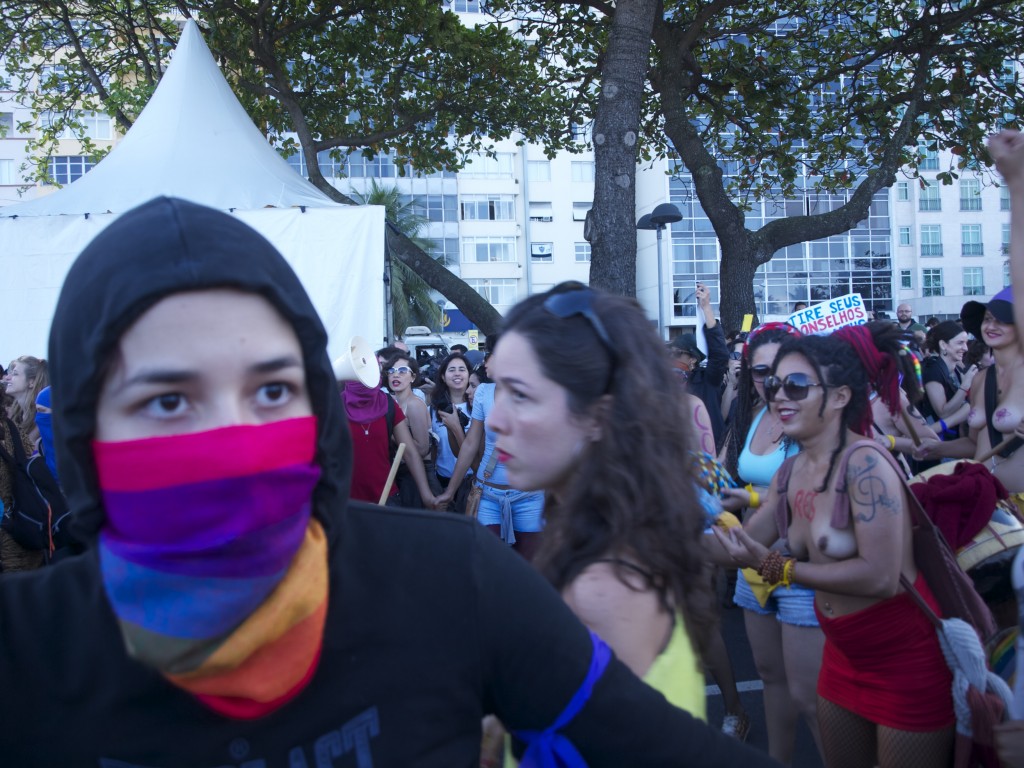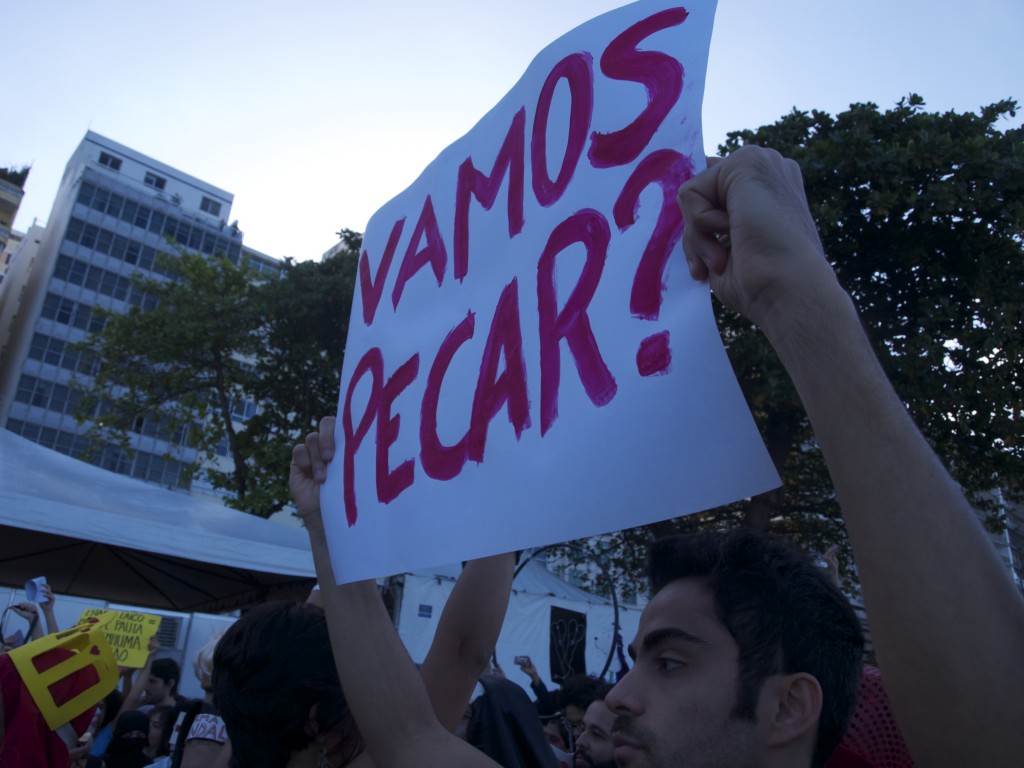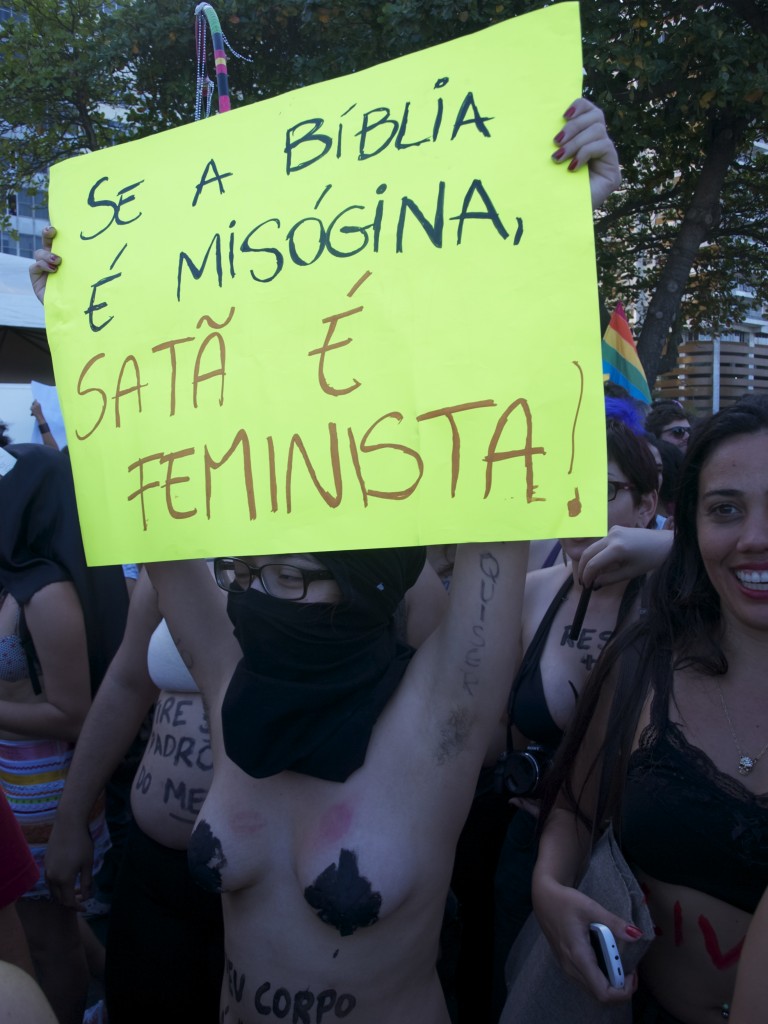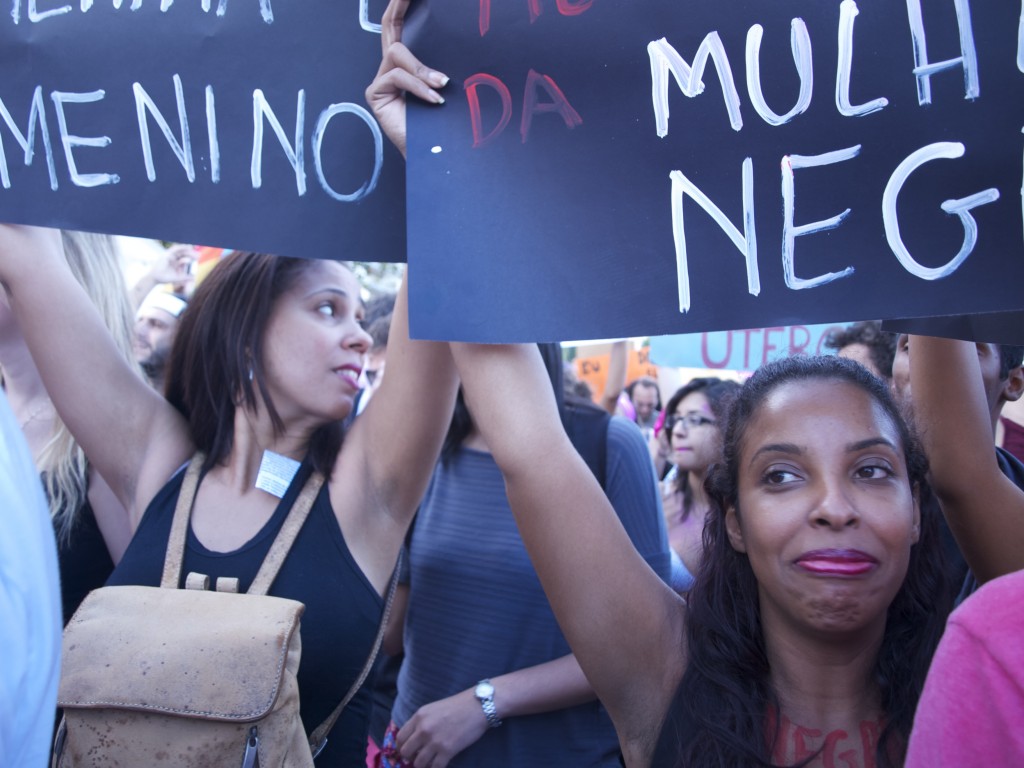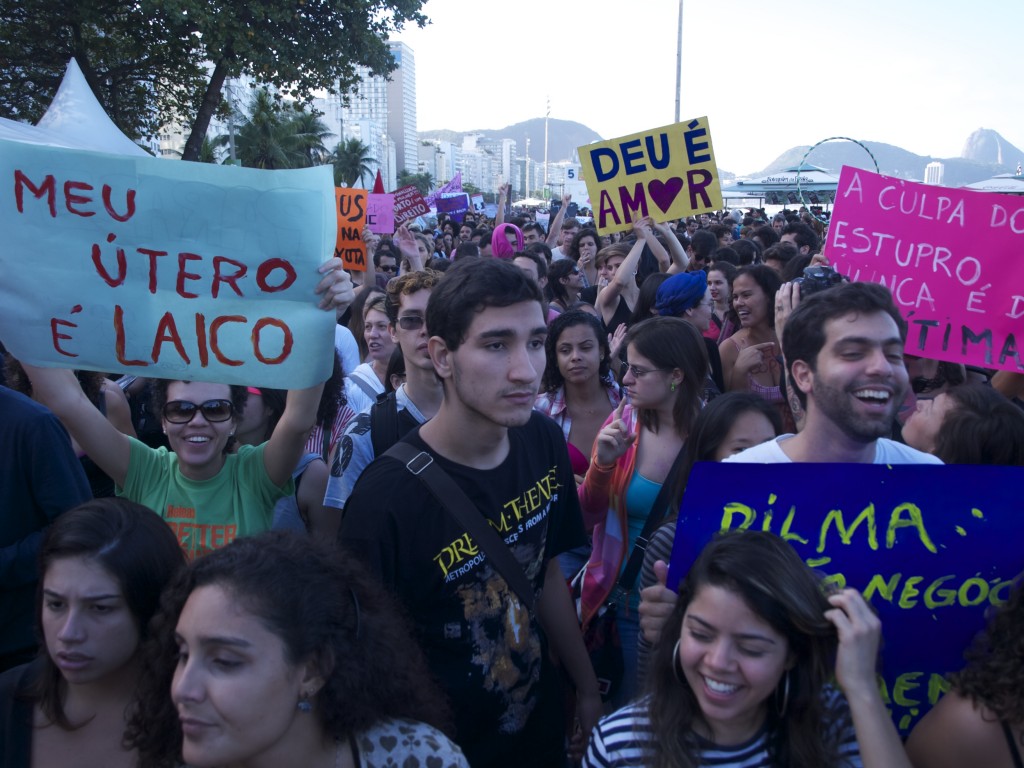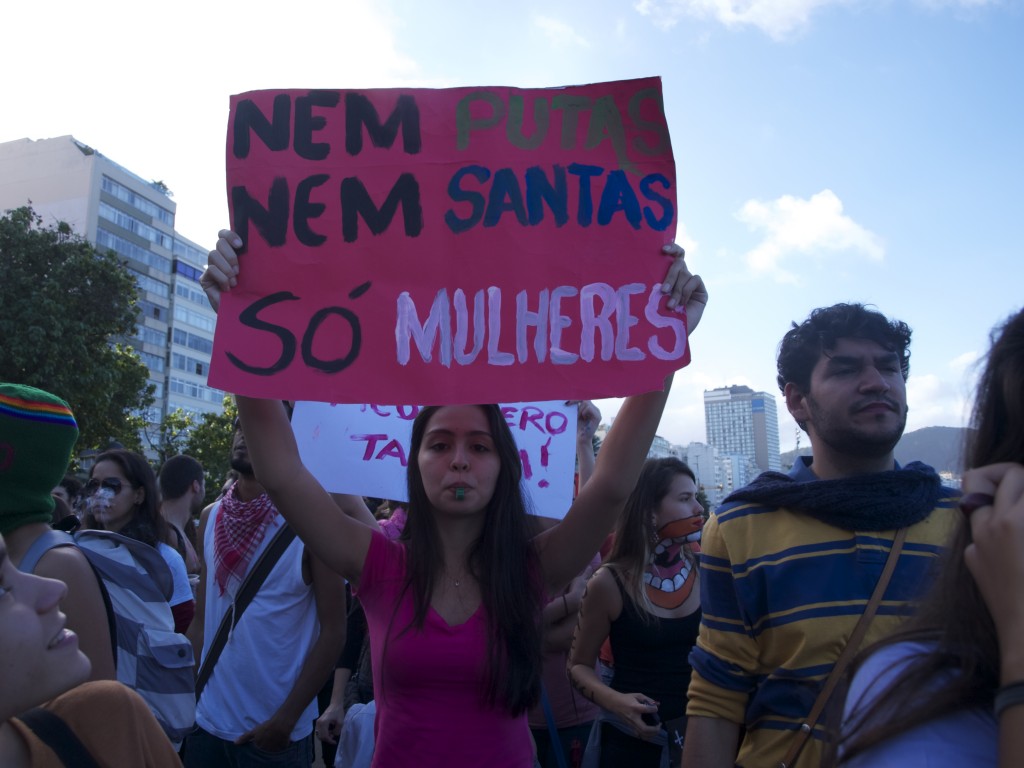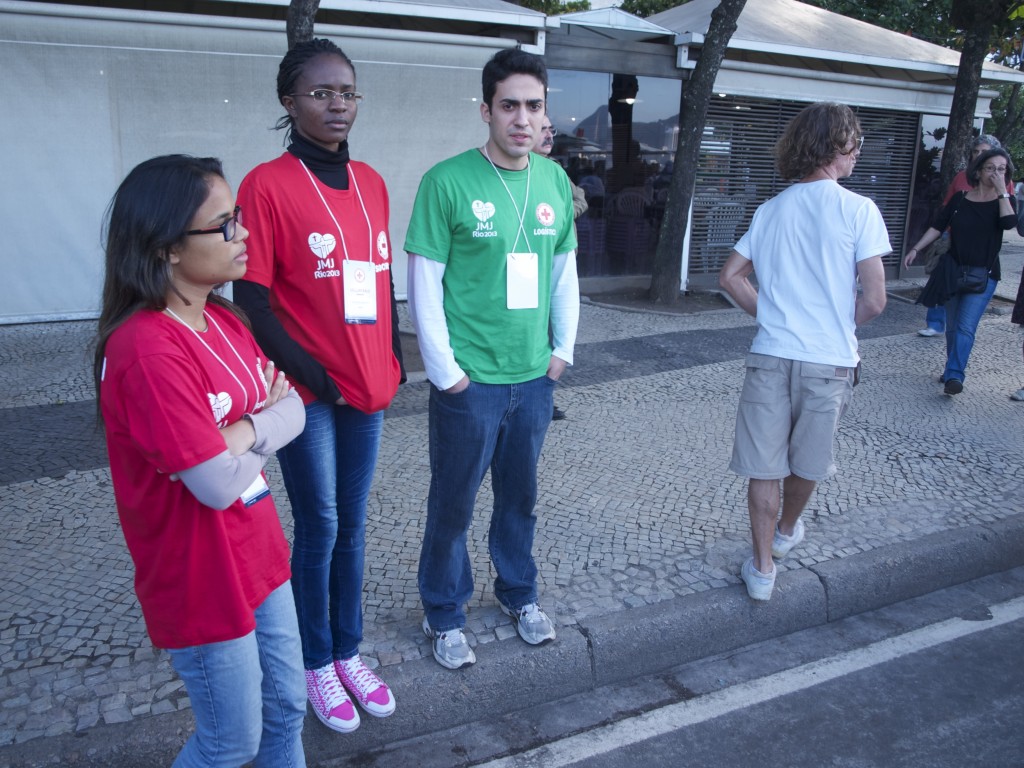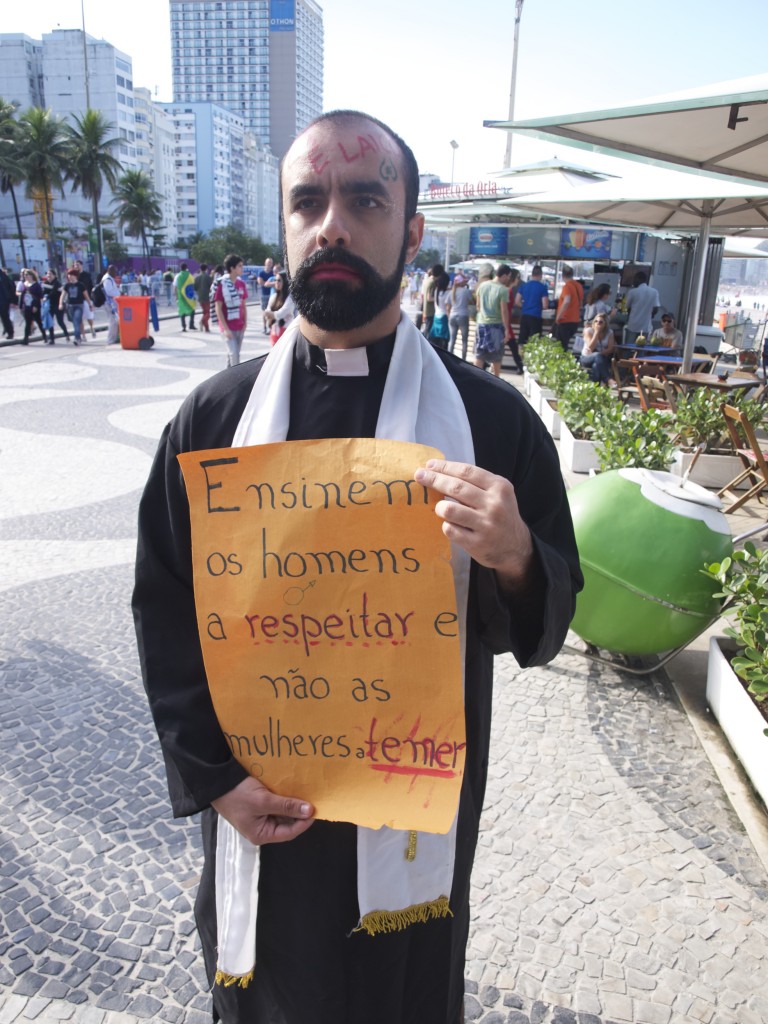 Later, The SlutWalk seemed to have finished, but a smaller contingent later regrouped and headed onto the beach to try and reach the pope's stage, only to be stopped by this line of National Force – a branch of the police.
Here, two worlds collided, on the sand: the slut march, and hordes of pilgrims, many of whom were planning to sleep the night on the beach. [The photo at the top is from after this ocurred.]
As some marchers exposed their breasts and others shouted at police who would not let them past, pilgrims on the other side of the police line either prayed, looked nervous or picked up their bags and moved on.
"They are criticising our religion. It is a lack of respect," said Harla Rachel, who had travelled from Pará state in the Amazon to see the pope. "You can understand their cause but it has no focus."
Foreign pilgrims were simply confused. Sara Zuni was with a group of Catholics from Isleta, in New Mexico, USA, and had no idea what the protest was about. "This is the first I've seen of it," she said. She did not know that abortion is illegal in Brazil. "I know it's controversial, but I would say I'm pro-life," she said. "It's a woman's right to choose, but I'm pro-life."