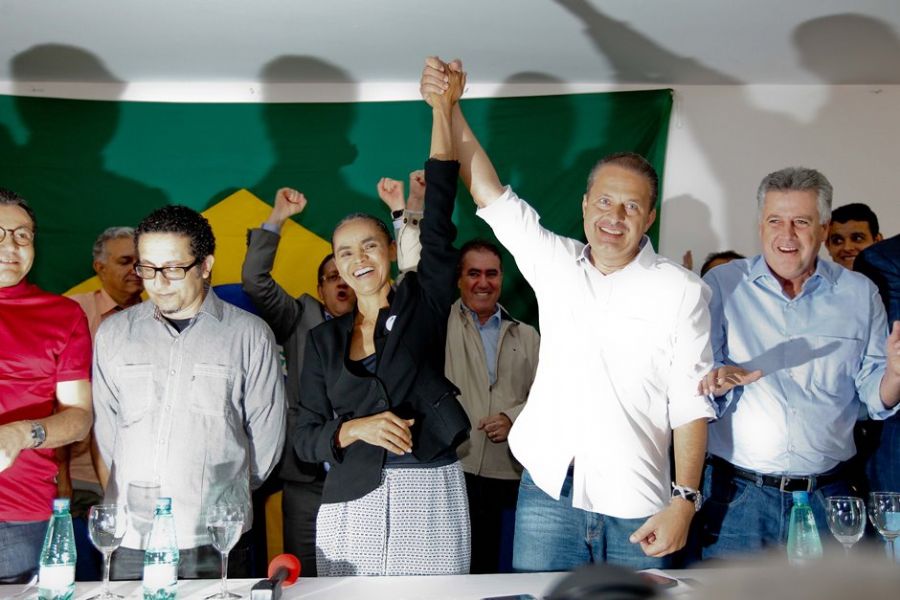 By Dom Phillips
Brazilian presidential hopeful Marina Silva took everybody by surprise Saturday when she joined forces with Eduardo Campos of the PSB party. The two will team up to fight the 2014 presidential election, with Silva most likely campaigning as Campos's vice-president. Now the race suddenly looks interesting.
Joining an existing party was the only way Silva could stay in the race, after Brazil's Supreme Electoral Court denied her attempt to found her own party, the Sustainability Network (Rede Sustentabiledade) last week – see Friday's blog on this.
Silva spent Friday night locked in meetings, local media said. Once the partnership with Campos was announced, its political advantages were immediately obvious.
Silva is an environmentalist, evangelical and political outsider who came third in the 2010 election and is currently running second in the polls. She is also seen by many as the candidate most likely to capitalise on the frustrations expressed by the hundreds of thousands of Brazilians who took to the streets to protest a range of issues, including the political system itself, in June.
But she has a weak point: the economy, which is not her specialty. And as Brazil's economy has been barely growing for a couple of years, it's also President Dilma Rousseff's Achilles heel. This is perhaps Campos's strong point: he graduated in economics and as the governor of Pernambuco state in North East Brazil is seen as both business-friendly and as having done a good job in a state that grew more than the rest of Brazil last year – 2.3% compared to Brazil-wide GDP growth of just 0.9%.
He has the administrative experience she lacks and his PSB (Partido Socialista Brasileira, Brazilian Socialist Party) is, like him, more popular in the North East. Both Campos and Silva served as ministers under former president Lula (Silva was Environment, Campos Science and Technology). Both want to break the political deadlock that has seen Brazil ruled by either the ruling PT, Workers Party or Partido dos Trabalhadores, of President Dilma Rousseff (2003-present), or the PSDB (Partido da Social Democracia Brasileira, Brazilian Social Democracy Party), under President Fernando Henrique Cardoso, 1995-2003), for 18 years.
Now, where recent poll figures were giving Rousseff a possible first-round win, suddenly a second election round looks likely. Worse, for Rousseff, the PT and the PSDB, the intriguing combination of Campos, a governor with administrative experience, and Silva, a populist outsider, means a potential third political force.
The latest poll gave President Rousseff 38% of intentions to vote, Marina Silva 16%, the PSDB's probable candidate Aécio Neves 11% and Eduardo Campos 4%. Campaigning proper has yet to begin.