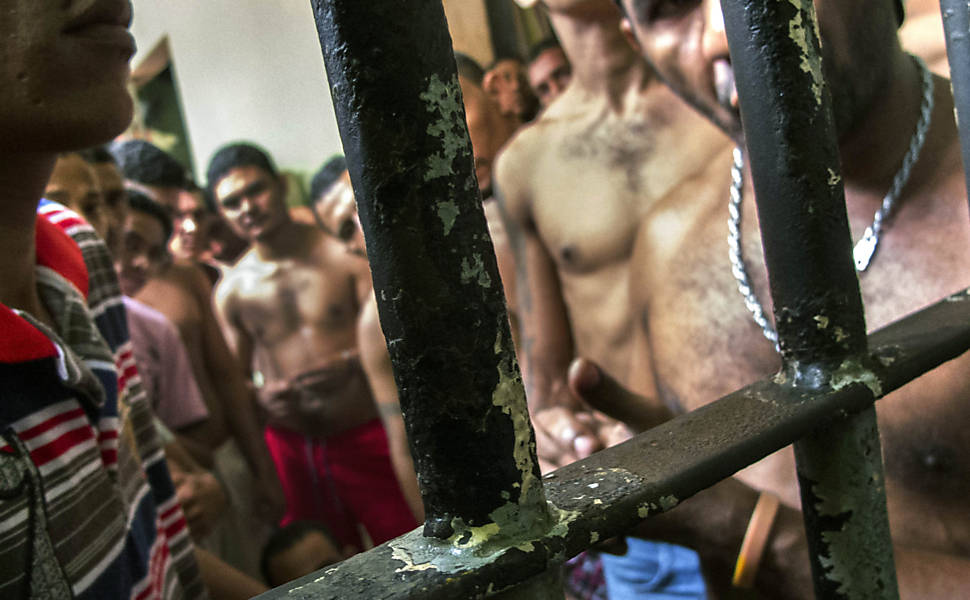 A gruesome video recently released is only one example of a penitentiary system often dominated by medieval conditions and shocking violence, Dom Phillips reports, and quasi-feudal political arrangements in the state of Maranhão have done little to improve the system there.
By Dom Phillips
It cannot have been an easy decision for this newspaper to publish a gruesome cell-phone video in which Brazilian prisoners paraded the decapitated bodies of three gang rivals.
But the video put both the crisis at the Pedrinhas prison on the outskirts of São Luís, and the government of Maranhão state where the prison is situated, under the spotlight.
The video is extremely graphic and should be watched with extreme caution.
It was one of a series of revelations spilling out of the Pedrinhas prison, where 60 prisoners were murdered in 2013, and another two have already been killed this year. Two gangs battle for control of the prison.
The release of the video was heavily criticised by the Maranhão state government, but the shock tactic worked. The United Nations Office of the High Commissioner for Human Rights demanded an investigation.
"We regret having to once again express concern at the dire state of prisons in Brazil and urge the authorities to take immediate action to restore order in Pedrinhas prison and other prisons throughout the country," the UN said in a statement.
Brazil's National Council of Justice, the CNJ, reported December 23 that a visit by Judge Douglas de Melo Martins had found that intimate visits from wives and girlfriends were taking place in communal cells. Partners and relatives of prisoners were being sexually abused by gang members during visits in order to keep their relatives alive, Martins said.
Groups of 250-300 slept together. Individual cells no longer functioned because bars had been removed, and Judge Martins said he was advised not to enter some areas of the prison because it would not be safe as gang leaders had not given permission.
In short, Pedrinhas prison was no longer under the control of the Maranhão state government.
The crisis is not new – 13 were killed in a rebellion at the prison in October last year, at which point the state declared a 'Situation of Emergency' and brought in the National Force – a police shock troop.
In early December another four died in another rebellion, during which the three decapitations took place. Another 18 had died in a rebellion in 2010.
Police entered and took control of the prison on December 27. Days later, there was a wave of what the authorities said were retaliatory attacks, and four buses were set on fire, burning six-year-old Ana Clara Sousa to death. Brazil's Justice Minister José Cardozo was sent to Maranhão amid talk of federal intervention.
Cardozo met with governor Roseana Sarney, who is currently in her fourth term. Roseana is the daughter of Brazil's former president, senate president and senator for nearby Amapá José Sarney, whose family has exercised a powerful political influence in Maranhão since he first became governor in 1966.
José Sarney is seen in Brazil as an old-style 'colonel' – one of a dying breed of rich and powerful landowner politicians who for centuries ruled big chunks of Brazil like their own personal fiefdoms. Roseana is seen has having carried on the family tradition.
As this Folha story reported, as the prison crisis heated up, Roseana's administration opened a tender to feed her and her family for this year, at a cost of Real 1 million ($425,000) to the state. On the list: 80 kilos of fresh lobster, one and a half tons of prawns, and eight flavours of ice cream.
When José Sarney became governor of Maranhão in 1966 he promised to fight poverty and violence. 48 years later, the state is still the second poorest in Brazil, the government lost control of a prison despite repeated warnings, and the São Luís murder rate grew 460% from 2000-2013, according to this Estado de S.Paulo story.
Vote buying is common in the state "which has been run as a fiefdom by a handful of privileged families for as long as anyone can remember", the Guardian said.
Both father and daughter Sarney have survived sleaze scandals. In 2008, a series of secret Senate decisions called the 'secret acts' rocked the senate under Sarney, then senate president, but he survived. In August last year, Brazil's prosecutor general requested Roseana be removed from their jobs in an ongoing case related to her election in 2010http://frombrazil.blogfolha.uol.com.br/.
Roseana's government attacked Judge Martins and his report for "untruths."
It said that there had been no complaints of rape of prisoners' partners or relatives. A video attached to the Martins report in which a man has his leg skinned had in fact been circulating on the internet for over two years, it said, which cast doubt over the whole report's credibility.
Judge Martins had been advised not to enter parts of the prison because it was Christmas and he could embarrass family members, not because gang leaders had forbidden him too, the government said. Martins had, the Maranhão government claimed, only taken his "untruths" public to "aggravate further the situation in the prison units of the state in a clear attempt to discredit measures that had already been determined by the government". No official reports of sexual abuse had been made.
This is how Roseana Sarney and her father deal with criticism – anything negative said about them is an attack on the state, not on those who run it. But they are right about one thing: the prison crisis does not just affect Maranhão, but the whole country. There are 563,700 people in prison in Brazil, but capacity for just 363,500. Conditions are frequently medieval: overcrowding, prison rebellions, murders, and gang control – these are national problems. Maranhão is just that bit worse.
On January 2, another prisoner was found dead in Pedrinhas, the state said. Josivaldo Pinheiro Lindoso, 35, was found with signs of strangulation. He had only just been recaptured after escaping from prison in 2012, while serving a six year stretch.
Lindoso had been allowed home for Christmas and never went back. Like intimate visits, holiday trips home are another surreal reality of the Brazilian prison system. Criminals frequently fail to return. Knowing what horrors might await them at jail like Pedrinhas, this is hardly a surprise.