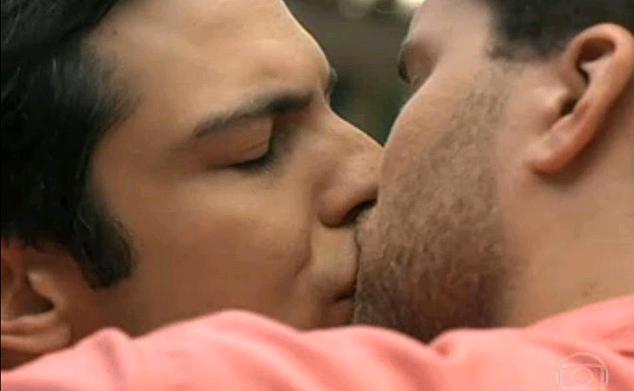 By Dom Phillips
Last month, Brazilian television network Globo showed something shocking it had never shown on a prime time soap opera before: a kiss between two men. The kiss, between Félix (Mateus Solano) and Niko (Thiago Fragoso), had been anticipated and was shown in the final episode of the novela Amor à Vida (Love the Life). Here it is.
Sensitively handled, romantically filmed, it caught Brazil's imagination and set social networks ablaze. The next morning, the kiss was headline news and Globo's news site G1 was one of many to run celebratory stories.
Its primetime Sunday night magazine show Fantástico interviewed both actors and called it "the kiss that moved Brazil."
You might think: they took their time. Isn't it 2014 already? The first gay kiss on a British soap opera on long-running East London drama Eastenders happened way back in 1987. Was Brazil ready for the shock? The answer is yes, not, and not sure. Sometimes this confusion seemed to take hold of the same person. Many Brazilians literally did not know what to think.
In big Brazilian cities like São Paulo and Rio de Janeiro, with their gay districts and gay couples holding hands on the street, the reaction seemed broadly positive.
I was sitting outside a stall near central Rio that sells acarajé, a sort of spicy prawn and bean sandwich, shortly afterwards and there was a buzz of conversation about the kiss. Nobody seemed particularly put out: the reaction was more "about time".
In São Paulo, writer Santiago Nazarian lives on Frei Caneca street – pronounced 'Fray Caneca' and nicknamed 'Gay Caneca' because of its gay population – described whooping and shouting on the street.
"I don't even watch novelas, and I was ready with my 'companion' and my gin and tonic," he wrote on his Facebook profile. "When Mahler began to play (an old allusion to Death in Venice), I did not even need to lower the volume to hear, here in the gay Caneca of São Paulo, people shouting, applauding, shouting 'thank you' and 'uh-huh'. Cute. Silly, but cute."
Also in São Paulo, Emilie Brunet was watching the video with three gay friends. She published a video of everyone cheering for the kiss to happen as they watched TV. "I think this was a very touching moment," she wrote. "I guess most gay guys were secretly praying for that gay kiss to happen."
Present with them was one of the gay friend's mother, who was shouting: "Vamos Walcyr! Vamos Walcyr!" – "Come on Walcyr!", because she was hoping the novela's writer Walcyr Carrasco had had the courage to include the much-anticipated kiss. Carrosco himself said the romance was the result of the "popular voice" and that the character of Niko was the "heroine" of the soap.
But outside of cosmopolitan state capitals like São Paulo and Rio, the reaction seemed more confused. Antonio Rabelo, 25, who runs his own internet company in São Luíz, in Maranhão, North East Brazil, was initially taken aback.
"I thought it was weird at first, because it is the first time on public TV, but it is pretty common on the streets and in malls here," he said. He himself does not have gay friends, but he does know friends of friends who are gay and has no problem socialising with them, he told From Brazil. "It's cool, it doesn't bother me."
The gay kiss quickly became the theme of a WhatsApp mobile conversation between Rabelo and different members of his extended family. Radically different opinions were exchanged. "It shouldn't have happened," said Antonio, at the beginning. "These things should happen slowly on terrestrial TV, because all sorts of people watch," said a male relative.
"We are a macho society where what is right is decided by organised religions," said another male relative, "that we know are hypocrites like any other institution." He added: "Another battle was won against prejudice." Yet another chipped in: "I have a gay friend and I don't accept a man kissing another man." One guy who supported the kiss said he did not believe gays should marry in church.
The debate did not reach any conclusion. A female cousin concluded: "Guys, the world and human behaviour goes way beyond our small communities." Another guy joked: "I think your discussion is really gay."
In Belém, in Pará state, in Brazil's Amazon, reaction was even more mixed. "Some people close to me didn't like it and others approved," A 35-year-old female police officer, who did not want to be named, told From Brazil. " I think that homosexuality, before God, is not right. Understand that this is not prejudice, it is my position. I have a very close cousin who is gay and I didn't even stop loving him for this! To me, a gay kiss is not natural."
Alessandra Marques, 34, a judge at a workers court, gave the kiss a Facebook thumbs up and said: "Maybe just one or two older people didn't like it." Public defender Adriana Melo de Barros, 35, said that people in her circles did not support the scene. "I believe that while it has not been scientifically proved that homosexuality is a mental disturbance or a genetic question, society is not going to see this as something natural," she said.
Even if they have not kissed before, openly gay people are regular features not just on Brazilian television, but in society as a whole. Both São Paulo and Rio have openly gay districts. But attacks on gays regularly happen.
On February 3 Folha reported that police had arrested a gang of six skateboarders, between 16 and 23 years old, suspected of a series of attacks on gays on central São Paulo like Frei Caneca. One victim of an attack had died after being beaten on the head with a skateboard.
According to this blog on the site of Rio tabloid O Dia, 14 middle class youth were arrested for attacking gays who frequented the Aterro do Flamengo park in central Rio on the Sunday after the gay kiss.
Rio's Aterro do Flamengo park is known to be a cruising ground for gay men, particularly at night. Just nearby, in Glória, the night-time streets are patrolled by transvestite prostitutes. All over central Rio, public telephone booths are plastered with advertising cards for transvestite prostitutes.
It's an open secret that there is a large market for transvestite prostitutes in Brazil, whom are often patronized by men considered straight. This was the subject of a 2012 sketch by Rio comedy troupe Porta dos Fundos, called 'The Firm's Transvestite', in which a man pulls over his car to pick up a transvestite prostitute, only to discover it is a colleague from his office. The video has been watched almost five million times.
On Sunday Folha carried a report on how gays in some central São Paulo areas have had to change their behaviour and avoid walking the streets alone to avoid the wave of attacks.
Renato Santos, 23, told the newspaper he felt safer on the street when he was dressed as a woman.