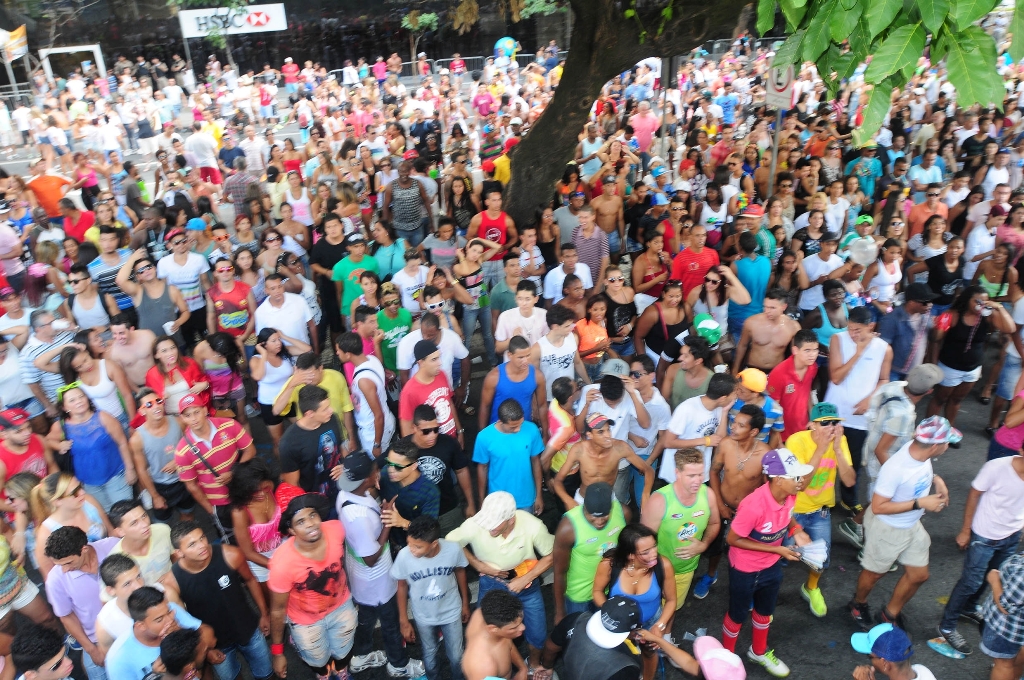 Carnaval, long concentrated in traditional party centers like Rio, Salvador, and Recife, is taking roots in new cities all over the country. James Young reports from landlocked BH, Brazil's unglamorous third-largest city, which is learning to put on its own celebrations.
By James Young
Brazil's carnaval capitals are well established. There's frevo music on the steep cobbled streets of Olinda, and the giant Galo da Madrugada bloco (street party) in next door Recife, until recently considered by the Guinness Book of Records to be the biggest carnavalesque gathering in the world.
If trotting behind giant sound trucks listening to axé superstars such as Ivete Sangalo or Claudia Leite is your thing, then Salvador, Bahia is the place. And the most flamboyant carnaval of them all, whether you fancy watching the samba schools parade in the sambodromo or getting hot and sweaty among 2.5 million revellers at the Cordão da Bola Preta bloco, is in Rio de Janeiro.
It's safe to say that the comparatively reserved, landlocked city of Belo Horizonte, Brazil's third biggest, is not high on the list of traditional carnaval destinations.
Gradually, though, the seeds of carnaval are beginning to find fertile soil in BH, as locals refer to the capital of Minas Gerais, usually more famous for its delicious if stodgy comida mineira cuisine than scenes of gay abandon. Last year over 500,000 foliões (carnaval–goers) partied in the streets. This year, according to the city's tourist department Belotur, over a million people are expected to kick up their heels at the festival.
Last Saturday more than 50,000 attended the famous Banda Mole bloco on the city's main central drag, Avenida Alfonso Pena. The theme of the party, which was first held 39 years ago, was "We Were Ready Before The World Cup," a dig at Brazil's often shambolic preparations for this June's footballing jamboree. Among the giant papier mâché dolls were recreations of president Dilma Rousseff, Pelé, and national team coach Luiz Felipe Scolari.
Belotur director Mauro Werkema suggests the growth in popularity of the city's street parties may be connected to recent social change in Brazil. "It's part of the social democracy phenomenon. The lower middle classes are growing and have more disposable income to spend on TVs, fridges, and on going out."
What gives carnaval in Belo Horizonte a different feel is that there are few central, officially organised hubs at which people gather. Instead, in the style of the older carnavals, individual blocos parade through the streets, pulling in crowds as they go. This year, according to Werkema, there will be over 200 blocos, almost triple the total in 2013.
"It's not like the bigger carnavals," Monica Carvalho, an English teacher, said at last year's Bloco Alcova Libertina in the city's most bohemian neighbourhood, Santa Tereza. "It's more organic. It's not based around mega-events organised by the council or the beer companies. It's like carnaval used to be."
Not everybody is happy about the explosion in size of the BH carnaval, however. A lack of official organisation led to complaints about insufficient infrastructure and planning at last year's event. One bloco, Baianas Ozadas, anticipated a thousand revellers at its downtown street party. When over 20,000 showed up, the parade route had to be changed at the last minute. In Santa Tereza, revelers complained about a lack of toilets, security, and public transport.
Many residents of carnaval neighbourhoods were also unhappy, complaining that the parties went on long after official closing time, and that streets were littered with refuse for days afterwards.
The city has promised to improve things. "This year will be better," promises Mauro Werkema. "It's a learning process. We're all learning, from the city council to the police. And it's great preparation for the World Cup."
But Belo Horizonte faces another battle if it is to join the ranks of Recife, Rio and the rest as a carnaval hotbed.
"You can tell the difference between those who were born with the carnaval rhythm and those who are trying to learn it," Francielen Alves, a veteran of several Recife and Olinda carnavals, observed while watching the predominantly middle-class revellers at the Bloco Alcova Libertina take a break from dancing to snap selfies with their I-phones.
Later, at the same street party, a band took to the stage in the Praça Duque de Caxias and belted out raucous Beatles covers while the crowd sang lustily along. Although no one was complaining, the essentially and uniquely Brazilian nature of carnaval, so prevalent in other cities, was conspicuous by its absence.
Perhaps the lack of tradition and authenticity is unsurprising. After all, Belo Horizonte is a mere 116 years old, a baby when compared to Rio (448 years old), Salvador (464) and Recife (476). And while the roots of carnaval in the city date back to 1897, today's mass celebrations are a relatively recent development.
For decades the festival in BH was best summed up by the saying that "at carnaval, you can walk down Avenida Alfonso Pena naked if you want, because no one will see you," a reference to the fact that the holiday was traditionally a time for locals to flee to cities where the party pulse beats stronger.
"On the last night of the Recife carnaval all the old maestros get up on stage and all the frevo orchestras play together. And when the sun comes up and it's finally time to go home, everyone cries because it's over for another year. It's not quite like that in BH," said Francielen.
Such minor griping is unlikely to concern revellers at this year's carnaval, however. What it lacks in history and musical heritage, the Belo Horizonte street party makes up for with enthusiasm and energy. That in itself will likely be enough to ensure that carnaval in the city keeps on growing.
James Young has lived in Brazil for the last eight years, alternating between Belo Horizonte and the Northeast. He writes about Brazil and Brazilian football for The Independent, Sports Illustrated, ESPN and others.