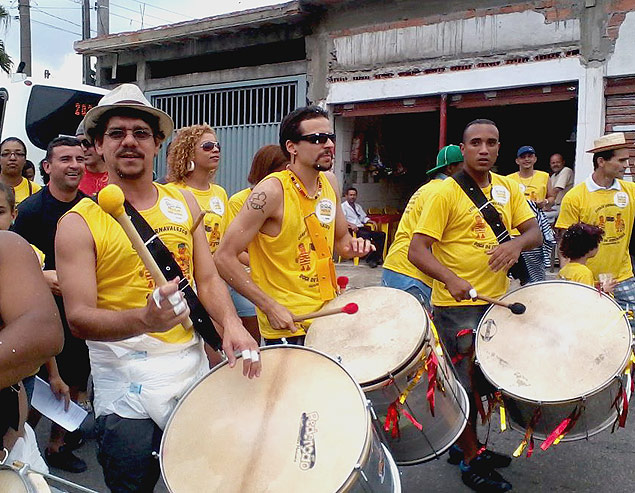 Increasingly, Brazilians are blasé about two things most everyone used to be excited about – the FIFA World Cup and a wave of protests. We'll see which way the pendulum swings again come June. Above, last year's protests become the theme of a small 'bloco' at this year's Carnaval.
Attitudes went from "This is going to massive," "Everyone will be fired up" and "It will change Brazil forever" to "Not again…," "I can't wait for this to be over" and "There is just too much hype."
Radicals aside, there are now few Brazilians overly enthusiastic about either of the two mutually antagonistic events taking place in the country this year: the FIFA World Cup and the protests that have rocked the streets since June. Interest faded very slowly; people got sick of infrastructure issues around the World Cup and violence from agitators and police during protests.
Now these notions are measurable. When the massive protest movement kicked off, pollster Datafolha said 81% of Brazilians supported them, against everything-that-is-wrong-here. That support has now dropped to 52%. Even worse for activists: the criticism of their agenda is rising. Now 42% of Brazilians are against any protests at all. Only 15% held this view last summer, during the Confederations Cup.
Another poll could be seen as a sign that the government's nationalistic campaign for the World Cup had some effects. Pollster MDA says 85% of Brazilians believe there will be protests during football's creme de la creme, but only 15% considered actually being in them. That could lead one to believe there is widespread support for hosting the tournament. But that isn't the case, either.
Almost 51% of Brazilians say they wouldn't support a bid to host the tournament if it were to be made today, MDA says. Datafolha says 52% of locals don't approve of FIFA's main event being hosted here. In November 2008, impressive 79% of the people were for it all.
We can guess at motives. Four World Cup stadia (São Paulo, Curitiba, Cuiabá, and Porto Alegre) are still at risk and many reject the high amount of money spent, which they'd like to see go somewhere else,
There is usually bitterness before big sporting events. Brazilians are showing that attitude now, but that doesn't it support couldn't skyrocket the moment the Cup starts and Brazil takes on Croatia in Corinthians Arena.
For protesters, the question is whether they can get support from those who are critical of the World Cup organization, but not as excited to parrot their ubiquitous "there will be no Cup" slogan.
For football fans, the best bet seems to be on using well the period between June 12 and July 13, despite the fact that Brazil neither prepared appropriately nor invested as wisely as necessary. They can argue that a proper debate on how things went would be more appropriate in the general elections, in October. They will have 64 matches watched by billions supporting their cause.
But Brazil is a surprising country, and protesters could break that advantage if they get back in touch with the aspirations of the majority. That is not the case now. If they insist with the politics of no that have made people less interested, it may even be difficult even to get Brazilians to the polling stations later this year and deliver some attention to their grievances.
As of now, the only thing massive thing most Brazilians can relate to is sheer boredom.