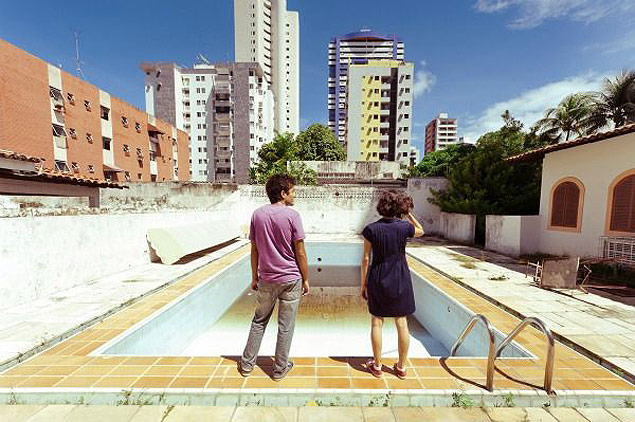 With local entertainment dominated by Globo, cinema that is independent of the monolithic network struggles for space . Two types of movies get made in Brazil – vapid comedies made by the all-powerful novela factory, and small productions, relying on sponsors and donations, that few Brazilians will see.
James Young
Belo Horizonte
The fear of urban violence is never far away in O Som Ao Redor (Neighboring Sounds), a chilling drama about the paranoia that lurks behind the security cameras and towering walls of the apartment buildings of Brazil's growing middle classes. But for director Kleber Mendonça Filho, the threat that the monolithic Globo TV network and its film production wing Globo Films represent to Brazilian cinema is just as sinister.
"They put incredible amounts of money into making and marketing their films," Mendonça Filho told Folha newspaper last year. He was talking about insipid Globo comedy blockbusters such as De Pernas Pro Ar (which translates as "Head Over Heels"), which dominate the domestic market, squeezing the screen space available for independent films. "If my neighbor filmed his Sunday afternoon barbecue and released it with the backing of Globo, 200,000 people would go and see it in the opening weekend."
It was the start of a bitter war of words between Globo Films and the director, whose truly excellent film was elected one of the ten best films of 2012 by The New York Times film critic A.O. Scott. The production giant's CEO Cadu Rodrigues challenged Mendonça Filho to make a film with Globo money and sell 200,000 tickets in the first weekend. "If he fails, we'll know that as a director, he's a great critic," said Rodrigues.
The director politely refused, saying that "the Globo Films system is bad for the idea of culture in Brazil, kills diversity in Brazilian cinema, and creates a doped up public watching an institutionalized, dead cinema scene."
Mendonça Filho was criticizing not only the size of Globo Films' marketing budgets and the lack of creative ambition of its output, but also the fact that the company's films are extensively promoted by monolithic broadcaster Globo TV, and often feature actors from the parent company's monstrously popular soap operas, a cornerstone of day to day life for millions.
The debate came at a time when, statistically at least, Brazilian cinema is in rude health, with locally made films holding their own against Hollywood blockbusters. According to the country's film board, ANCINE, 120 domestically produced films made it onto the screen in 2013, the highest number for 30 years. Yet the majority of commercial hits in the last few years have been vapid, semi-slapstick comedies, easily identifiable to Brazilians from the humorous moments in their nightly diet of soaps.
In 2013 the top three Brazilian produced films at the box office were Minha Mãe é Uma Peça ("My Mum's Quite a Character" – male actor plays stressed middle aged mother, hijinks ensue), De Pernas Pro Ar 2 ("Head Over Heels 2" – woman opens sex shop in New York, hijinks ensue) and Meu Passado Me Condena ("I Can't Escape My Past" – newlyweds go on honeymoon on cruise ship, hijinks ensue).
It is a far cry from the gritty social realism of the best of Brazilian cinema, which in the last twenty years has produced classics such as Central Station, City of God, Elite Squad and Lower City as well as the documentary Waste Land. All reveal the inequality and hardship of the lives of Brazil's dispossessed or marginalized.
Without the resources of Globo Films behind them and excluded from Brazil's major distribution networks, independent film producers must look to fund raising initiatives or grants from state cultural agencies to get their films made. Mannuela Costa, a producer at Plano 9 films in Recife, explained the reality of the situation.
"Ironically, independent films are actually completely dependent – on grants, prizes and sponsors. Even if you manage to get your film made, often it will be seen by more people outside Brazil than at home, because of the way the market and the distribution system works here. A Globo Films or a Hollywood movie might have 300 or 400 copies to distribute to cinemas, but for an independent film, ten copies is a lot. And if you don't do well in your opening weekend, you won't last two weeks. That's what we're up against. When Twilight opened here it was showing on 80% of Brazilian cinema screens."
Costa is currently trying to promote Eles Voltam ("They'll Come Back"), a film directed by Marcelo Lordello about a young upper-middle class girl from Recife who is taken in by a community of landless agricultural workers after her parents leave her at the side of the road. "At times it can get you down," she said of the challenges facing independent filmmakers, "but if you believe in the work, you have to keep going."
Photo above: a shot from O Som Ao Redor