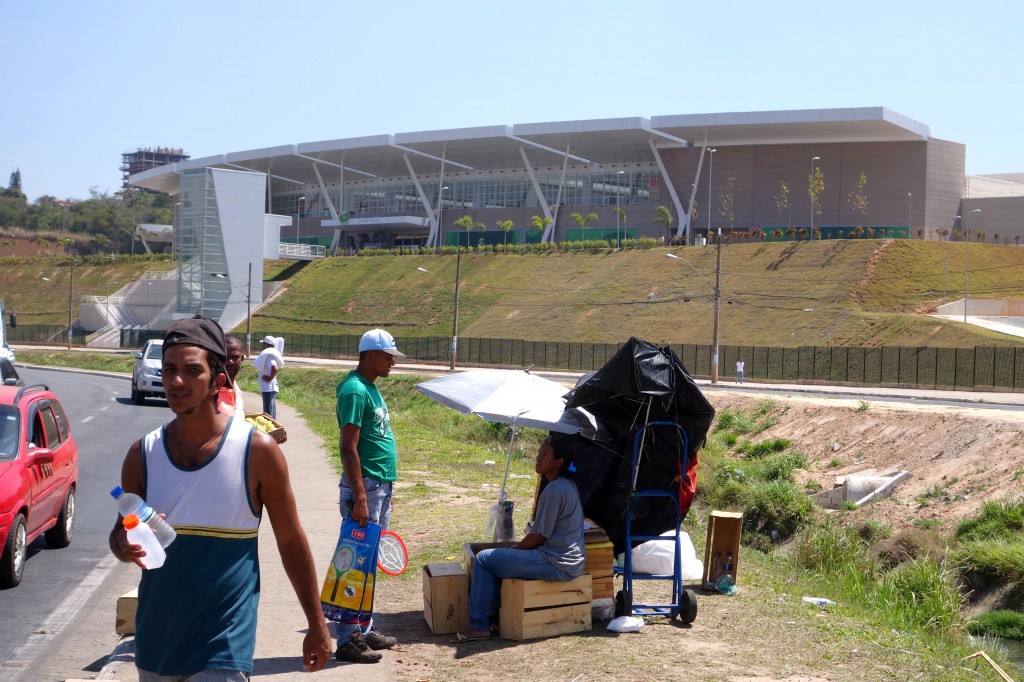 I've left the bitterness of São Paulo on a brief vacation outside of Brazil, but I wanted to share insights into the country's current situation from two excellent commentators that generally hold the "pro-market" viewpoint.
The first is from Tony Volpon of Nomura Securities:
Structurally, the end of the commodity boom can now be dated to 2011, one year into [Dilma's] first term, as Brazil's terms of trade began to deteriorate and the country began to see a marked economic deterioration.

Though the opposition, often with reason, blames Rousseff's policies for economic underperformance, these policies were, however inadequate, genuine attempts to respond to a much less supportive external environment.

Unfortunately, it is unlikely that the external factors are going to be better over the next four years; it seems that the years in which all Brazilians could improve their lot in life are over, for now. Choices will have to be made and priorities will have to be set.

President Rousseff will now have to look beyond the class struggle rhetoric of her campaign and show whether she can regain the trust of the south and southeast of the country that voted for the opposition by a 2:1 margin, and is responsible for around 70% or more of the country's GDP. Without their support there is little chance that Brazil will see investment rates – which at a paltry 17% of GDP are the lowest of any of the major emerging market economies – rise.
For me, three eminently reasonable things stand out here that are intentionally excluded from the hyperbolic partisan rhetoric dominating the country on both sides right now. First, just as the economy under Lula was boosted hugely by the Chinese-led commodities boom, the end of the boom explains most of the economic problems since 2011. Dilma's very real "interventionist" errors are only one part of this.
Secondly, Dilma wanted and wants conventional economic success. Measures taken since 2011 very often misfired, but to paint her administration as dangerously radical or anti-growth is just campaign rhetoric or noise from the radical fringe.
Third, whether Dilma voters like it or not, we need the confidence and participation of international capital as well as local investors to make this economy grow again. If the PT actually had some kind of a plan to fully nationalize Petrobras, create socialist firms, or massively expand public investment, we might take that plan seriously. They most certainly do not. So despite the excitement on the left at Dilma's guerrilla campaign themes, the short-term hard truth is that investors must be placated, and soon.
The second comment comes from Helen Joyce, International Editor at The Economist, who served as Brazil Correspondent until the end of 2013.
"I am absolutely sure Aecio's economic platform was better – for all Brazilians. But when I see the prejudiced comments about stupid or lazy nordestinos sucking the state dry, I understand why so many didn't turn to him.
Do these people have no idea that (a) a democratic government must seek to govern for all, and (b) that it's corporate welfare and the vast privileges of Brazil's elite that are sucking the country dry, not the very modest handouts for the poor??"
The Bolsa Familia program is only 0.5% of Brazil's GDP. And the election was not only about policy, but ended up being about cultural, class and regional battles.
So, in the short term, our pressing problem is economic. But the long-term problem is much bigger, and it is social.
Photo above is of street vendors outside a new mall in Minas Gerais. All links inserted by me.