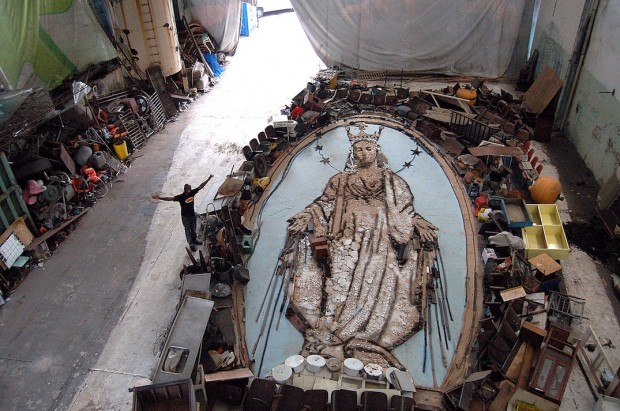 Directors of the beautiful Casa Daros art space stunned Rio when they announced it would shut its doors just two years after opening. Does this forebode a dark period for cultural projects as the city is pounded by recession and scandal?
By Nathan Walters
Rio de Janeiro
A tragedy has struck Rio de Janeiro, and unfortunately, it seems to be part of a larger pattern. Botafogo's exquisite Casa Daros art space will close this December after only two years of exhibitions, despite the fact that tens of millions were spent refurbishing the neoclassical mansion. The directors blame high maintenance costs and say the decision is irrevocable, but some are still hoping for a change of heart or for some deep-pocketed investors to step up.
More than a few observers are questioning the Zurich-based Daros Collection's real motives for closing. Some are whispering about real estate speculation, without proof for their suspicions. A few have used the closure as a starting point to discuss high labor costs, but this can't be fully explanatory. These are a headache for any business owner in Brazil.
Across the board, low turnout, high costs, and a local economy hit especially hard by the Petrobras scandal paint a grim picture for the future of private art institutions in Rio.
The city has witnessed an encouraging expansion of cultural spaces in recent years, and Casa Daros was one of the best. A beautifully refurbished 19th-century structure, a former Catholic school for orphaned girls, would house large-scale contemporary works from Brazilian heavyweights like Vik Muniz, Ernesto Neto, and Luiz Zerbini.
Daros has one of the most impressive collections of Latin American artists, and exhibitions were as fun as they were thought-provoking. The museum seemed to always be comfortably uncrowded, but it was also common to see Botafogo's hipsters scoping a Cildo Meireles installation alongside school kids.
As with the some of the other museums that have opened recently, such as Museu de Arte do Rio (MAR), Casa Daros had a strong educational agenda and sought to enhance access to contemporary art. The loss of high-quality cultural programs could compound problems that the loss of oil revenues – Rio's main industry is petroleum, whose company Petrobras is mired in a multi-billion dollar scandal – poses for education funding in Brazil, and Rio in particular.
The project got off to a rocky start and refurbishing work proved to be more challenging than initially planned. The Daros institute sought to refurbish the space to its original splendor, and went through a painstaking process, sourcing original materials and plans. The result was magnificent.
Problems with construction work didn't seem to deter Daros, and in a lemonade-from-lemons-gesture Muniz created the Nossa Senhora das Graças photo(pictured above), based on the seal that adorns Casa Daros' façade, from the trash leftover from renovation.
But much here is troubling. How is it possible that a presumably highly organized group like the Daros Collection planned so poorly? Or did something else happen behind the scenes? Have costs jumped so much higher than forecasted?
The wave that Brazil had been riding for ten years has come to an end, yes, but is it really this bad? Or was the grim reality of the country's current state not considered when the company was shelling out millions to refurbish the 12,000 square meter space?
"Times are tough now, but we Brazilians, who have seen worse times, look for creative ways to respond to the changes," says Rio-based curator Bat Zavareze. "I don't understand the response from Casa Daros. It's not the apocalypse. But is a real pity because it's a very important cultural and education space."
The curator for the avant-garde Multiplicidade music festival, Zavareze says he is working in a much different climate than a few years ago but still finds a way to make it work. Other emerging Rio-based artists say they have seen a slowdown in the frequency of government-sponsored events, but continue to work more or less as they have in the past.
The hysteria surrounding Brazil a few years ago has been replaced by the re-emergence of old problems. Staggering corruption, violence, and economic problems have re-appeared, and that is making more than a few foreign individuals and companies nervous.
The idea that the Olympics would be followed by a great exodus of foreigners always seemed more of a joke than a reality, but a completely different outlook on Brazil's future is prompting some to consider a real exit.