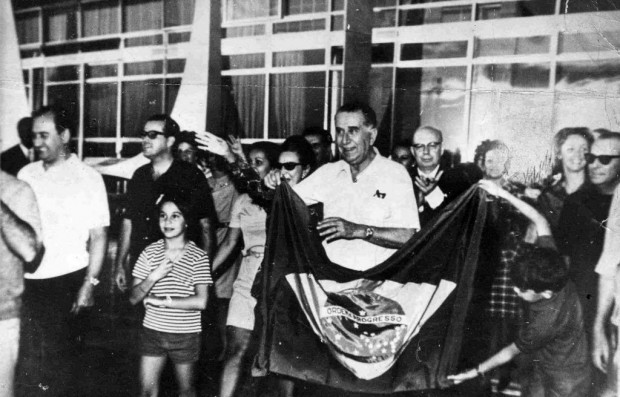 Brazilians' love for soccer has been exploited by crooks, dictators, and dirty politicians for decades. Above, dictator Emilio Médici celebrates after his country's 1970 World Cup victory.
When former Brazilian soccer boss José Maria Marin was arrested in Switzerland at the end of May, most fans here just knew him as the old guy that stole a medal from a teenage player in 2012. His predecessor, Ricardo Teixeira, was a much more famous figure, famously involved in various corruption scandals. But as the media dug deeper into the 83-year-old Marin's career, it became clear that the frail man who chaired Brazil's football confederation (the CBF) during last year's World Cup was one more example of how politics and football work hand in hand in Brazil.
But it's been that way for a long time. Let's take a walk down memory lane.
Rocky start
Brazilian politicians didn't fall in love with soccer at first sight. Soccer and politics became entwined here just weeks before the 1950 World Cup, as Brazilians took to the streets in protest.
They didn't demonstrate against high costs in the construction of Maracanã stadium, but small protests before the first World Cup in Brazil did have something in common with protests here in 2013 and 2014. They started against a rise in transportation costs, and then the tournament served to put a spotlight on the demonstrations and the issues they raised, such as economic policy changes undertaken by President Eurico Gaspar Dutra (1946-1951), the man who brought the tournament to Brazil. One year later, former dictator Getulio Vargas would channel that frustration and win a democratic election.
With only 13 participants, the first World Cup in Brazil, seen by many as a test event for the country after World War II (1939-1945) was an organizational success. But the shocking loss to Uruguay in the final was felt as a failure of the country itself. Many politicians decided to stay away from football as a result, with the exception of some that were fans first and public figures second – such as São Paulo mayor Porfirio da Paz, a founder of São Paulo FC.
The rise of Brazilian football, and the rise of Brazil
When Brazil won the 1958 World Cup, however, politicians changed their minds. President Juscelino Kubitschek (1956-1961), a former player at América in Minas Gerais, used the iconic players as a symbol of the modernization of the country – as he also used bossa-nova music and the construction of the new capital, Brasília. Brazilian soccer was moving past the shame of the 1950 loss and the country now actually had high hopes for the future.
That sentiment only grew after a second title was won in Chile, in 1962. But then the military dictatorship came, and took soccer with it.
In the first years of the regime, which began in 1964, it wasn't clear what would happen with soccer, or indeed with politics.
Brazil had its worst World Cup campaign ever in England 1966, where the country failed to even advance past the group stage. Pelé, the national hero, was injured by Portugal's constant kicks.
In Brasília, the capital, military leaders couldn't decide whether they would remain in office. Their excuse for the coup was always that they would free Brazil from alleged communist influence and President João Goulart (1961-1964) and hold new elections, but they were holding on to power. Football club executives were lost: they didn't know whether to be friends with the generals or hold on to old ties.
The dictatorship takes control of the pitch
Generals sent mixed messages by keeping Congress and a functioning Supreme Court open while also interfering. But when they decided to remain in power definitively and issued the dictatorial decrees of 1968, they also took hold of Brazilian soccer as a propaganda tool.
CBF chairman João Havelange, a cheerleader of military administrations, was watching. Although he named communist journalist João Saldanha as coach Brazil in 1969 (a move to calm the press after a number of bad results), Havelange was dying to please dictator Emilio Médici (1969-1974).
Opportunity knocked. Médici wanted "Fearless João" to take clumsy centerforward Dadá Maravilha to the Mexico World Cup in 1970.
Coach Saldanha wouldn't have it. "I don't pick his ministers and he doesn't pick my players." As a replacement, Havelange chose Mario Zagallo, a two-time World Cup champion who was present in the 1950 tragedy as a young Army recruit. The dictator Médici, a violent man that the Flamengo crowd loved seeing in the Maracanã every now and then, got even more attention from the CBF – military personnel dominated Brazil's preparation for the tournament: fitness coaches, junior executives, and travel organizers, were all linked to the Armed Forces.
The dictatorship supported that Seleção, or national team, so much that Brazil's leftist and liberal militants promised to cheer against it. But those people, unlike Médici, were only human…they ended up cheering anyways. The 1970 team was so fantastic that dictatorship propaganda is now the last thing most Brazilians think of it. Upon their return, friends of the armed forces were all over the players – São Paulo's appointed mayor Paulo Maluf even gave them Volkswagens.
And Medici remained popular for a while, but the dictators would soon find out that you can't win a World Cup every day.
White elephants to prop up the military, and the fall
There were two political parties in Brazil's fake democracy in those days: Arena (the National Renewal Alliance) to support the military and MDB (Brazilian Democratic Movement), which brought together all kinds of opposition parties, from socialists to free-market liberals. They competed for seats in Congress and for a few mayoral positions – but never in large capitals, of course.
Wherever friends of the dictatorship couldn't gather much popular support, soccer was the solution: a new stadium would pop up and a local team would be included in national tournaments. Many white elephants were inaugurated at the time, such as the Castelão in Fortaleza (1973) and the Mané Garrincha in Brasilia (1974). They would be later renovated to become brand new white elephants for the 2014 World Cup.
It was during the dictatorship that now-disgraced Marin first appears in Brazilian soccer as an executive. Formerly a mediocre player for São Paulo FC, he used a position in the club as a ladder to his political aspirations. In 1975, as a very conservative state congressman in São Paulo, he started a campaign against journalist Vladimir Herzog, a key editor at Cultura, the state-owned TV channel. Weeks later Herzog, was killed by those who tortured him in prison. Herzog's family holds Marin responsible, among others, for the assassination to this day.
This was the beginning of the end for dictators Ernesto Geisel (1974-1979) and João Figueiredo (1979-1985). Geisel didn't profit much from soccer, but he did try hard. Brazil was defeated in the 1974 World Cup by Holland and in 1978 by Argentina, then ruled by an even more violent dictatorship. Brazil's economic miracle was proving to be a farce and the regime decided to inflate soccer's first division to maintain some of its popularity.
That move would lead stars like Zico, Falcão and Socrates travel to small towns to please crowds. The number of clubs playing in the Brazilian championship from 1975 to 1979 rose year after year: 44, 54, 62, 74 and then an astonishing 94. And though generals stayed in control of the CBF, Brazil without Pelé wasn't as big of a propaganda machine. When the Seleção became great again, in 1982 already under Figueiredo, it was filled with pro-democratic players and captained by activist Socrates.
The end of Marin
After his time as a São Paulo legislator that pushed against allegedly communist journalists, Marin took another job he didn't get a single vote for: he became governor of São Paulo between 1982 and 1983, appointed by the dictatorship, at the same time he was the president of São Paulo's soccer association. But when Brazil became a democracy again, in 1985, he had no trouble adapting: he spearheaded the Seleção organization for the Mexico World Cup. When Ricardo Teixeira took over the CBF in 1989, he was one of his vice-presidents. In 2012, after his tutor got in trouble with Swiss courts, he rose to the top, since he was the oldest on the job.
In the 13 years he spent as CBF vice-president, in a more and more democratic Brazil, Marin was very discreet; to Brazilian ears he sounded like a politician from the sixties. Yes, he is a man of soccer and politics, but he wasn't nearly as popular as club officials that got to Congress to get better kickbacks from sponsors, or businessmen that bought clubs to launder money for political campaigns. He was surely no Teixeira, who managed to turn President Luiz Inácio "Lula" da Silva from a critic into a whiskey buddy on lazy Brasília Saturday afternoons.
Marin is one of the survivors that used old political ties to remain connected to soccer — ties that stopped former guerrilla and now President Dilma Rousseff from taking pictures near him. In prison, he must be thinking of all the favors he made to connect his successor and right arm at CBF, new president Marco Polo del Nero, to the main leaders of the opposition, such as defeated presidential hopeful Aécio Neves. Too bad his long experience with Brazilian politics and soccer won't be of much use with the FBI.
Mauricio Savarese is a freelance journalist based in São Paulo and co-author of A to Zico: an Alphabet of Brazilian Football