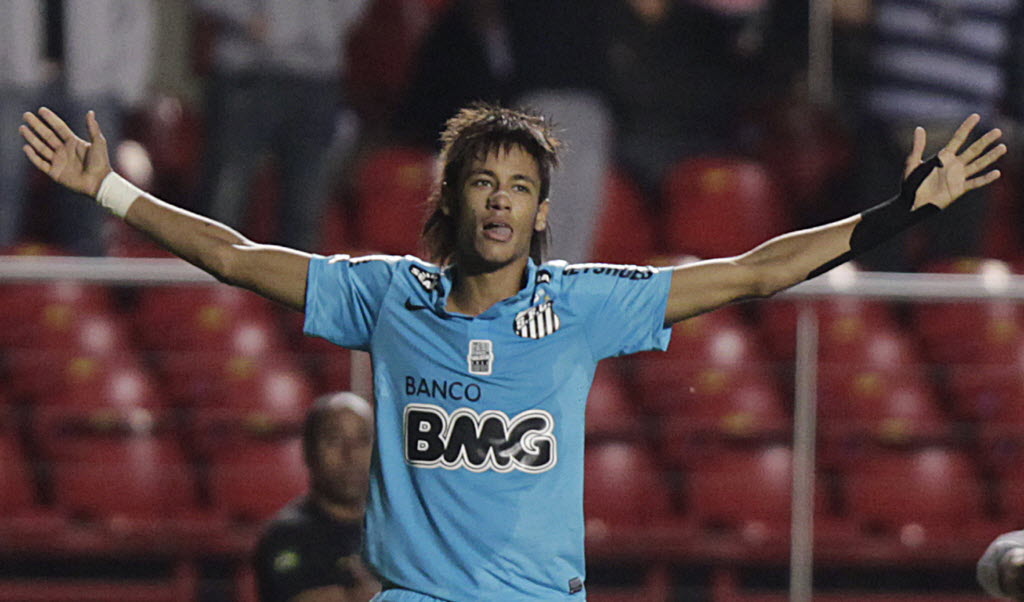 This flashy and hugely talented kid has been dazzling fans in Brazil for years. He's likely to be one of the best in the world – but will need to play in Europe first.
By Dom Phillips in Rio de Janeiro
Who is Neymar? You mean you don't know? You must be American. He is the Brazilian soccer star who scores brilliant goals with dazzling regularity, and celebrates them with a dizzy teenager's glee.
The British woke up to his prodigious talents when he bent the ball round hapless defender Gary Caldwell to score an improbable goal at London's Emirates Stadium last year, in a Brazil vs. Scotland game. Major European clubs like Manchester United and Real Madrid have been chasing Neymar since he was even younger.
As for Brazil, this soccer-obsessed nation has been watching 20-year old Neymar da Silva Santos Júnior for years now. The outrageously talented forward is the star not just of Brazil, but of Santos, a club whose other most famous player was called Pelé (note for Americans: Pelé is often called the greatest soccer player of all time).
Neymar earns an absolute fortune, wears diamond earrings, and has recently flattened his trademark Mohican into a 'do' that makes him look like the singer from a late-1980s German heavy metal group. He's already a father. He likes to have fun. He isn't just a brilliant footballer, he's a star – a celebrity whose presence is frequently accompanied by screaming girls and paparazzi. Neymar is money, in every sense of the word.
I interviewed Neymar twice last year. Once, just after training, he was polite and efficient. The second time, during a photo shoot, he was a little cockier. He knows how good he is: he could hardly not, given the accolades delirium with which joyous fans greet every goal. Many in Brazil say he is too arrogant, too successful. How dare a lad from a poor family like this get rich so quickly and not be humble? I didn't find that. I found a polite, if curt young man with the supreme self-confidence of one who has never failed.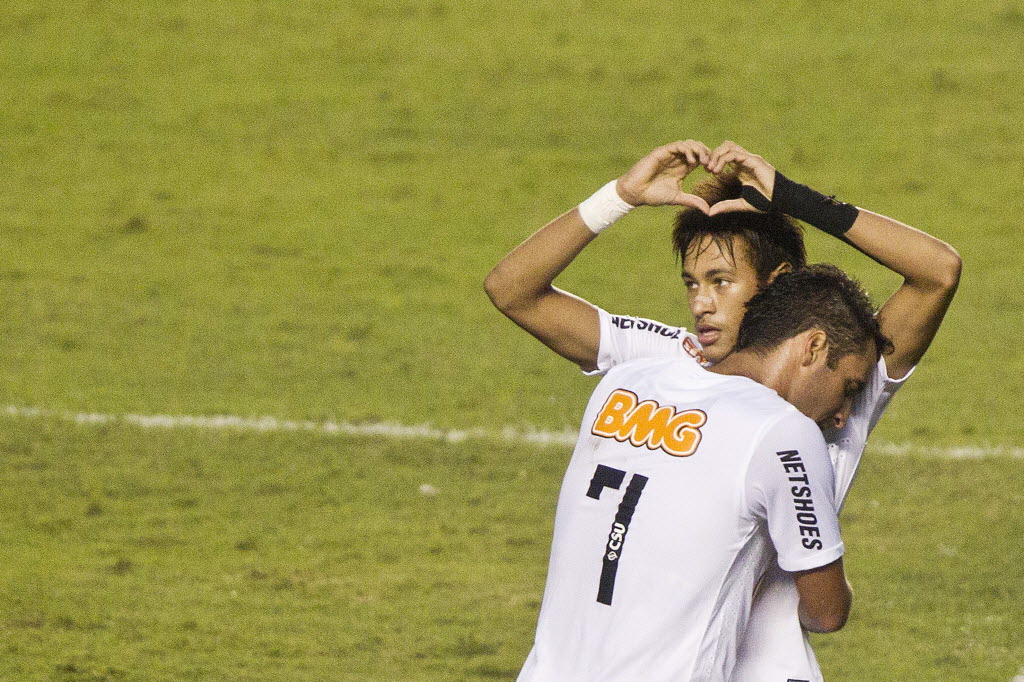 Neymar loves football – the game, the goals, the dance routines after every goal. He has incredible bursts of speed, throws faints, twists and turns that leave defenders flat-footed. He makes it look like the ball is attached to his foot by an invisible piece of elastic, and can turn a game around with a goal, or a pass, or a dribble, to find his way through what seems like an impenetrable line of defenders and score or set up a goal. He's been accused of 'diving' too much to fake fouls. He also gets fouled all the time.
One of his tricks is flipping the ball with his heel over the defender's head. Another, which Ronaldinho, another great player, also perfected is what's called the 'flip flap', or elástico, in Portuguese. It involves fainting the defender into believing he is going in one direction, then flicking to the other, leaving the defender floundering.
Not only is it effective, it also looks really cool. Brazilians love this stuff: it's all part of what is called the jogo bonito, the beautiful game, which Brazil, in the course of winning five World Cups, made famous and is now trying to recover. In an increasingly pedestrian Brazilian domestic game, Neymar and the creative Santos team stand out. If you want to see how good he is, watch this:
http://www.youtube.com/watch?v=Y8viwQTuqGs
Then there's his goal average, which is as good as it needs to be for a world-class forward. 13 goals in 21 games in last year's national championship. Six goals in 13 games in last year's Libertadores, the South America-wide club competition akin to Europe's Champion's League, which Santos won. Now this year's national championship is beginning. And this year's Libertadores – where Santos are among the favourites – is heating up.
Neymar summed up his success recently in words of rare poetry for a footballer. It is a quintessentially Brazilian comment. "A bola é a mulher mais ciumenta que existe. Se não trata bem, não der carinho, ela vai te prejudicar. E eu a amo muito," he said.
Before we translate this, a little Portuguese grammar. In Portuguese, there is no 'it', no neuter. Everything is 'he' or 'she'. Both ball and woman are feminine. Neymar said: "The ball is the most jealous woman that exists. If you don't treat her well, don't give affection, she will harm you. I love her a lot." The 'her', in this context, can be read as both 'ball' and 'woman'. Poetry and emotion. Mad skills and jealousy. Sex and success. Tears, treachery and triumph. Brazilian soccer in its essence.
Add to this money, power and greed. Vast amounts of cash circulate around Neymar, not just in club salary, but in the myriad of lucrative sponsorship and advertising deals. All this before he makes what many in Brazilian football believe is the inevitable, and yet more lucrative, move to a major European club, where the game is tougher, faster, more physical. Where Neymar eventually needs to prove himself, if he wants to be the best in the world. And he does.
Players like Neymar are modern gladiators, competing in a capitalist arena in which they are hailed as much for their earning prowess as their goal-scoring ability. Under relentless scrutiny from a rapacious media and an unforgiving public. It's not the Emperor's thumbs-down they fear, but the boos of the crowd and the hiss of failure.
Consequently one of the most enduring images of Neymar is after the 2011 Libertadores final, in which Santos beat Uruguay's Peñarol 2-1 to win. Neymar scored a beautiful goal. It was his first major trophy, the first real international justification of his phenomenal ability. The cameras zoomed in on him afterwards as the reality sank in, on his knees, bare-chested, arms outstretched to heaven, tears of joy and relief pouring down his cheeks. Live under the television spotlight, the star in a theatre of dreams.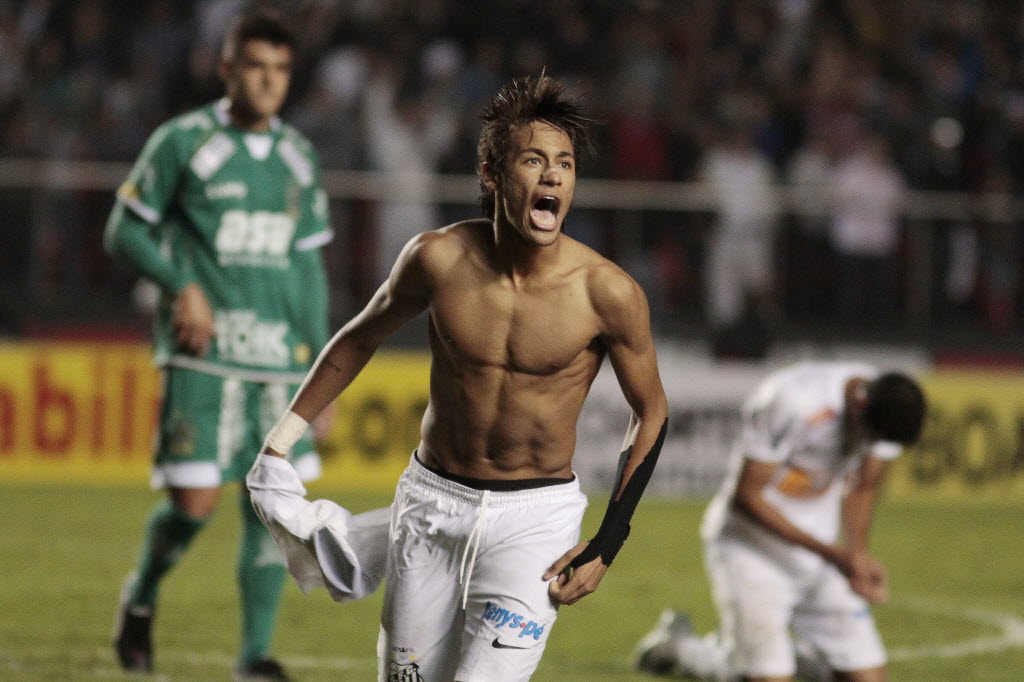 Dom Phillips is a British journalist and writes for The Times of London, Bloomberg World View, The Daily Beast, People Magazine, and British Soccer magazine 442. He has been in Brazil since 2007 and now writes From Rio for the From Brazil Blog. He is the author of Superstar DJs Here We Go (Ebury/Random House 2009).