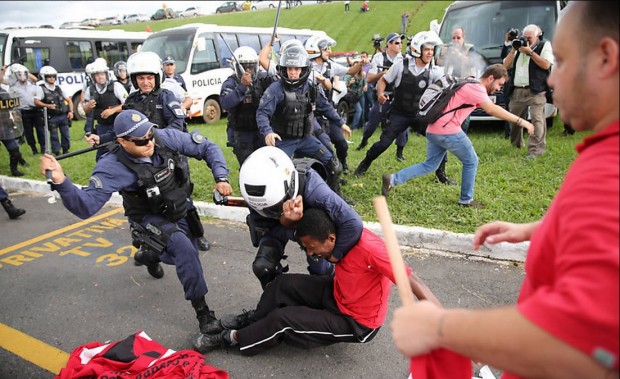 Why do 'pro-government' protesters battle cops, while pro-impeachment protesters hug them? Which team are these guys on, again? A guide to the current crisis
Vincent Bevins
São Paulo
I just spent a month away from Brazil, which served to remind me of just how inscrutable the struggles currently rocking this country are to foreign observers. They may know that things are not as rosy as they were a few years ago, or that "the government" has messed up or is in trouble. But the contours of the battles are extremely blurry.
For example. Last week, protesters clashed violently with police outside Congress in Brasília during a demonstration against a new legislative project (pictured above). A few days later, on Sunday, a much larger group of protesters, some of whom smiled and posed for selfies with heavily armed cops, cheerfully filled streets around the country,
It is indicative of the topsy-turvy world that crisis-ridden Brazil has entered that the bloody demonstrators battling cops were the 'pro-government' protesters, while the cheerful, carnavalesque crowds were calling for the president to be impeachment and her party to be demolished.
That's because "the government" is not just one government these days, and a number of players (some even less scrupulous than the others) are currently engaged in a fight for its future.
So who are they? What do they want? What are their chances?