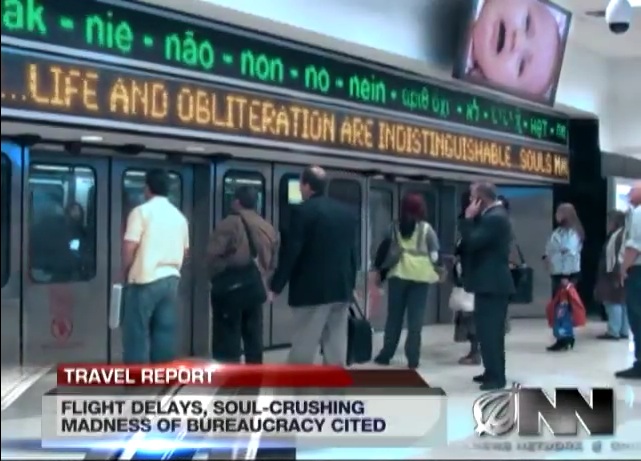 Despite sky-high prices, experiences with cell phone service or at airports in Brazil are often not just bad. They can be downright Kafkaesque.
By Dom Phillips in Rio de Janeiro
I think my smartphone is having an existential crisis. It spends an inordinate amount of its time either Sem Serviço (without service) or Buscando(looking), rather than connected. What is it looking for? Some sort of meaning in this random sequence of disconnected events we call life? Or just a signal?
I'd like to believe its failings were down to some very human error, an organic element in the relentless takeover of all aspects of modern life by technology. Sadly I suspect it's more to do with the failure of my cellphone operator to get its 3G system working properly here in Rio de Janeiro, Brazil's second-biggest city. The Brazilian government is gearing up for 4G auctions. They might want to sort out the 3G network first.

I don't want to finger my operator, which is one of Brazil's big four, so will just hint at its three-letter name and call it KEV. One of its genius advertising devices involved three bald men painting themselves in the company colours and staring intensely into the lens. Perhaps they were looking for meaning too. Or just a signal.
I was pathetically grateful when last year they sold me a cheap iphone on 12 monthly payments – I worked out too late it was an out-of-date model. Somebody at company headquarters must have realised they had a giant warehouse full of smartphones about to become obsolete, and sent out the command to sales staff: "Shift them, quick! Yes I know the battery only lasts an afternoon! No need to tell anybody that."
Service in Brazilian restaurants, shops and bars is usually pretty good – attentive, personal, informal – depending where you are. Service when it comes to big, impersonal companies is pretty shabby. KEV is a perfect example.
KEV sold me a portable 3G modem for laptops, which almost instantly broke. They angrily refused to change it, referring me instead to its Chinese manufacturer, whose helpline, predictably, was never answered. In my flat near Central Rio de Janeiro, I can't make or receive calls. In much of the rest of Rio, the signal varies between full 3G, a signal that hovers somewhere in between 3G and just cellphone, a basic calls-and-texts connection, and nothing at all.
Nor does it work in the centre of Parati, one of Brazil's most famous historic tourist towns, on the Rio coast. The only thing that doesn't vary is the bills. Brazil has one of the highest cellphone tariffs in the world.
Enter into KEV's call centre service, and it rapidly becomes Kafka-esque. I discovered recently that the personal voicemail facility – that most basic of cellphone operator services, where you can say, "Hi, this is Dave, I'm not available right now" – had been summarily cancelled.
I complained about lack of a signal at home, and a very pleasant girl said she would alert the technical team, who she suggested might re-align the beam from the nearest antenna to include my apartment. Much as I loved the idea of a crack team of KEV technicians carefully manipulating the signal to appease a grumpy gringo client, I suspect my complaint went straight into the nearest virtual waste-bin.
The KEV 3G signal wasn't even working at the official KEV shop I visited at one of Rio's biggest shopping centres, even as queues of customers were busy snapping up smartphones. "Oh," said an assistant serving me diplomatically. "The signal oscillates in here." Oscillates? What do you mean, oscillates? I didn't buy an iphone for a signal that oscillates. I bought an iphone for a signal that works.
Many Brazilian cellphone users would echo my complaints. Nor are UK cellphone operators much better, but at least their signals work. But services are much more expensive here than they are at home, and telecoms companies in Brazil repeatedly reap some of the highest profit margins in the world [editors note: In São Paulo I pay around r$400 a month here for my blackberry plan, more than 4 times more what I paid in London – Vincent] And it's emblematic of a bigger Brazilian problem: infrastructure. This is what happens when you have a rapidly-expanding consumer base, and a lot of companies trying to cash in on it without having the basic structure to manage that growth. Consequently Brazil is increasingly painfully expensive. And you increasingly don't get what you pay for.
Witness the overcrowded, chaotic airports, with their endless queues to buy overpriced coffee and pastries. Witness the horrendous delivery delays seen two Christmases ago by one of Brazil's biggest online shopping groups. Once again, hordes of customers took to social networks and youtube to complain – frequently the only way irate consumers get any kind of satisfaction, a strategy so successful that big companies employ social network agencies to monitor the airwaves and quash complaints before they go viral.
Witness the hotel I stayed at in the capital Brasília a few weeks ago. It was called the Bay Park Resort Hotel. It should be renamed the Bates Motel. It looked like a Soviet housing bloc from the 1970s. It was unpleasantly full and chaotic. Nothing worked – not even the TV in the room, which looked like a hospital toilet, and stank of disinfectant. The food in the self-self restaurant was disgusting, which is perhaps why it was all over the grubby tablecloths. All this for $100-plus a night.
The poor guy on the desk had lost his voice from dealing with so many complaints. The third time I headed back there with a room key that refused to work, he shrugged his shoulders, and said, "Ah, Brazil."
The impression big Brazilian service companies like these leave is that they honestly couldn't give a toss about their customers and just want to fleece as much cash as they possibly can out of them as quickly as possible.
Maybe they just don't believe Brazil's inexorable economic rise is going to last – and recent growth figures suggest that concern might be a little justified. In which case KEV might want to think about hanging on to the customers it already has, because their loyalty is likely to oscillate as much as its signal.
Dom Phillips is a British journalist and writes for The Times of London, Bloomberg World View, The Daily Beast, People Magazine, and British Soccer magazine 442. He has been in Brazil since 2007 and now writes From Rio for the From Brazil Blog. He is the author of Superstar DJs Here We Go (Ebury/Random House 2009).
Photo above is a screen shot from The Onion's video, "Prague's Kafka International Airport Named Most Alienating Airport". Watch below:
[youtube gEyFH-a-XoQ]