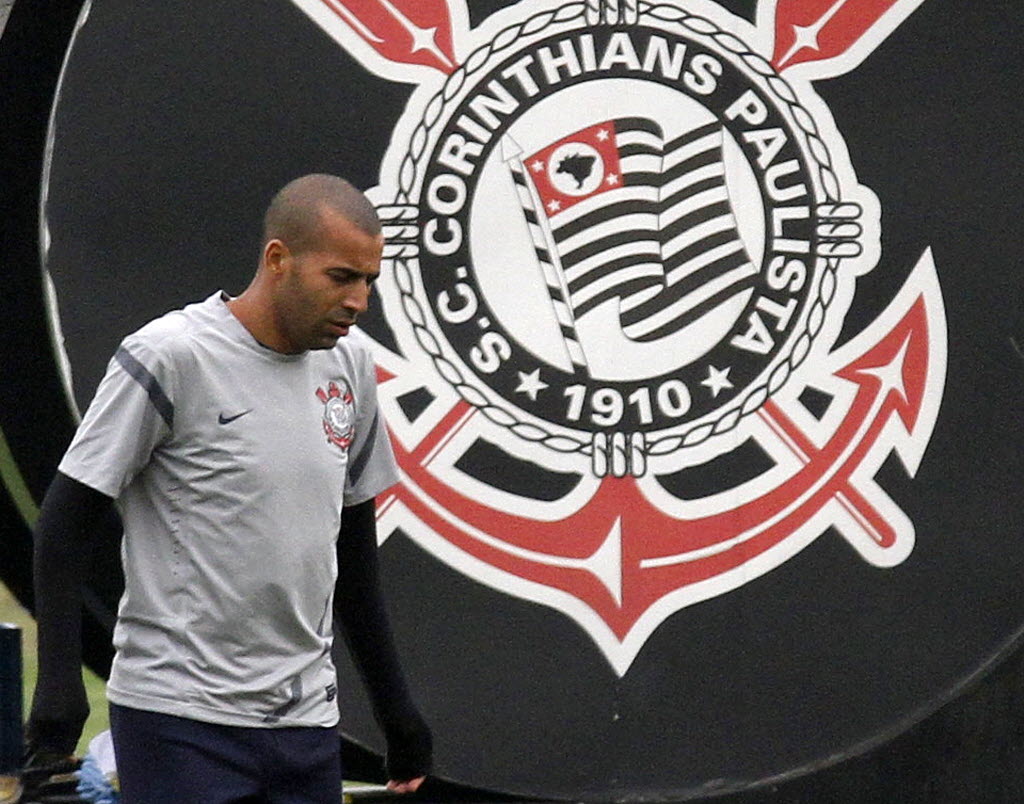 By Dom Phillips
Anyone with a feel for Brazilian soccer should tune into Wednesday night's final: Argentina's Boca Juniors against São Paulo's Corinthians. This heavyweight title fight is the first leg in a two-game final to decide the Libertadores South America-wide club competition – the continent's equivalent of Europe's Champions League.
All eyes in Brazil will be on Corinthians, the country's second most popular team, who have never even made the final, never mind actually won the trophy. This is a deeply emotional matter to their 30 million fans. And a cause of great amusement and incessant jibing for everybody else in Brazil.
In 2010, when veteran defender Roberto Carlos joined the great attacker Ronaldo in the team, he promised to win the Libertadores trophy for Corinthians. It looked good. Both were former members of Brazil's 2002 World Cup winning team. It was Corinthians' 100th anniversary. But then Corinthians lost 1-0 to Flamengo under torrential April rain in Rio de Janeiro, when the faulty drainage at the Maracanã stadium turned it into an ankle-deep swamp.
Corinthians won 2-1 on the return leg in São Paulo, but as away goals count double in a draw, Flamengo went through. Roberto Carlos left for Russia the following February. The joke had already gone around Brazil: 2010 wasn't the team's centenário – or centenary. It was their centenada (nada means nothing in Portuguese).
In 2011, the Corinthians Libertadores campaign got even worse. They team went out in the first phase, 2-0 down to a nobody team from Colombia called Deportes Tolima. The jibing intensified. Ronaldo retired that year.
So this is the closest, then, that Corinthians have ever been. They can smell victory, and they can also remember the bitter taste of defeat. Although the Boca team they face at the Bombonera is not what it once was, Argentine clubs have a good Libertadores record against Brazilian teams. When River Plate, another Buenos Aires team, turned a Corinthians 1-0 home lead into a 3-1 defeat in 2006, furious fans stormed the pitch at the Pacaembu municipal stadium the São Paulo team calls home.
This is pretty much the same Corinthians team with which coach Tite won the Brazilian championship with in December 2011. Some of the players to watch are Emerson, our main forward, Chicão, another veteran defender, Danilo, who scored a crucial goal against Santos, and new goalkeeper star Cássio. But Tite hasn't got to here by playing the 'beautiful game' Brazil was once famous for. Instead he has done it by forming an efficient football machine that is as focused on defence as it is attack, that marks its opposition heavily, and that badly lacks a craque – star, or genius player.
"The whole team has the function of marking, not just the defence system. They begin at the front, making it difficult for the ball to go back and the whole team has this function," Tite told me in a recent interview.
"Much like Chelsea," quipped the Flamengo fan on my local newsstand the other day, referring to the mixture of dumb luck and heroic defending that saw London's most hated club defeat the glorious Barcelona and then beat Bayern Munich to win this year's Champion's League. On a smaller, less glamorous scale, perhaps it's a little like how Corinthians defence faced down the fluid, creative attack of Santos and their star players Neymar and Ganso in their recent Libertadores semi-final.
As a gringo Corinthiano, like most of the club's fans, I couldn't care less. I just want them to win. This is a results-based team – and we want a result. Resolute, constant defending is, I have decided, a much neglected art. And anyway, it fits the mood in today's Brazil, with the economic growth of the last years stalling, and a hard-nosed technocrat like Dilma Rousseff as president, instead of her flamboyant predecessor and mentor Lula.
It's all about number-crunching and bottom-line in this most capitalist of countries – despite an ostensibly left-wing government. On Monday the giant Brazilian state oil company Petrobras, suffering a falling share price and falling production figures, presented a revised business plan for the next four years to a skeptical audience of analysts.
Its new CEO, another hard-line technocrat called Graça Foster, is a friend and former colleague of Dilma's, and she laid down the law. Petrobras had for nine years promised unrealistic production targets and failed to meet them. Now it was all about the detail, the projects – and the results.
"Here, nobody works with comfort of absolutely anything," said Foster sternly from behind her glasses at a press conference afterwards. "Comfort is a word absolutely prohibited between us. We work with total discomfort. Here it is discomfort 365 days a year to attend the demand of all our senhores and senhoras."
Preparing his team for their Bombonera showdown, and the second leg Wednesday July 4th in São Paulo, and living under the expectations of 30 million rabid fans, Corinthians coach Tite knows exactly what she means.
Game is Wednesday night, 21.50, Brasília time, played in Buenos Aires and aired on Globo. Second leg Wednesday is July 4th, at Pacaembu, 21.50. Check online to see where it might be streaming or aired in your country.
[Photo – Emerson at a training session in preparation for the game, in front of the famous Corinthians logo]
Links:
The people's team
Who is Neymar?