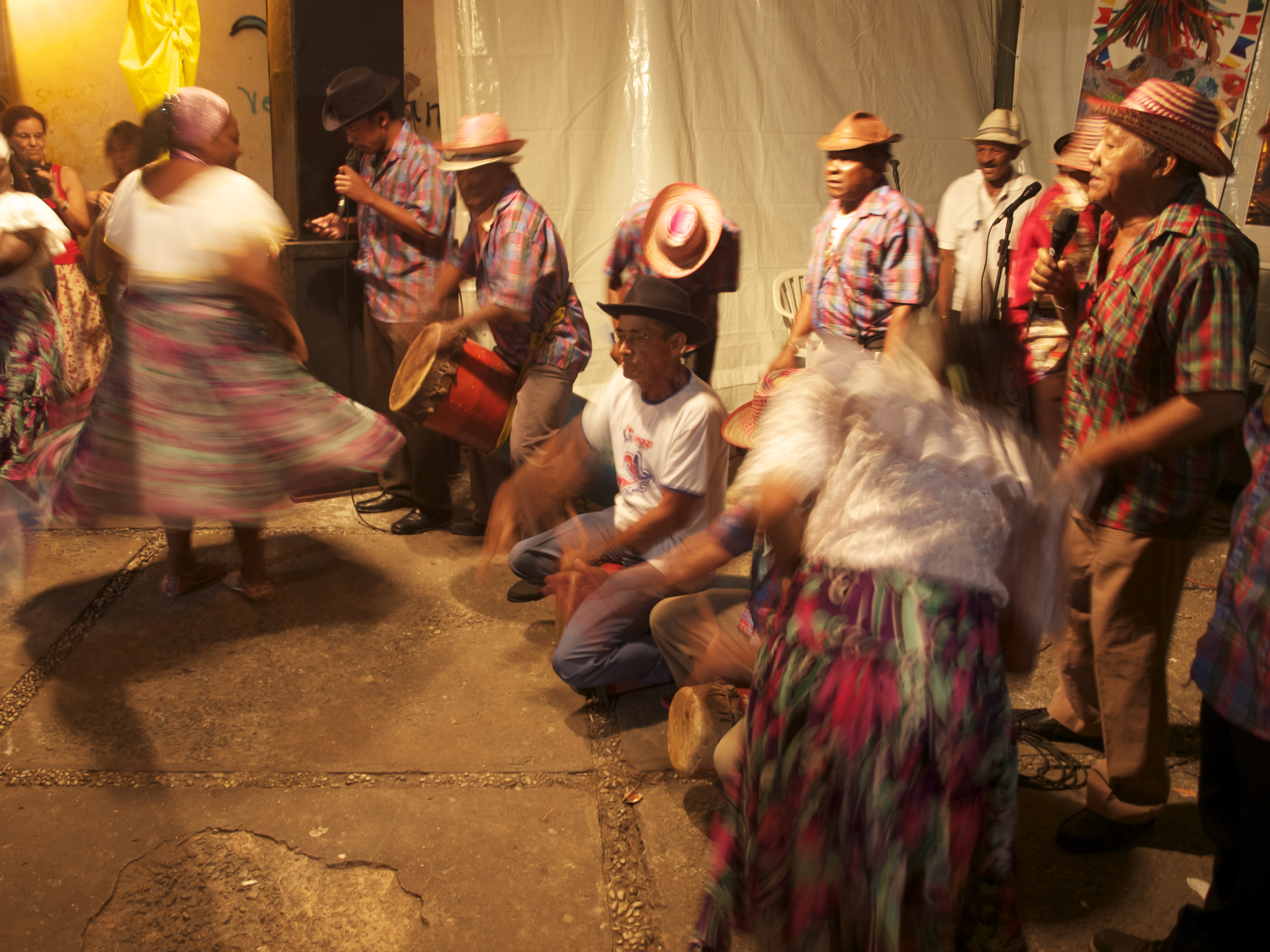 By Dom Phillips
There's a lot of prejudice about nordestinos – people from the North East of Brazil – down here in Brazil's South East, particularly in big cities like São Paulo and Rio de Janeiro.
Their region has traditionally been poorer, and a lot made their way down here in the twentieth century looking for jobs, some ending up in favelas. Some snottier elements of the elite elite in the South East looked down on their culture. But now the boot may be on the other foot – or should that be the other Haiavana (or flip flop).
Firstly, because in economic terms, the North and North East are growing faster than the rest of Brazil, which isn't really growing much at all. North Easterners don't migrate like they used to – many of them are going back.
Secondly, because these parts of Brazil have a vibrant and inventive culture that is increasingly being valued not just in the rest of Brazil, but abroad too.
On the pop level, this means the contagious jungle pop of Gaby Amarantos from the Northern Amazon state of Pará [editor's note – I spent a week with the lovely Gaby in Belem, for this LA Times feature on her – Vincent]. She has been nicknamed the 'Beyoncé of Brazil' but this colourful pop queen is much more creative than the nickname might suggest. Or Michel Teló, whose ubiquitous pop hit 'Ai Se Eu Te Pego' (Oh, If I Get You) being released in the UK, is his record company's hope of scoring a novelty, post-Summer holiday hit. And why not? It's appallingly cheesy and tremendously catchy, a party-set story of 'boy wants to get off with girl' that is, for some reason, popular with footballers.
Michel Teló isn't even from the North East, he grew up in Paraná. But his hit is a clever mixture of sertanejo, or Brazilian country music, and forró, the accordion-led people's dance music of the North East. And forró is a style of music that gets people dancing all over Brazil – either in its traditional, folksy style, or given digital electronic beats.
http://www.youtube.com/watch?v=hcm55lU9knw
Recently in Ipanema here in Rio I saw a show by Felipe Cordeiro, a singer-guitarist from Belém, in the Amazon. It was kitsch, clever, sexy and cool – and Cordeiro, wearing a moustache as snazzy as his jacket, came over like a cameo in a Tarantino movie. Indeed his music could easily soundtrack a tropical Tarantino scene. The style is called guitarrada, and his album 'Kitschpopcult'. More here –
http://www.felipecordeiro.net/home/?page_id=17
Before that I spent a few days at the annual São João festivities in São Luís, in Maranhão state – the place they sometimes call the Jamaica of Brazil, because they love reggae there, especially the reggae they make themselves. It was the middle of São João – a massive, weeks-long, city-wide music festival that brings thousands onto the streets.
It's like a tropical country carnival – with groups hundreds strong circulating São Luís to present colourful, choreographed square dances  around a pantomime ox in the street. It's called Bumba Meu Boi. The guys dress as cowboys, in elaborate gold and silver threads, and the girls as forest Indians, though considerably more glamorously so in their bikinis and headdresses. The soundtrack is brass-led dance music, with a Spanish-Latin, rather than Portuguese-Brazilian feel. There are singers backed by a pounding drum and a relentless banjo.
Or there is matraca – which is similar, but the brass section is replaced by a thunderous roar of percussion produced by hoards of people banging together two carved bits of wood. It sounds like an army of ants. Those bits of wood are called matracas and people wear them around their necks as they party all night outside a church on top of a hill, waiting for all the sotaques do boi, as these mobile music and dance shows are called, to perform a dawn parade. They even play their matracas inside the church, where everyone makes a wish, often with a beer in their hands. Boi da Maoiba is one of São Luís's best outfits.
http://www.youtube.com/watch?v=puVEXQ273nQ
Throughout the night, on quieter, shadowy streets in São Luís's atmospheric old centre, drummers heat up their drum-skins on fires lit on the cobblestones. Earlier in the evening, in the tambor de crioula, black women of all ages spin wildly in long skirts while the men beat out a chant in a scene that is both very African, and deeply hypnotizing. It's all a long, long way from the slick cosmopolitan centres of Rio and São Paulo.
http://www.youtube.com/watch?v=3UV5R6RCiFI
But that's one of the many great things about Brazil: its rich, varied and unique culture. And maybe because its geographically closer to the Caribbean than it is to São Paulo, the music of the North and North East has just as many Spanish-speaking Latin American and reggae influences as it does samba. Kiu Mars is a British-Iranian DJ and yoga teacher, living in Rio, who knows a lot about this. His podcast, Brazilian Beatz showcases just some of the many Brazilian styles. His Nordestino mix is already on its second installment. Due to public demand – and Mars says his podcast gets 40,000 hits a week.