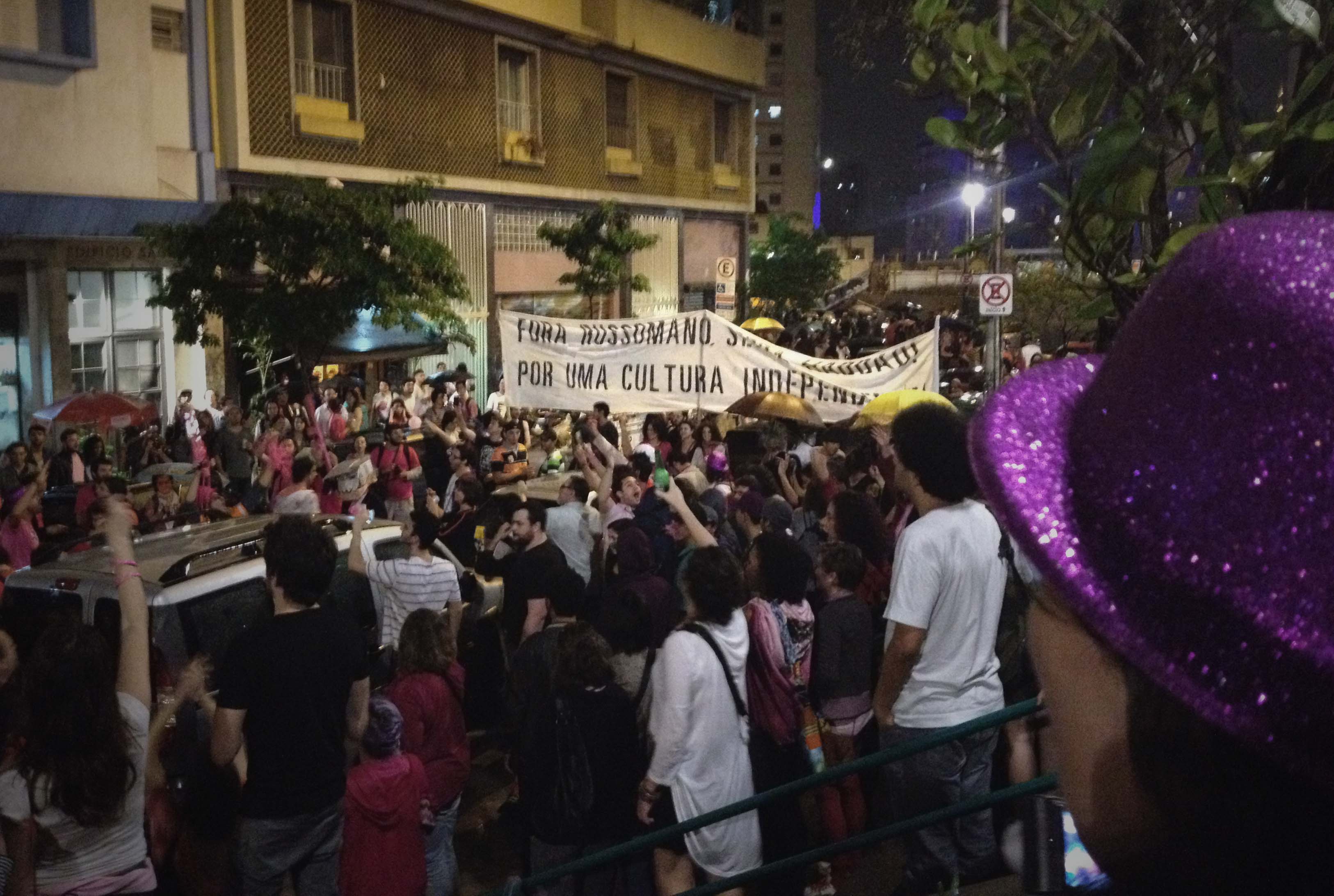 A set of artistic and cultural groups long active in trying to revitalize São Paulo's run-down center crystallized last week around a uniquely political cause – to oppose Evangelical-backed mayoral candidate Celso Russomanno – and may have evolved into a more unified left-leaning movement now that he's been defeated.

by Claire Rigby
Friday night in the heart of the concrete jungle, and a crowd has gathered to dance, drink and chat in the pouring rain. By the glow of a 6-metre inflatable pink balloon, hundreds drift about the square, where a band plays at one end and a DJ at the other. It's Praça Roosevelt, a recently re-inaugurated square in central São Paulo, and those who make up the smiling, socialising crowd have answered the call of the digital social networks to be here, following a hashtag, #AmorSimRussomannoNao ('Love yes, Russomanno no'), downtown to a street party against the mayoral candidacy of Celso Russomanno.
Poll ratings of up to 35% for Russomanno, a smarmy, untested politician with links to the Igreja Universal do Reino de Deus, a powerful evangelical church, had so alarmed a swathe of the city's creative types that an ad hoc anti-Russomanno movement flickered to life on the web, then moved onto the street. Connected via Facebook and rallied around a loose network of art spaces, cultural centres, music venues and clubnights, artists, musicians, journalists and allied trades promoted the Friday-night party on their timelines and Twitter feeds from Wednesday on, posting status updates and tweets featuring the hashtag.
Some of them changed their Facebook profile pictures to shocking pink, the colour chosen as a motif for the party, or wore hot pink T-shirts that ended up plastered to their bodies as the rain came down, muffling the sound of a hardcore band to one side of the square, a forró band under an inflatable structure on the south side, and a DJ playing hip hop and funk at the other end. The latter was an impromptu outdoor version of the regular Friday-night happy hour at nearby Matilha Cultural, an edgy little cultural centre whose programme also features art exhibitions and films.
Matilha is just one of a ragtag set of socially conscious axes around which these sections of the city's creative set revolves. Others include the roving clubnight Voodoohop, the art gallery Choque Cultural, and related art collectives like SHN and Bijari. BaixoCentro is a group that has organised a series of edgy street-based events over the past few months, while Casa Fora do Eixo is a multimedia hub/music venue/improvised TV studio in the heart of Aclimação, where a series of debates under the #AmorSimRussomannoNão banner have been held over the last few days, live streamed at PosTV.
What's going on
A shared love of São Paulo is one of the bonds that brings these groups together, as is the perspective that the city is sick. 'For years, São Paulo has been becoming a more aggressive, individualistic, expensive city, and ever more controlled,' read a call to action on Facebook last week on the Friday party's event page. On his own Facebook timeline, one of the party's organisers, the journalist Bruno Torturra, praised the city's spirit of resistance – but not before eloquently laying out some of its uglier realities: 'A city that prides itself on work, not on kindness and gentility. That prides itself on its buildings, not its parks. An excellent place in which to earn and spend money, but where it's impossible to forget it. Grey, expensive, oppressive and stressed out: I've been asking myself for years why I insist on living in São Paulo.'
Praça Roosevelt itself, renovated over the past three years at an estimated cost of R$55 million, is emblematic of some of the problems facing the city. Heavy on concrete and hard surfaces and tragically light on trees and greenery – that's the story of São Paulo's life – the square made an ideal venue for the anti-Russomanno party in that it rained and rained, but there was no mud to deal with. But as well as no mud, the praça also has no drinking-water fountains and no toilets – and nowhere to shelter from the rain, to discourage street sleepers.
Party political
What was it about Russomanno that had so rattled people? 'He represents the very worst of Brazilian politics,' said Torturra, speaking to me on Saturday, following the party. 'Not only for vacuousness of his candidacy – he's a demagogue, a hypocrite, and he comes from a very shady career background. But also because the people behind him are part of a power play by the Igreja Universal: an evangelical church that's very dangerous – sordid. It was frightening to think he might really get into power.'
Back in the square on Friday night, a dance performance breaks out on one side of the praça while on the other side, Matilha DJs play to an improvised dancefloor (watch from 01:50). Those less prepared to get wet gather along the eastern flank of the square, spilling in and out of the theatres and bars that range along that side of the square. And despite the intentionally non-party-political nature of the movement against Russomanno, in one of the theatre lobbies, Studio 184, there's a makeshift HQ for the campaign for another of the mayoral candidates: Fernando Haddad of the PT (Partido dos Trabalhadores – the Workers' Party of President Dilma Rousseff). It makes sense: for many of those present, a vote for Haddad means a vote against not only Russomanno but also against José Serra, the leading candidate and an establishment figure, as well as a former mayor of São Paulo who left his post in 2006 in order to run for the juicier job, which he won, of Governor of the State of São Paulo.
Haddad activists gathered outside the theatre lobby were wearing shocking pink T-shirts reading, 'Se quer amar, não erra: nem Russomanno, nem Serra' ('If you want to love, make no mistake: neither Russomanno nor Serra'). Wasn't it a little sly, I asked William Nozale, one of the activists working for Haddad's candidature, not to openly endorse Haddad on the T-shirt? 'There are plenty of places in which to declare yourself for a candidate, but equally there are spaces where you can declare yourself against another,' said Nozale, who lives on Praça Roosevelt. 'The election has two stages, so the most important thing right now is that one of these two,' he said, pointing to his T-shirt, 'should lose.'
As the weekend wore on and the social networks continued to fizz with discussion, the anti-Russomanno motif began to turn to pro-Haddad declarations in some places, and hot pink profile pictures to be replaced with decisive letter 'H's. Is Haddad a natural ally, or just a practical choice in order to avoid ending up with Russomanno as mayor? 'He's a good candidate,' says Torturra. 'Of all the candidates, he's probably the most open – he's someone with whom dialogue would be possible. And if he wins, we'll definitely be doing that – following through and trying to talk to him about measures for the kind of city we want to live in.'
Russomanno out
Bringing the anti-Russomanno campaign to a close, the results of the election, the first stage in a two-step process, were announced on Sunday night. Serra led with 30.75% to Haddad's 29.98%, taking them both through to a second vote, while Russomanno crashed and burned with 21%. A planned Russomanno event at a club on Avenida Paulista was hastily cancelled, as Twitter buzzed with jubilant tweets.
Was it the hashtag that saved the day? Almost certainly not. A glance at the colours on the map displaying the final results for the city overall show true-blue Serra dominating the more affluent central and western electoral regions decisively, easily doubling Haddad's percentage almost throughout. Plain as day, it wasn't in the neighbourhoods frequented by the thousands-strong #AmorSimRussomannoNão brigade but in the millions-strong working-class strongholds of the city's south, east and north-western regions that Haddad and the PT won their chance in the second round.
But whatever the numbers, last week's euphoria and activism may have won the motley movement of creatives a new maturity and a sense of cohesion. 'São Paulo always prioritizes the private over the public,' says Torturra, citing new laws that restrict the right to public protest. 'In a city like this, occupying the streets for a party is a very political act – an act of resistance; and it's also a cultural act: an act of love.' Friday night's gathering had a dash of that, plus good music and most of what a great street party needs – including a minor stand-off with the police that for some, represented the true inauguration of the brand new Praça Roosevelt (see my film of part of that here, or below). And a brand new hashtag is already doing the rounds ready for the second stage of the election, a run-off between Haddad and one-time mayor José Serra: #FaçaAmorNãoFaçaSerra  – 'Make love, not Serra'.
[vimeo 50958717]
[Photo by Claire Rigby. It reads – Russomano out – for independent culture]