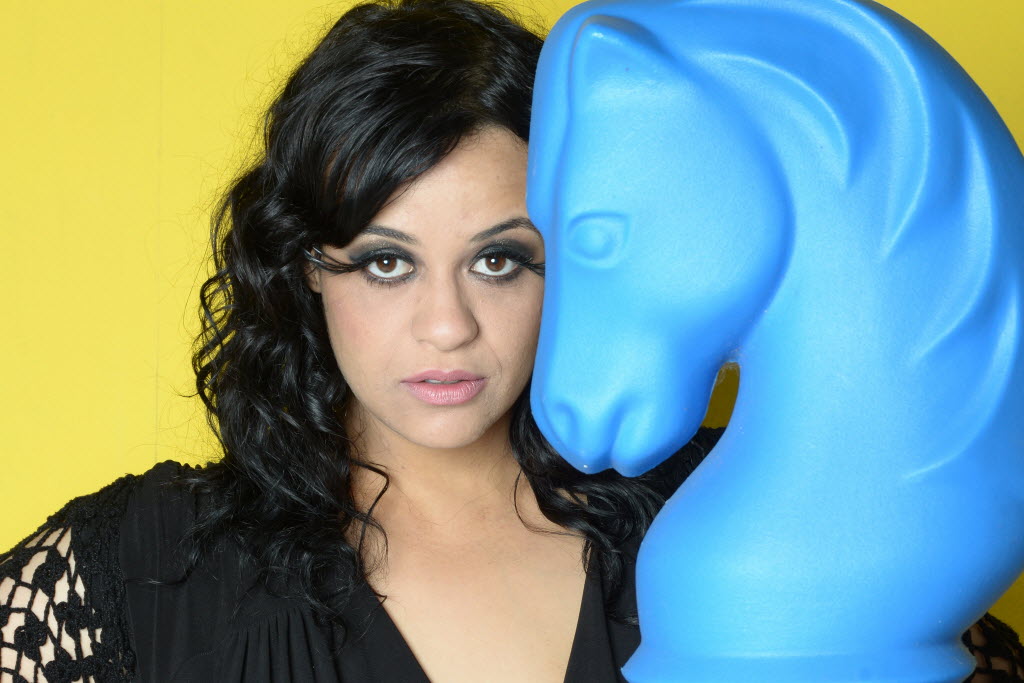 An interview with Tulipa Ruiz, the exciting and cutting-edge Brazilian musician, and the video to her contagiously funky and kooky rock hit, "É".
by Dom Phillips
Tulipa Ruiz bounded on stage at Rio de Janeiro's Circo Voador recently, and the packed crowd of hundreds began singing along to every word. And continued until they finally let her go, many songs later.
This was a gutsy, ebullient performance with moments in which both crowd and singer seemed delirious with happiness. In which Ruiz's highly distinctive voice – at times operatic, at times huskily seductive – took precedence over the funky and eclectic Brazilian pop ensemble, flavoured with a string section, that backed her.
Brazilians are famously one of the most welcoming audiences in the world. If a show is done well, with passion and brilo, it will be welcomed. But if the singer fails to deliver, he or she will be booed. Brazilians value good musicianship, singers with originality, and they are unlikely to turn off if the arrangements get a little weird, or if a song breaks off into an unexpected direction. All of which Ruiz's music is wont to do.
In short, Brazilians take their music seriously. And knowing a lot about music does not make  you a nerd. I remember watching a tribute show to the late samba genius Cartola in Rio some years ago with a table of middle aged women, who bickered happily amongst themselves about who had produced which of his albums.
But even given that, the massed singalong Tulipa Ruiz's show prompted in Rio is not all that common. Clearly she had hit some sort of collective nerve. She agreed to answer five questions by email, put to her somewhat at random in the hope of learning something about one of Brazil's most exciting and original singing talents.
"For me it was overwhelming," Ruiz said of the reaction at Circo Voador. "I'm never going to forget what happened there." She noted that the fact her latest album, 'Tudo Tanto', her second and best, is available for free download might have helped. But beyond this, rather endearingly had no idea why people might like her quite so much. "The identification and warm reception people have is an enigma for me," she said. "A good enigma."
One element might be her originality. In visual style, as in her music, Tulipa does not fit the usual Brazilian stereotype of a female singer – essentially a Latina Jessica Rabbit in a party frock, all lips, eyes, hair and cleavage. Not for her the svelte, old fashioned glamour of country music, or sertaneja star Paula Fernandes. Instead Tulipa dresses like an art student run amok at a thrift store, and flings herself around the stage with abandon, like she's having too much fun to care what she looks like.
For Brazilian music fans, the quality of the lyrics is as important as that of the music. Perhaps one reason why the 1930s samba great Noel Rose is so celebrated, as indeed is Cartola. At Circo Voador, a particularly raucous response greeted Ruiz's song 'É' ('Is'). It is a contagiously funky, and kooky, Brazilian rock number about a modern love affair between two independent adults, something of an antidote to the over-sweetened stardust of so much modern pop.
"Pode ser ou é
De algum jeito a gente se deu bem
Com tempo pra respirar
Com tempo pra ser bem mais que dois."
In English: "It could be or is/Anyway we got on well/With time to breathe/With time to be more than two."
"Dez mil coisas por segundo
Pelos dias que a gente aprendeu
Dez milhões de coisas que a gente é."
"10,000 things a second/For the days that we learn/10,000 things that we are."
Ruiz explained: "It's about people who grow, who modify themselves, and who nevertheless like to be together." In short, she said: "A love in motion". Here is the video, shot seemingly on the hoof in London:
[youtube 42j4rcn994A]
Equally refreshing is her attitude to downloading. Downloading in Brazil is rife. Why fight the inevitable, she argues? People might start with a download, but then see a show, and then buy her CD. "I think the download is the beginning of the relationship (between singer and fan)," she said.
Today's music fan finds music anywhere, from youtube to vinyl, Tulipa noted. "The profile of the music listener today is mutant, if I restrict the download of my album, I make it more difficult to access," she said. "For two weeks my album was the top seller in the (music and book store chain) Livraria Cultura. I'm proud of this, because it happened after I liberated the free download." Here it is. Click BAIXE AQUI (download here):
And of course it creates more fans to pack into shows like this, and witness the flourishing one of the many rare talents in modern Brazilian music, which is itself undergoing something of a creative renaissance. And giving original singers like Ruiz – those who break the mould, yet know how to write a song and knock 'em dead on stage – space to grow.
Ruiz is also an artist, and her bright, colourful images are created on her computer. "I like a programme called Paintbrush," she said. "At times I print and paint with watercolour. I wrinkle, photocopy, scan. It is a mixed technique with free analogue-digital."
Our final question was about that very distinctive voice. Where does it come from? "From my parents' gramophone, from guitar circles with friends, from some opera lessons, and from singing frantically in the shower," she explained.
To Rome With Love, the latest film by Woody Allen – a popular director in Brazil – features a character who can only sing opera in the shower, and ends up taking a shower cubicle on stage with him. Tulipa Ruiz had no need of such devices to leave her audience at Circo Voador glowing with goodwill.
Photo: Rodrigo Schmidt