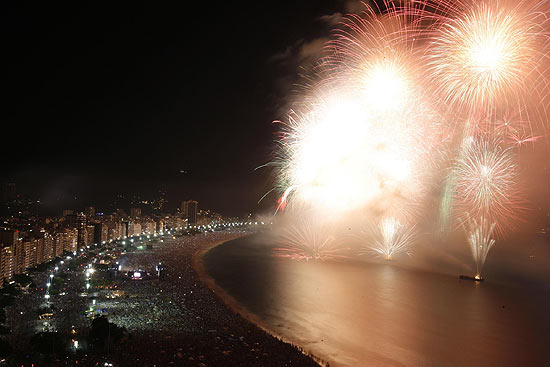 Fireworks blast over closely packed crowds on Copacabana Beach on New Year's Eve, and this year, things turned out much like most mega-events in Rio.
By Dom Phillips
New Year's Eve in Rio: it has a certain ring to it. This is the city that specialises in giant set-piece events that draw enormous crowds – be that Carnival, the Rock In Rio music festival, or looking forward, 2014's World Cup Final and the 2016 Olympic Games.
For Réveillon, as the turning of the year is known in Brazil, more than two million people dress in white, carry flowers, and swarm onto the beaches of Copacabana to watch an elaborate firework display that takes place over the sea. It gets so crowded that for weeks beforehand cariocas – Rio residents – were planning their party manoeuvres with military efficiency.
This would be my first New Year's Eve-proper in Rio, and I approached it with a certain amount of trepidation, having been through both the best and the worst of carnival and its uncontrollable crowds.
There was, legend had it, no way out of the melee once you were in, so the only reliable plan was to head to the after-parties on the beach near the rocky outcrop of Arpoador and hang out until morning. It would be chaos. It would be an unbearable crush of humanity. It would be deeply moving as the multitude ooh-ed and aah-ed at the fireworks. It would be neither of these scenarios. It would be both. And what if it rained?
Rio had arranged a dress rehearsal on Christmas Day evening: a free concert on Copacabana Beach with Gilberto Gil and Stevie Wonder. As it happened, the crowd, while some 500,000 strong, was manageable, the night was warm and dry, and everything was set for one of America's greatest soul artists to seal the night with a magical performance, much as he had done months earlier at Rock In Rio. Instead, he fluffed it by making a basic error.
Just like American rapper Missy Elliott had done at the Back 2 Black festival in Rio in November, Stevie Wonder began his show by trying to get the audience to take part in a mass singalong. This is something that deeply irritates me at the best of times. I don't want to hear the crowd singing and clapping out of tune and out of time. I want to hear the artist. It's even worse when it's the very first thing that happens.
Nor had anybody in Stevie's team bothered to explain to him that in Brazil, people speak Brazilianish and not English. It didn't matter how much oomph he put into his exhortations that "all the fellas go 'uh-huh'" and "all the ladies go, 'eeh-ah,'". Because the vast majority of this crowd couldn't understand what he was saying and nobody bothered to translate. Much of his show was met with incomprehension, rather than enthusiasm. People simply talked through the bits they didn't get.
When Wonder played his classics – 'Hotter Than July'; 'Superstition' – he was fantastic. When he laboured on with his audience participation, having failed to grasp that actually, nobody was singing along, or warbled through an interminable ballad, he was tedious. When he tried to hush the crowd – a brave move when you're in front of half a million garrulous Brazilians – it simply ignored him and carried on chatting.
But New Year's Eve was a much simpler proposition – better suited to such a vast crowd. Find a spot on the beach, survive the crowds, and watch the fireworks. No language barriers involved.
The gang of friends I was with gathered at an apartment in Catete to warm up, rode a subway train to Copacabana (we even got seats), then ambled up to the beach at Leme, where the crowds were less jammed-together and there was room to spread out sarongs on the sand. Someone had even brought a polystyrene cool box to keep the fizz on ice.
The fireworks were fantastic – brash explosions of every colour in the rainbow, supernovas of light over the ocean that had the white-clad crowd wowing in wonder. The walk to Arpoador afterwards took an hour and a half, but despite the crowds on the streets, it was noticeable how calm, peaceful and happy people seemed.
The scenes on the beach at Arpoador, where traditionally DJs entertain what had been described as a "more alternative" audience, encapsulated Rio at its best and worst. A huge crowd milled around a tiny tent on the beach, in which a DJ sweated over a sound system that nobody could hear. The beer was warm – and then it ran out. Overloaded cell-phone networks simply stopped working. Nobody could find anybody else. It felt like a mass gathering that had only come about because nobody could get a taxi home.
But as the night became dawn, the crowd thinned a little, and somebody – as ever in Rio – delivered more cold beer, Arpoador's chaotic gathering seemed to form itself into a relatively coherent party. And the best of Rio, the city that needs little more than a warm evening, some music, and a few drinks to have a party, showed itself.
Somebody set up a barbeque stall in the middle and began to give away free meat. Revellers jumped in the sea – men in their underpants, girls in their white party dresses. Everybody took photos and wowed at the view. People turned chaos and disorganization into fun and celebration, focusing on the fact that they were on a beautiful beach at dawn with their friends, rather than complaining about the tiny sound system.
Perhaps it is this positive, can-do attitude that makes Rio such a good place for giant, set-piece events. Where all that is required is enthusiasm and a smile, rather than complicated audience participation routines delivered in another language. Stevie Wonder should have hung around, he might have learnt something about non-verbal communication.