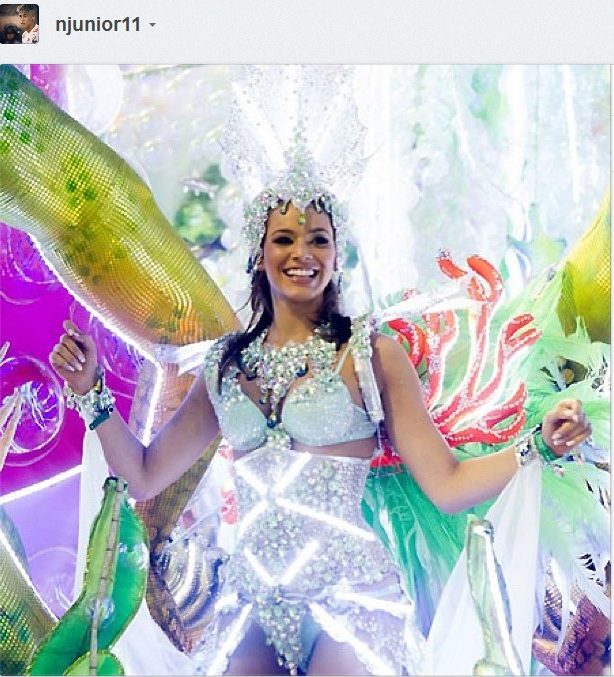 Neymar and Bruna are, for now at least, the country's Posh and Becks, says Dom Phillips. Looks profitable. Let's see if it lasts. Above, a picture "The New Pelé" instragrammed of her during Carnaval.
By Dom Phillips
"TOGETHER, AT LAST," read the headline on this week's edition of Brazilian celebrity weekly Contigo!. "To the delirium of all," it added inside. Readers might have been expecting an epic love story of Richard Burton-Elizabeth Taylor dimensions. Instead, it was the official 'coming out' as a couple of two Brazilian celebrities: soccer whizz Neymar, 21, and soap opera actress Bruna Marquezine, 17, photographed leaving a nightclub in the early hours of Monday morning.
The photos zipped around Brazil with the same nimble-footed agility with which Neymar skips around defenders. The Brazil team might be struggling. But Neymar's name is on a seemingly unassailable rise: he is currently on the cover of the US's Time magazine, which describes the Santos FC and Brazil attacker as "the next Pelé".
The romance had been on for months. Neymar even admitted it on the night of Bruna's appearance as a carnival queen for the Grande Rio, at the Rio de Janeiro Sambodrome. Both published photos on their Instagram accounts. Bruna with a soft-focus, romantic shot of them together; Neymar adding clapping hands and a smiley face to a photo of her he shared as carnival queen, complete with feathered headdress.
But Contigo! had more detail – and the couple at two parties together. With its tongue firmly wedged in its cheek, the magazine assembled an all-star squad of football metaphors as Neymar scored a "great goal" pulling Bruna; tried to "dribble the press"; "opened his defence" and assumed the romance.
Nor was that the end of it, because Bruna's family had not given Neymar a "red card" and even went to both his birthday parties – first at his beachside mansion, in Guarujá, near São Paulo. Then, as the couple then went public the next night, at a party for 800 of Neymar's close, personal friends at a São Paulo nightclub, the footballer spent half an hour singing with the bands on stage while Bruna whooped it up on the dance-floor. No shrinking violets these.
It was leaving the club that the photograph that made everything official was taken: Bruna in a two-tone glittery top and miniskirt ensemble made by Isabella Militão, a young designer in Ceará in the North East; Neymar more casual in white trousers, a black Emporio Armani T-shirt and a giant silver cross, his usual baseball cap backwards.
All this just months after the end of Avenida Brasil, a hugely popular soap opera, one of whose most popular stars was a photogenic and colourful footballer's wife, called Suelen. Who in turn personified a skimpy, and colourful personal style, – very young, modern Brazil – called piriguete.
Purely coincidentally, Bruna had done a shoot for the Ceará jeans company Fill Sete, wearing denim shorts, and the magazine was invited into her dressing room for its interview. Her look? You might call it 'piriguete posh'.
Brazil has not, in recent years, had a celebrity pairing like this. And celebrity couples generate headlines like viruses, as the combined star power of both supernovas into something bigger than the sum  of its parts. Think Beyoncé and Jay-Z. Michelle and Barack. Or Gisele Bünchen, because the world's richest supermodel is considerably more famous in the USA because she is married to one of the country's top football players, Tom Brady. It's a win-win situation for all involved.
And then there is the big daddy of all celebrity couples, the marketing mothership that is Brand Beckham. English soccer star David Beckham, now in the twilight of his playing career, has become something of a sporting ambassador for the UK. His wife was formerly known as 'Posh', the moody one in the Spice Girls who didn't sing very much, but has transformed herself into Victoria, a designer and celebrity who hangs out with Hollywood stars. Beckham's looks have given him endless advertising opportunities. His sense of style, and no doubt his wife's undoubted fashion nous, have made him a 'metrosexual' fashion icon, face of a zillion upmarket brands. And bar the odd kiss n' tell scandal, their marriage has survived.
Neymar, who already has a son with a former girlfriend, is a Beckham fan. His father and manager told me so in an interview a couple of years ago that Beckham was something of an icon for his son not just as a player, but also as a career model. "He knows what he's doing. He is a really centred guy. He is an idol for everybody," the player himself affirmed to me a few months afterwards. Like Beckham, Neymar is keen on personal grooming and his beauty treatments were for a time, a theme in the Brazilian press. He loves clothes and jewellery and spends heavily on them. Brand Beckham has an impressive earning power. Neymar is already making way more from adverts than from his playing. It's not hard to see where this could be going.
A Brazilian celebrity couple: soap star/samba queen plus soccer ace. Bruna and Neymar. Neymar and Bruna. Brumar. Or better, Neynar. Together, at last.
Just a word of warning for the young couple. Not all celebrity couplings bear such fruit. Katie Perry and Russell Brand have already fizzled out, to the apparent benefit of neither of them. Ben Affleck picked up his Oscar on Sunday for Argo and remembered being there as a confused kid, for the Good Will Hunting screenplay he wrote with Matt Damon, not really knowing what was going on.
Affleck is back on top. And did not mention another confused period in his career, when he dated Jennifer Lopez, they became known as 'Bennifer' and made a flop movie together, Gigli. A period when Affleck, according to no less a source than Reuters, "risked becoming a laughing stock". "It doesn't matter how you get knocked down in life, cause that's gonna happen," said a tearful Affleck, receiving his trophy. "All that matters is that you've gotta get up."
So Neyna, hang on tight and just say no to all movie offers, okay?