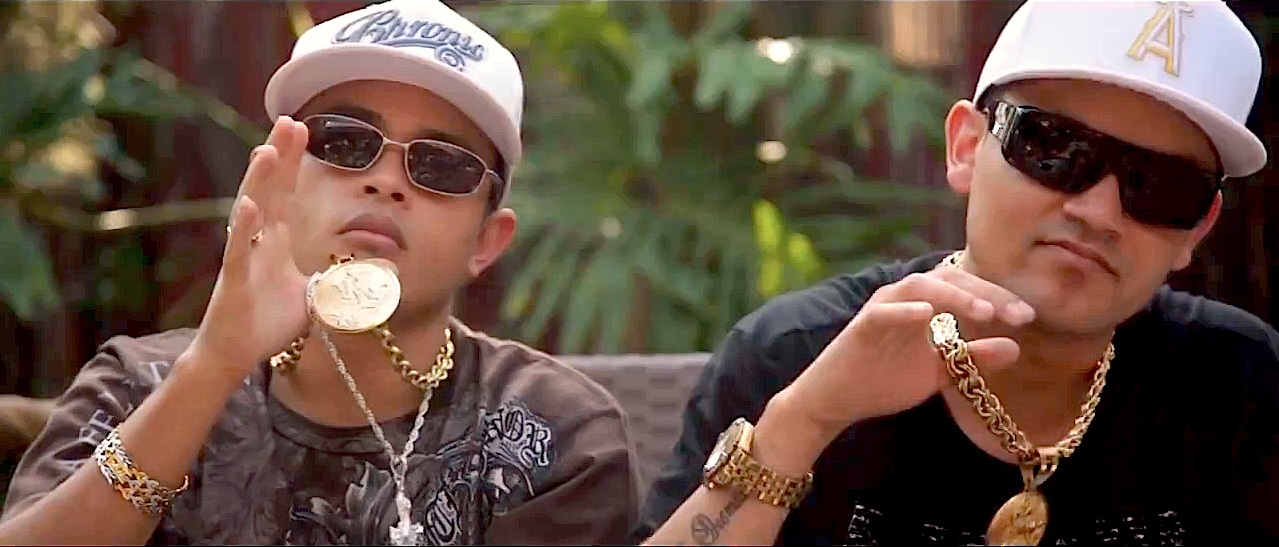 Brash Funk Carioca emerged in the 1990s from the illegal underworld of Rio's favelas. Now, in a nod to North American rap traditions and Brazil's new economic moment, a group of kids in São Paulo has hit it big using the music to celebrate conspicuous consumption.
By Dom Phillips
Wearing gold chains and baseball caps, two young men drive Lamborghinis past palm trees and up the driveway of a huge, white mansion. A bugle sounds. And the beats begin.
As does a luxurious party, in which Brazilian rappers Backdi and Bio G3 perform surrounded by women in short, figure-hugging outfits, while sipping champagne, gambling, and smoking big cigars.
This is the new video for their song 'Vem Com Os Trutas' – literally, 'Come With The Trouts', but 'trout' here is street slang for friends. Published on March 18, the clip has already been seen over 70,000 times on youtube.
And its depiction of an expensive lifestyle in which conspicuous consumption reigns supreme is another sign of how much one type of carioca funk, Brazil's distinctive and hugely-popular, bass-driven hip hop dance music, has changed.
This is funk de ostentação, or 'ostentation funk', and it is, says Bio G3, made for a socially-mobile Brazil. "People are doing well. They stopped complaining," Bio G3 – Cleber Alves, 29 – told From Brazil.
"A champagne já tá no gelo e as gatas tão na sofa," the pair chant in the track: "The champagne is already on ice and the gatas (literally cats, but slang for hot girls) on the sofa."
In one scene, Bio G3 gently kisses the enormous silver cross hanging on a pendant around his neck in the mansion's bathrooms while a glamorous blonde watches entranced – though whether that's by the rapper or the jewellery is, perhaps deliberately, left ambiguous.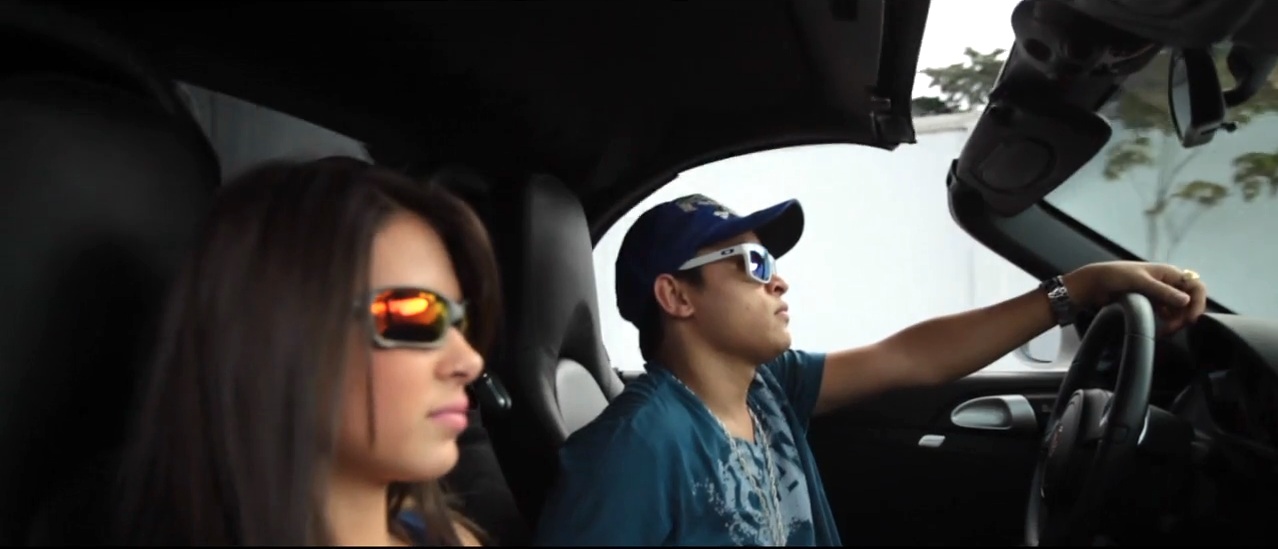 Ostentation funk is last year's hit, and there are hundreds of videos like this, in which expensive champagne is lovingly poured (close-up on the label); motorbikes and jet-skis are ridden; and pool parties are packed with curvy girls in bikinis dancing lasciviously.
The blue 100 real notes (worth $49) – the highest denomination in Brazil – feature heavily. This video by MC Guime, called 'Plaque de 100' (100 Plaque) has been seen 23 million times. In it, he flaunts a R$100 note with his face on it.
In this video for his track 'É Fluxo' (It's Flow), São Paulo MC Nego Blue parties on his own private plane.
A cigar is lit with a R$100 note in this video for the track 'Os Invejosos Vêm' (The Envious Come) by Rio artist Menor de Chapa.
Carioca funk, or just funk, as the sound is often known, has been around for decades in various forms. In its current incarnation, as a brash, confrontational ghetto music, since at least the late 1990s. The sound is characterised by clattering, electronic beats, over which rappers, or MCs, deliver rhymes about sex, violence and life on the sharper end of Brazilian society.
"Rap, for Black America, is like our CNN," Public Enemy vocalist Chuck D once remarked. As Brazilian hip hop is a much more specialist sound, concerned more with protest – a "manifesto", as Bio G3 calls it – it is funk that fulfils this role in the country. Although, musically, the sound has more in common with the Miami Bass that inspired it, or with dancehall reggae.
Funk has long been associated with the Rio de Janeiro favelas it came from. But with funk de ostentação and its glorification of the conspicuous consumption that is so rife in Brazil, São Paulo seems to have stolen Rio's funk thunder.
In 'Vem Com Os Trutas', Backdi and Bio G3 chant:
"São Paulo não é bagunça tem que manter o respeito/é selva da pedra, terra da garoa," they add. "São Paulo is not a mess, it has to maintain respect/it's the stone jungle, the land of drizzle."
The city's legendary work ethic even gets a mention when the rappers declare: "Nos temos dispozição de matar um leão por dia" – literally, they are ready to kill a lion every day, a phrase often used by entrepreneurs and workers to describe meeting the challenges of the working day.
"Consumption in São Paulo is bigger, the city is bigger," said Bio G3. "Today, funk in Brazil is São Paulo, no doubt."
This is all a long way from funk's beginnings at illegal parties, or bailes, often run by drug gangs deep in Rio favelas where police rarely trod. British journalist Alex Bellos wrote about the scene in the magazine Mixmag in 2001, and returned to the subject in 2005 in this excellent Observer Music Monthly piece.
This Brazilian documentary Favela On Blast is one of a number of films made about the genre.
Initially despised by the Brazilian upper classes, funk soon took acquired a certain cachet: dangerous, edgy, ghetto. In 2005, it was even rather daringly played at the Christmas party of a famous, and very mainstream Brazilian television presenter I attended. Now it's heard all over Brazil.
Wth ostentation funk, the style seems to have come full circle: Backdi and Bio G3 also have a song called 'Classe A', the term for the highest-income segment of Brazilian society. And there is even a documentary about ostentation funk.
Bio G3 used to do hip hop, but switched to funk eight years ago because he saw he could "reach a bigger public". He claims to have invented ostentation funk in 2008 with an ode to his expensive sunglasses called 'Bonde de Ju Ju'. But it is over the last 12 months that the style has caught fire.
"I didn't imagine the impact it would have," he said. "It became gigantic, it became mass, so today we represent this category."
Brazil too has changed since funk first emerged from Rio's favelas. Perhaps the music needed to change with it. As Vincent Bevins noted in his piece about class last week, around 40 million Brazilians rose out of poverty over the last decade – many of them into what is usually called classe C – or class C.
This is usually described as a new middle class. Though it could be argued that class C resembles more the British working class of the 1960s and 70s, as they bought their first washing machines, colour televisions and foreign holidays.
It is class c that drives Brazilian consumption, which in many ways drives the economy. As a result, the upper A and B classes have had to become used to the sight of Brazil's nouveau riche on flights and in restaurants that were formerly reserved for the rich. A new reality they frequently complain about.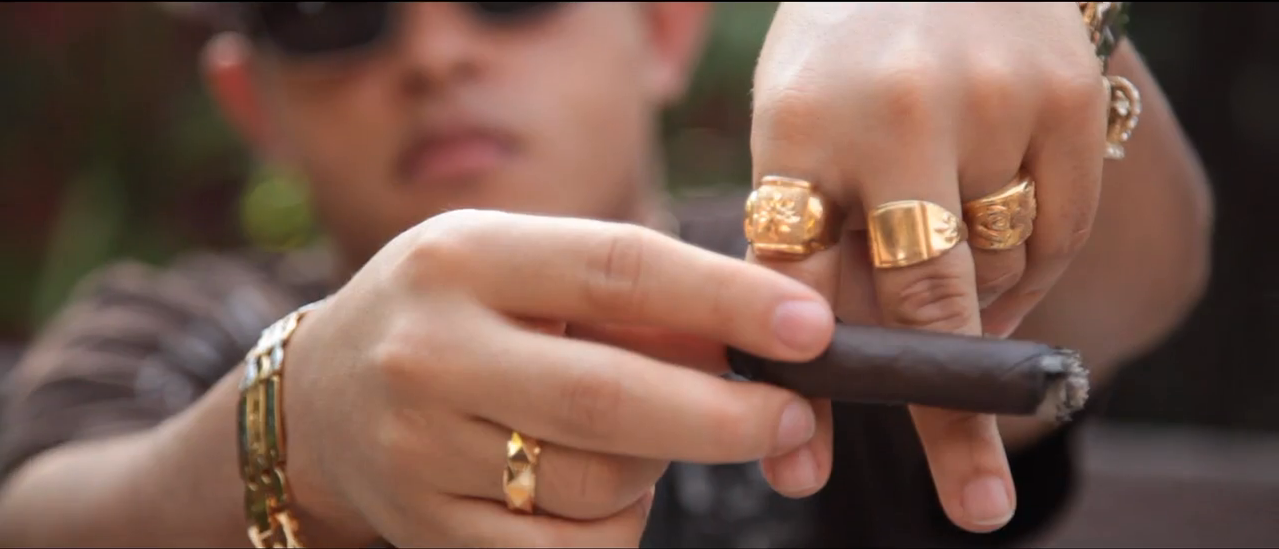 And while the Brazilian economy isn't growing very much any more, people are still spending. The Central Bank said in March that family consumption would grow 3.5% this year, driven by credit and near-full employment. Sales of luxury imported cars, such a staple in ostentation funk videos, keep growing.
And ostentation funk, too, has crossed over from the music's traditional fan-base in lower income groups to high society. Bio G3 has performed at upscale São Paulo clubs like Pink Elephant and Royale. "We are talking about consumption, and this began to please class A and class B, not just C and D," he said.
Released in 2012, 'Classe A' was aimed in both directions.
"The song is about consumption, but not just consumption, it is also about attitude. To be class A, is not just a condition, it is a personality, a quality," he explained.
In short, he seemed to be saying, it's about having style. Albeit with a heavy dose of bling – ostentation like this is nothing new in American hip hop. Nor are some Brazilian funk artists adverse to simply nicking a few glossy scenes from US rap videos to insert into their own productions when their own production budgets don't quite stretch to it.
There is social mobility too within the funk music industry. In 2005, Alex Bellos wrote about a Rio funkeiro whose hit had not provided a way out of the favela. When Rio MC Deize Tigrona recorded her hit 'Injeção' (Injection), in which a doctor's injection serves as a thinly-disguised metaphor for anal sex, she was working as a maid.
Bio G3 was born in the poor, outer São Paulo suburb of Tiradentes but now owns three imported cars, including a BMW. "I bought a house for my parents, so I'm in a better condition than I was," he said. "But it's not the limit."
All photos screen shots from "Classe A" and "Vem com os trutas"