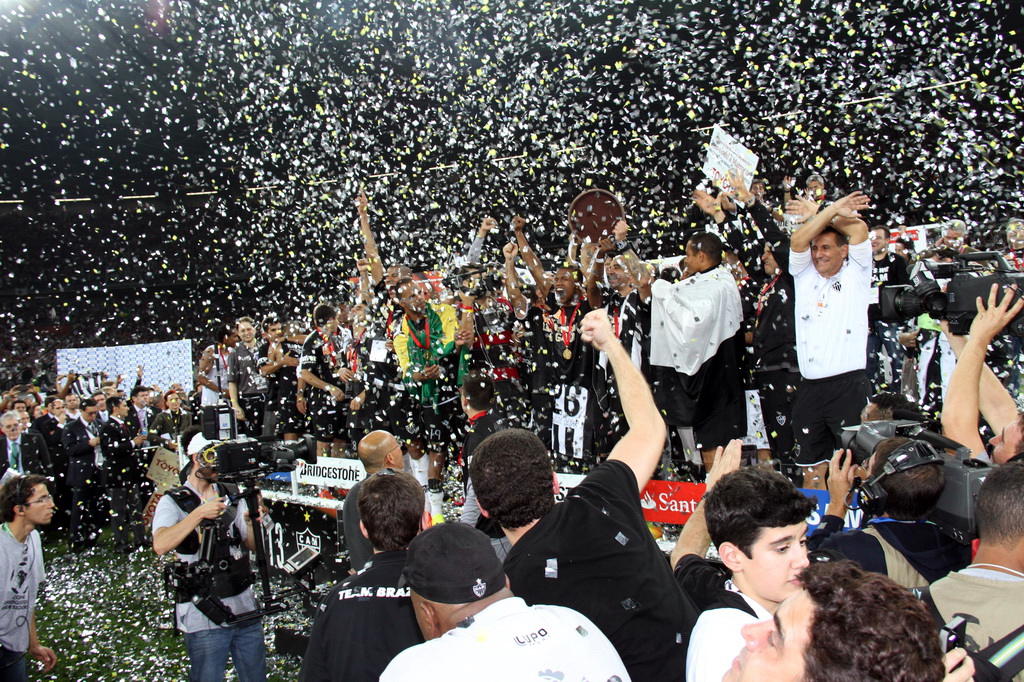 With the Pope in Rio, 58,000 Galo fans asked God for help against Paraguay's Olimpia. It seems he showed up.
By Dom Phillips
You had to feel sorry for the Atlético Mineiro fans, for so long  the nearly men of the Brazilian championship. Just after midnight this Thursday morning, at the end of extra time, the club's first ever Libertadores victory was so close they could taste it, and yet, somehow, still torturously out of reach.
There was tension and drama from the off – encapsulated by the sight of a supporter in Atlético bobble hat, but no shirt, closing his eyes, nodding his head to the chanting of the crowd, stretching out his arms and sinking to his knees as if in prayer. Everybody in the newly done-up Mineirão stadium seemed to be invoking God's help for victory.
There were 58,000 fans of Galo – or cockerel – as Atlético are nicknamed in Minerão in Belo Horizonte and the noise as 90 minutes went to extra time and then penalties was intense and unrelenting: a shrill bombardment of cheering, cursing and whistling, the sound of dreams about to be either realised or crushed.
Galo started Wednesday night's game, second leg of this final of South American's biggest soccer championship (the continent's Champions League) against Paraguay's Olimpia with a 2-0 disadvantage from the first game last week. But the idea that they might not actually turn this around and win was clearly not an option their fanatical supporters were prepared to consider.
Olimpia were not going to roll over though and survived wave upon wave of Galo attacks. Atlético fans roared their anthem, the endearing, and indeed inspiring: "Eu acredito!", or "I believe!" But even with goals from Jô and Leonardo Silva putting them two up on this tie, overall they were still level by the end of normal time.
If sheer power of will were enough, it would have long been over. But it's not the passion of the players or the fans that counts, it's the goals the team scores. Galo just couldn't seem to put that third one away, no matter how close they came.
Olimpia, who have won three Libertadores, were no pushovers. They looked organised in defence and dangerous on the break. Victor in goal saved Galo more than once, just as he saved them time and again on their way to the final.
Olimpia suffered too. The game was nearing its end, when, with Atlético 1-0 up, the Paraguayan team's Juan Carlos Ferreyra slipped past Galo keeper Victor and then, somehow, fell over in front of the open goal. It was a failure he will remember for the rest of his life, one that perhaps lost them the title. Then their defender Manzur was sent off – and Silva saved Galo with a headed goal.
With the score level over both games, the game went to extra time but despite the bellowing of the crowd, Galo could not make any of their strikes count. As fans behind the goal recited the Our Father, it was penalties. The tension, the noise, the anxiety by this point was barely tolerable even for bystanders. For Atlético fans and players, it must have been unbearable.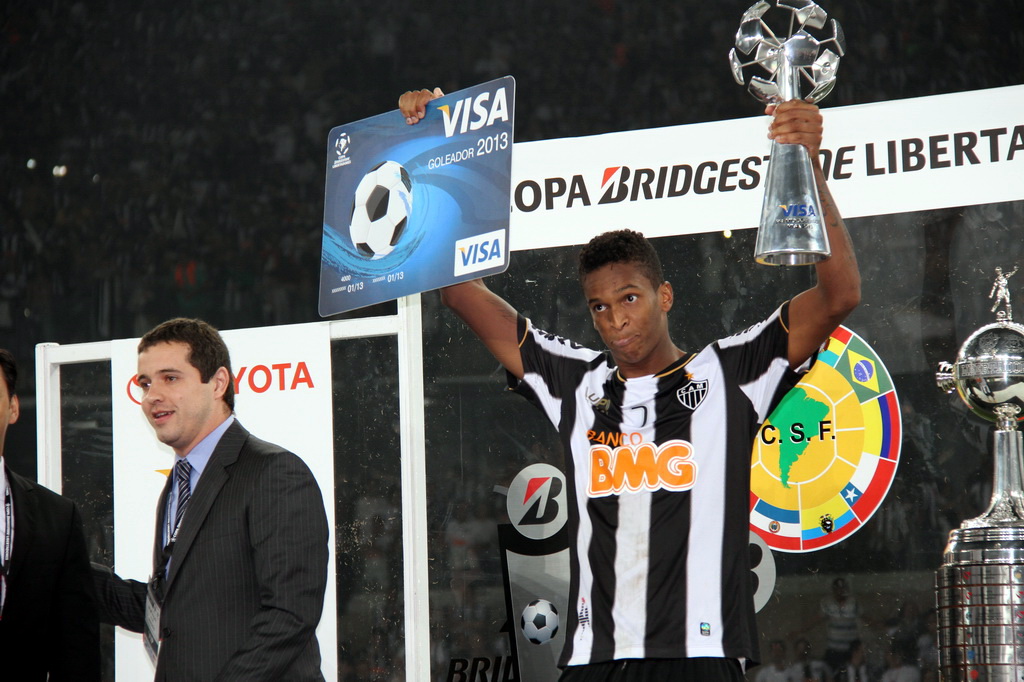 God entered the field when Victor, according to G1, was given a tiny crucifix by fans that he placed just inside his goal. Then Victor blocked Miranda's first penalty. Olimpia's goalie Martin Silva took the crucifix out. Victor put it back again. Everybody else scored until Gimenez hit the bar for Olimpia with the fifth of their penalties and the stadium exploded into uproar. Grown men cried tears of joy and relief. Women screamed in celebration. Flares, fireworks and confetti shot into the air. Some fans even invaded the pitch. Atlético's dream had come true. They were finally Libertadores champions. Celebrations in the city centre continued until past 5am Thursday morning.
It was a particularly delicious moment for their striker Ronaldinho. The 33-year-old was twice named the world's best player and had won pretty much everything else in football, including the 2002 World Cup with Brazil, and a Champions League and Spanish championship with Barcelona.
But since returning to Brazil with Flamengo in 2011, he had only nabbed state championship trophies. He had surprised everyone when he signed for Atlético in 2012 and appeared to regain some of his old brilliance. And he had shown flashes of genius as Atlético battled their way to their victory, but nothing particularly in this game. But his team-mates still sang his praises afterwards.
Galo coach Cuca, himself long regarded as a "nearly man" of Brazilian soccer, tried three times to host the press conference after the game, but his players kept sneaking up behind him to douse him in champagne. Even after the press conference finished, Galo striker Bernard was running around barefoot with a jester's hat on his head.
Security at one point tried to stop him entering the press room where the press conference had been held, thinking he was an overexcited fan who had somehow snuck in. "But I'm a player!" he protested. Cornered again by quote-hungry journalists, he praised his team's spirit.
"It's wonderful to arrive at training and see everyone smiling, everyone joking and nobody with a long face. Because in football unfortunately there are eleven players and you can't keep all of them happy," he said. "It is the happiness that God gives us to be able to play football."
In Belo Horizonte today, only fans of Atlético's bitter city rivals Cruzeiro, themselves twice Libertadores champioins, would disagree with him.
Photos Valdez Maranhão