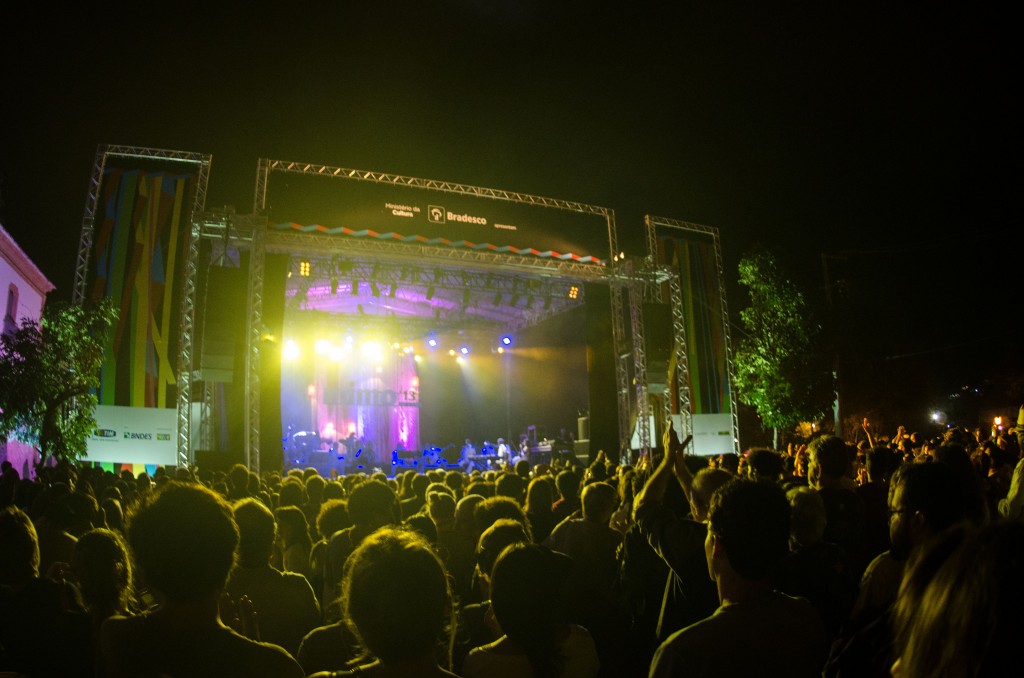 Paraty, the colonial coast town near Rio, is becoming known for its festivals which are attracting more and more culturally curious Brazilians. Dom Phillips reports from MIMO, featuring the complex music appreciated here.  Above: the Rum Group with Tareq Al Nasser, from Jordan. Photos Gustavo Otero
Dom Phillips
As the 20 or so white-clad musicians in the Jordanian orchestra on stage, called the Rum Group and presided over by Tareq Al Nasser, romped through what sounded like the soundtrack to a film you couldn't see, shadows of hula hoop dancers flickered on the white walls of the beautiful old church beside the stage.
Paraty is celebrated for its colonial architecture – and this first edition in the city of the MIMO Festival wisely made good use of it. But it is increasingly becoming known for its cultural events, each of which attracts its own distinct audience. Good news for the tourism industry on which the city depends.
Paraty's Jazz Festival, for instance, appeals to an older demographic, like jazz festivals all over the world. The creatively-inclined flock to photography weekend Paraty em Foco (Paraty in Focus). Panama hats and pearls are big at the FLIP literary festival. A younger crowd concentrates on getting drunk at the cachaça festival. New Year's Eve packs out the Pontal beach with axé pop for families and young couples.
MIMO slotted neatly into the "mid-30s, disposable income, culturally curious, and, in the case of the men, bearded" bracket. The festival started out as a caravan of local musicians in 2004 in Olinda, near Recife, as the Mostra Internacional de Música em Olinda. Like Paraty, it is a colonial town big on history and culture. Today MIMO is also staged in Ouro Preto, another historic city in Minas Gerais state, but this was the first time it had ventured this far south.
It was a well-organised event with proper sounds and lights and corporate sponsors that were easy enough to ignore – bar the heavily-branded shed that a cellphone operator inexplicably constructed in front of a screen – and all shows are free, though some of the events held in indoor venues like churches require you to get a free ticket beforehand. And MIMO had the advantage that Brazilian audiences are very open to music that might be seen as too difficult for other countries. Perhaps this is cultural – both samba and bossa nova are considerably more complicated both musically and rhythmically than rock and roll.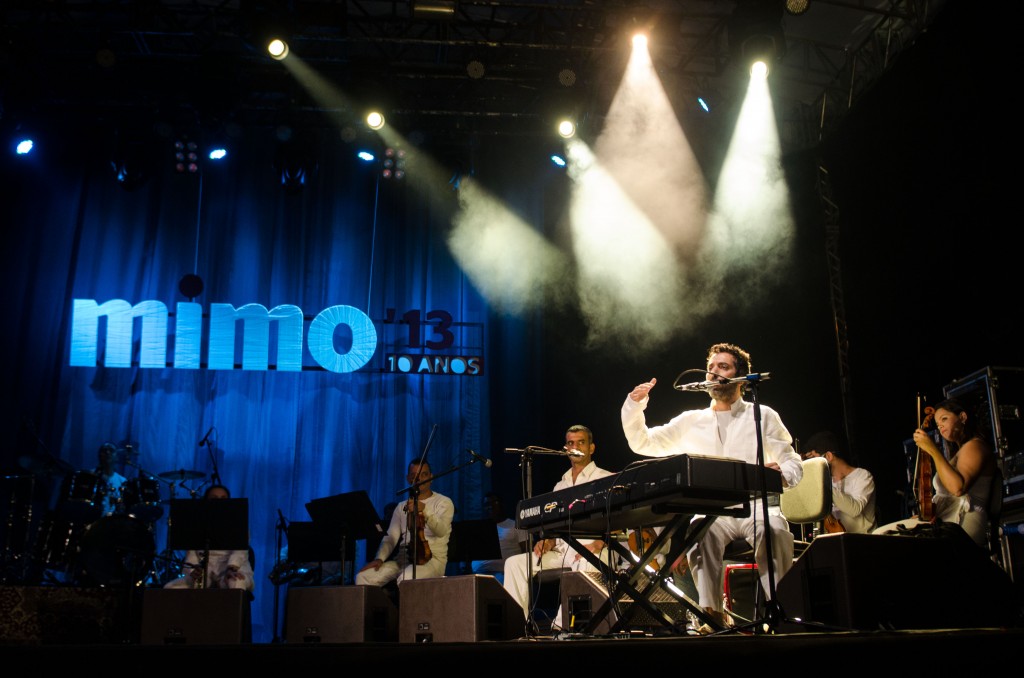 There was much interest at MIMO in headliner Herbie Hancock, a jazz funk legend who filled the same main square with an instrumental show in which he performed with a percussionist, a bass player and a drummer, leaving him in charge of every other melody in the show, much of which he played on a keyboard he could carry around like an electric guitar. Thus demonstrating a musical ego as impressive as his repertoire.
If the crowd did chatter in Hancock's quieter moments, they hooked back in for his career bookending hits 'Cantaloupe Island', a jazzy piano bar standard, and pioneering electro classic 'Rockit'. And the same audience stayed on to see Brazilian rapper BNegão and his group Seletores de Frequência combine lazy funk grooves and an evocative jazz trumpet with live hip hop into the early hours.
Despite its sleepy appearance, Paraty is not scared of the odd late night out, as its carnival shows – the best bloco (mobile samba street party) in town, Paraty do Amanhã (Paraty of Tomorrow), heads out of the main square at 1am. And most of the audience even stood through BNegão's 'hardcore experiment' with thrash metal, even though by now it was gone 3am.
MIMO also had early evening attractions, like the premiere of the film Olho Nu (Naked Eye) about the colourful Brazilian singer Ney Matogrosso, at which the artist himself appeared, and German multi-instrumentalist Stephan Micus both performing in a church and then hosting a Saturday morning workshop to explain his work.
All of which could make MIMO sound like hard work, when in fact it was just the right mix of culture, music and fun. Provided, that is, that Jordanian orchestras, hand-held keyboards, and hoola-hoop shadow dancing are your idea of a good time.