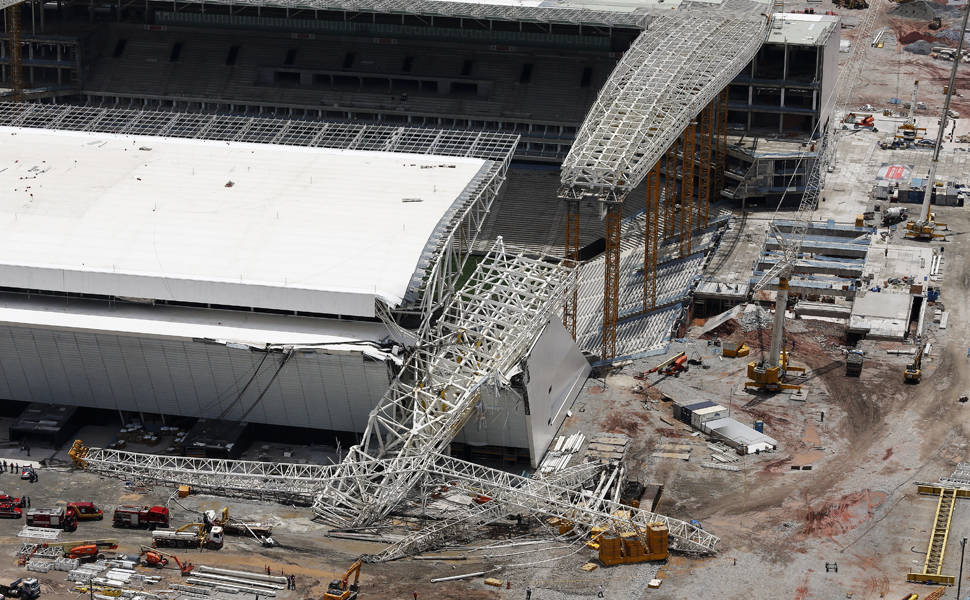 In the wake of the tragedy at the stadium to host the opening match in 2014 (pictured above), Mauricio Savarese speculates on the political logic behind the selection of the 12 host cities.
By Mauricio Savarese
"Who are the most powerful governors and mayors in Brazil?"
Back in 2008, that was a strange question to ask someone involved in choosing the 2014 World Cup host cities. But I did. So off the record, one of those guys pored over the map for the presidential elections, friends that former President Lula had to please and opposition members that couldn't be ignored. He said nothing about projects, common sense or legacy.
I thought he was just a tactless political analyst. But in the end he got it all right when the venues were announced in 2009.
To understand delays, missed deadlines and excessive spending it is important to know how the 12 host cities were chosen. After all, Brazil could have had a tournament with only eight stadia. It could also have made the arenas smaller in cities where local professional football is just a fantasy – as is the case in Brasilia, Manaus and Cuiaba. And if the issue really was bringing more tourists into great cities practically unknown abroad, then Belem, Florianopolis and Goiania would be in.
The most controversial case is that of Cuiabá, Mato Grosso. It sits in a place with little infrastructure, tradition in the sport or touristic appeal. It seems the most bizarre choice of them all. Its stadium almost certainly won't be finished by the end of the year. But it was one of the first to be counted in. The main reason: former governor and soybeans magnate Blairo Maggi was a key ally for the ruling Worker's Party (PT) to keep. He is a great fundraiser and a calming presence in his party.
The Amazon was the excuse for selecting Manaus. But it wasn't that easy: Belem was a bitter rival and it is the capital of a state governed then by another PT politician, Ana Julia Carepa. But former governor Eduardo Braga (Amazonas state) was a rising star in the government coalition. Everyone knew that he is a potential leader of the Senate and that he controlls votes in the North. Carepa was going the opposite way – bound for defeat in 2010. Manaus won, Carepa lost.
Fortaleza, one of the most violent cities in Brazil, is getting an astonishing six World Cup matches mainly because governor Cid Gomes is a close ally to both Lula and President Dilma Rousseff. He is such a key figure in the highly populated Northeast region that he is now eagerly attacking former party colleague and presidential hopeful Eduardo Campos so he can help Rousseff keep her job at the 2014 elections – to be held shortly after the World Cup.
Curitiba's bid was supported by two strong elements: the support of former governor Roberto Requiao, who is now a maverick at the Senate, and the difficulties PT has in Santa Catarina, the state where beautiful and football crazy Florianopolis is located. Natal's case was a little different: governor Rosalba Ciarlini was an important interlocutor within the opposition and runs a state that has given ministers, a speaker of the House and key congressmen to Rousseff's administration.
Brasilia's Mane Garrincha stadium was more of a case of political megalomania. Before he became the first Brazilian governor to be jailed during his term, the opposition's Jose Roberto Arruda decided he would try to win the right to hold the opener from Sao Paulo. To do that, he would have to build a venue for about 70,000 people in a city where you don't get that many people even if you add together all the attendants at all of the local league's fixtures. Later, the PT's Agnelo Queiroz insisted.
The troubled Arena Corinthians was also a political pick, although that had more to do with Lula's passion for his club than party politics. At first, the opener would be at São Paulo FC's Morumbi stadium. A completely new one only made it into the plans after a Corinthians chairman scrapped a deal on broadcasting rights and signed a deal that pleased the former head of the Brazilian FA, disgraced Ricardo Teixeira.
Sao Paulo's new arena was also suitable to deflate Belo Horizonte's bid for the opener – a late, but credible competitor because of former governor Aecio Neves' support. Neves is set to be the main contender against Rousseff in 2014, although polls now say the incumbent is likely to remain in power.
Rio, Salvador, Recife and Porto Alegre were all natural candidates to host World Cup matches, regardless of their possible political benefits.
It could have been worse. One of the closest allies to Presidents Lula and Rousseff is the Viana clan, running the distant state of Acre on the behalf of PT since time immemorial. Their capital, Rio Branco, is a tiny city of about 300,000 inhabitants in the middle of the jungle. That analyst I talked to a few years ago said then the place actually had a chance. Most Brazilians laughed pretty hard at that possibility. But the run up to 2014 shows a little love can always make stadiums happen.
Mauricio Savarese is a Brazilian journalist, originally from Ipiranga, in São Paulo's zona sul, and is the author of the blog, "A Brazilian operating in this area." He was formerly a reporter in Brasília for UOL and is active on Twitter.