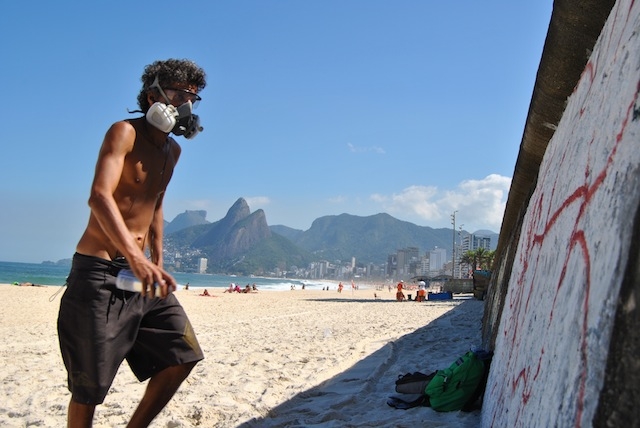 After years of an uneasy relationship between Rio's government and technically illegal street art, a new decree passed by Mayor Eduardo Paes has divided the city's much-celebrated community of graffiti artists. Above, artist PXE approaches a wall in Arpoador. 
On a purely aesthetic level, pixação—the spiky black glyphs that pop up at dangerously high spots on buildings and spread like a virus on any exposed stone (pixadores surface of choice)—doesn't offer much to most viewers.
The graffiti style, which is most dominant in São Paulo, can be academically explained in a few different ways: runic inspirations, pulled from old heavy metal album covers, or unbridled Dadaist impulses. But for most people, this doesn't make it any more palatable, which is the point. It's the "Kilroy was here" and "f*** the police" tags reduced to an illegible signature that empowers its author because it flies in the face of society's tastes. It's no wonder the government and property owners despise it.
To curb the spread of pixação in Rio, the government and property owners have long been more lax in enforcing vandalism laws against graffiti artists painting colorful, generally aesthetically pleasing works that both brighten up blighted areas and serve as a buffer against pixação.
For more than two decades, this gentleman's agreement has led to a booming graffiti scene in Rio, thrusting artists' works onto gallery walls, garnering the admiration of foreign artists and public art enthusiasts. It also managed to block some pixadores.
With a recent decree signed by Rio Mayor Eduardo Paes, the understanding between artists and the government was laid out in black and white. The new decree goes even further than a 2009 law permitting graffiti works on private property with owner's consent; it fully legalizes urban art works on designated city property.
The new law establishes a framework wherein graffiti works will be legal on some public spaces—columns, gray walls, walls without doors or windows, skate parks and construction siding works—so long as the sites are not historically protected. Viaducts and other public facades where anti-graffiti paint have been applied will remain off limits, "because of the high cost of implementation and the need for maintenance cleaning," according to the decree.
Eixo Rio, a quasi-governmental entity that works as a bridge between Rio's urban youth community and city hall, will administer the law, and will be responsible for creating an 11-member CariocaGraffiti Council. The group will meet bi-monthly to discuss projects and plans to implement "Cells of Revitalization" for potential tourist attractions.
But what should have been a moment of triumph for the city's urban artists, official recognition of years of hard work, was greeted by disdain by a large group of graffiteiros, who are worried that the government's involvement will have a stifling effect. Over the past few weeks, tempers have flared and artists in Rio's friendly, largely unified scene took to each other's virtual walls to launch polemics against the decree.
"The thing is, graffiti is a 'free form' of art, it normally doesn't ask for permission. So how are you going to put rules on it?" questions Lelo, a Rio-raised, São Paulo-based muralist.
One of the primary concerns with the new law is that with new, legally designated areas, enforcement will be tightened on popular, non-designated areas.
Many artists feel the new rules are about moving graffiti out of Rio's more touristy South Zone, a move aimed to appease the hordes of tourist that will descend on the city in the coming months. Criticism of this perceived "tourist-over-locals" agenda is often lobbed at Paes, and is one of the major issues those in the graffiti community have with the new law. But it is not the the only one.
"Usually in Rio, when a law seems to be progressive or vanguardist it's because it's hiding real fascist intentions," says Gustavo Coelho, a Rio-based filmmaker who directed a documentary on pixação.
Just a few days ago, workers wielding paint rollers were starting to whitewash the walls of Rio's jockey club, the city's answer to New York's 5 Pointz and long-known as Rio's best open-air graffiti gallery. Years of cultural history lost, almost.
Last year, city hall, through Eixo Rio, established an organization, #StreetArtRio, to digitally catalogue the city's urban art treasures. The imitative is aimed, among other things, at preserving the Rio's urban works through a massive online photo catalog. The murals that have graced the privately owned Jockey Club wall can still be seen on the site, saving viewers some sunscreen but perhaps diminishing the viewing experience.
For others, the decree, which most say was sprung on them without time for discussion, is a publicity-friendly diversion from other more serious issues confronting the prefeitura and Rio's disgruntled youth.
"It was a great distraction maneuver by the mayor to create completely irrelevant news that occupied a large space in the media that could have been used for a much more useful discussion about the problems facing the city, like removals of entire communities, the transport mafia, education, and corrupt and unprepared police," says Rio artist Villas, known for his colorful wooden "love birds" affixed in locations throughout Rio and beyond.
While some artists are left just with questions as to the motives and what the decree will actually achieve in practice, others are happy and willing to explore the new level of cooperation between artists and city hall.
Airá Ocrespo, a veteran of Rio's urban arts scene, is unfazed by the criticisms, choosing instead to move forward and test the boundaries of the decree.
"This decree positively impacts society because it acknowledges that graffiti is part of the urban landscape and is a reality in the city. This is a big paradigm shift," says Ocrespo. "Enough talking, let's do something."
Ocrespo's feelings are shared by a large group of artists, predominantly from Rio's Zona Norte and Zona Oeste, who are welcoming of the changes. For them, changing and experimenting with new arrangements is better than nothing. Whether Paes' new decree manages to fundamentally change how graffiti is done in Rio will only be seen in the months to come. The walls will speak for themselves.
Photos by Nathan Walters