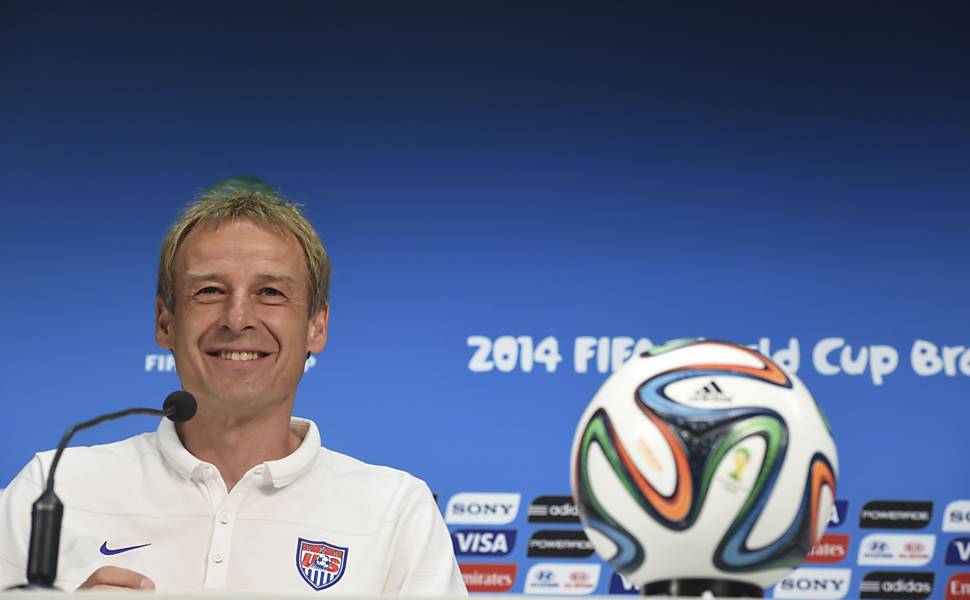 U.S.-Brazil relations are still strained due to allegations of high-level NSA spying and corporate espionage. In the unlikely event that the US team makes a strong showing at the World Cup this year, how would Brazilians respond? Any chances of success hinge on today's game against Portugal.
Nathan Walters
Rio de Janeiro
I am always surprised when I ask Brazilians which team will win the World Cup, and the answer is not a quick and emphatic "Brazil, of course." Most weigh the possible outcomes: the usual suspects Holland and Germany can't be ruled out (just a few days ago Spain was also on the list); Belgium could do something amazing. I always find this strange because whenever anyone asks for my forecast I invariably say "The United States, of course."
The response is usually greeted with laughter (sometime more than is really called for), and then a short explanation of why this is not possible.
Granted, even the (German) U.S. men's team coach Jurgen Klinsmann [pictured above] doesn't think his team can win the Cup. Though this may seem un-American considering US fascination with highly improbable situations, especially when it comes to sports, Klinsmann is probably right.
The team landed in the "Group of Deadliest Deathly Death," and even if it manages to advance to the final 16, the level of play will only prove more challenging. No problem. U.S. teams are known for miracles, such as the 1980 U.S. men's hockey team's Miracle on Ice, and Brazil is a country where miracles are known to happen. The Brazilian economic Miracle of the 1970s is still fresh in the minds of many Brazilians.
So the setting could even be perfect for a legendary upset by the U.S. squad that would most certainly go down in history as the "Miracle at Maracanã" or "Only a Dream in Rio" (with James Taylor intro music opening every ESPN segment analyzing the victory).
After the U.S. men's team hard-fought Monday night 2-1 win over nemesis Ghana, I found myself thinking more about what a U.S. miracle victory in Brazil might mean for the relations between the two countries.
The U.S. and Brazil have enjoyed a long, stable relationship and the citizens of both countries seem to have traditionally had a high level of interest, if not admiration, for each other. But the relationship has also been riddled by conflict, and recent spying allegations have laid bare some unsettling activities that have helped push the suspicions to a new high and State relations to a new low.
Brazilians have been notoriously fond recently of saying the World Cup is 'fixed,' though without any evidence. Some say an easy penalty awarded to Brazil in the opening fueled these suspicions.
If the U.S. were to, say, miraculously win the championship, the victory may not be attributed to skill or even divine intervention but the NSA or the Central Intelligence Agency (CIA), the well-known international agency of what is sometimes considered the US "Empire" in Latin America.
Snowden in limbo
Unsurprisingly, considering his previous residency in Hawaii, former NSA contractor/ spy is fearful of another Moscow winter and has made clear his desire to obtain asylum in Brazil. The move would put him closer to Glenn Greenwald, who lives in Rio de Janeiro, and who knows what type of eye-opening revelations could result from the two being neighbors or even roommates (if that is not fodder for a sitcom, I don't know what is).
Snowden says he is seeking refugee status in Brazil, but so far only a handful of Brazilian politicians have spoken in favor of granting the request. Is it too ridiculous to think a strong US appearance in the World Cup could affect this, for better or worse?
Trade secrets
Last week, Didier Deschamps, the coach of France's national team, told reporters that a drone had flew over his team's practice. Soccer espionage? If it was a drone it probably had to be the U.S., or Amazon, or the BBC gathering footage for its World Cup film.
The U.S. is still handling the fallout from accusations of NSA spying on Brazil's state-controlled energy giant Petrobras and Rousseff.
The revelations, based on documents disclosed by Snowden, rattled U.S.-Brazil relations, prompting Rousseff to cancel her official October 2013 visit to Washington, D.C. Joe Biden made the to Brazil last week to watch the U.S-Ghana match and took the opportunity to pay a visit to Brazilian president Dilma Rousseff. Is was a small step to repair strained relations, one that could be quickly forgotten with a U.S. Cup victory (unless president Obama makes the trips for the final).
Perhaps significantly, Brazil's Presidential office made no official announcement about the results of the Rousseff-Biden visit.
If the US wants any more attention during this World Cup, however, they'll have to beat Portugal today.