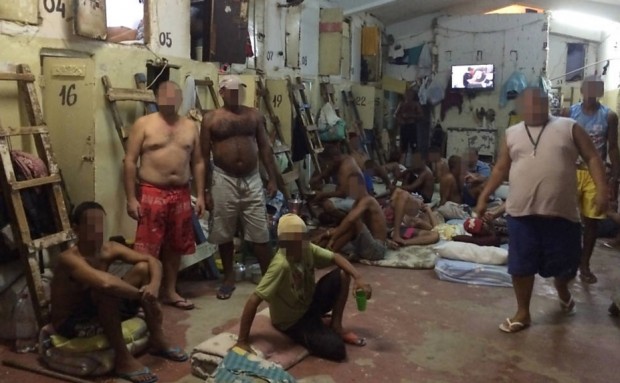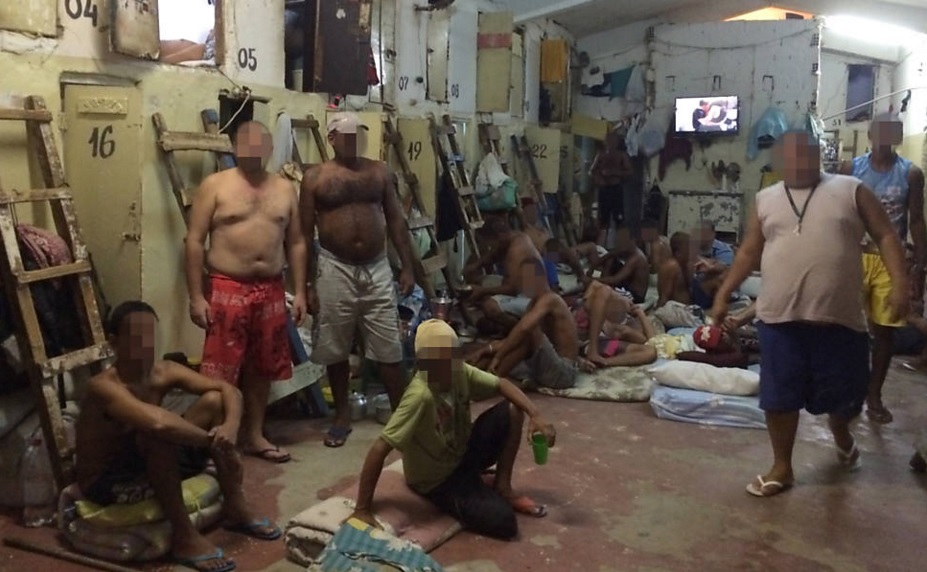 Overcrowded, unsafe, and wracked by sickening levels of violence, Brazil's prisons were described by a report published last week as a "human rights disaster". To make matters worse, many inmates have not yet been convicted but must endure months in appalling conditions while they wait for their case to be heard.   
By James Young
Belo Horizonte
If, as Dostoyevsky put it, the degree of civilization in a society can be judged by entering its prisons, then Brazil would appear to be in a sorry state indeed.
Last week the Human Rights Watch NGO released a report entitled "The State Let Evil Take Over" that described the shocking conditions inside the Curado prison complex (previously known as the Anibal Bruno prison) in Recife, the capital of the north-eastern state of Pernambuco, as well as penitentiaries in Itamaracá, about 45 kilometres away.
"During visits to Pernambuco's prisons in 2015, a researcher from Human Rights Watch entered a windowless cell without beds, in which 37 men slept on sheets on the floor. Another, which had six cement bunks for 60 men, lacked even enough floor space. A tangle of makeshift hammocks made it difficult to cross the room, and one man was sleeping sitting up, tying himself to the bars of the door so that he wouldn't slump over onto other men. In that cell, the stench of sweat, faeces and mould was overpowering," said the report, which was accompanied by a disturbing video, available on YouTube.
The study painted a gruelling portrait of overcrowding (Curado, which was built to house around 2,000 prisoners, is home to about 7,000), lack of sanitation, disease, sexual and physical violence, and described how criminal gangs controlled large parts of the institutions.
Perhaps most chillingly of all, Human Rights Watch revealed that a large number of the prisoners were pre-trial detainees – in other words, they had been incarcerated while awaiting trial for the crimes of which they had been accused.
Custody hearings, where the accused appears before a judge soon after being arrested, are, says the report, "required under international law but have not — until recently — been provided to detainees in Pernambuco or most other states in Brazil." According to the organization, "nearly 60 percent of the nearly 32,000 people held in Pernambuco's prisons have not been convicted of a crime."
An earlier Human Rights Watch study told how when judges held custody hearings in the state of Maranhão between October 2014 and March 2015, around 60 percent of those arrested were released on the grounds that pre-trial detention was not warranted, compared to 10% when no such hearings took place and judges based their decision solely on police reports. At least in this area there are some signs of progress – Pernambuco began providing custody hearings in August this year.
But that alone is unlikely to save Brazil's prison system, the horror stories surrounding which are almost too many to mention. There were a reported 62 murders in the Pedrinhas jail in Maranhão in 2013, and in January 2014 a video emerged from the prison showing the decapitated heads and bodies of victims of a gang feud.
There were also reports of the visiting wives, girlfriends and female relatives of prisoners being raped by the leaders of the criminal factions that effectively run large parts of the institution. In May this year the director of the prison, Cláudio Barcelos, was arrested, accused of taking bribes to facilitate escapes.
"The tragedy of Pedrinhas could have been foreseen and could be repeated, at any moment, in other prison complexes with the same problems," said Lucia Nader, of the Brazilian NGO Conectas, in January 2014.
Prison riots, which often end in fatalities, are alarmingly frequent. A 2013 outbreak of gang warfare in Pedrinhas, which has a long history of violent uprisings, ended with nine fatalities, and a riot in January this year in Curado resulted in three deaths.
Earlier this month a rebellion in the Penitenciária de Teófilo Otoni in Minas Gerais left three prisoners dead while fourteen escaped, and another riot in Governador Valadares in the same state in June saw two deaths. The Minas Gerais government says there is a shortfall of 26,000 places in the state's prison system.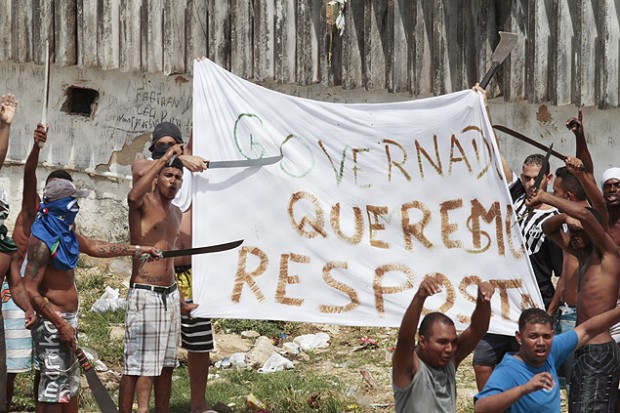 Nor are precarious safety conditions the sole preserve of the country's adult prisons. In September five breakouts in the space of eight days from the Fundação CASA young offender institutions in São Paulo saw a total of 117 inmates escape.
And even those outside the prisons cannot take their safety for granted – a few weeks ago 33-year-old Recife resident Ricardo Alves da Silva was brushing his teeth in the garden of his house near the Curado complex when he was shot and killed by a gunshot that came from inside the prison.
According to this Vice article by From Brazil contributor Ben Tavener, Brazil has the world's fourth-biggest incarcerated population after the United States, China and Russia, with numbers growing by 161 percent from 2000 to 2014 to reach 607,000 prisoners in June last year. At the same time the country's prison system is designed to hold a maximum of only 376,000.
In such overcrowded conditions, where floor space to sleep on, let alone beds, is often lacking, rehabilitation facilities are usually either limited or non-existent, contributing, along with the pervasive atmosphere of criminality within jails and the social conditions inmates are likely to face upon release, to an estimated recidivism rate of 70%.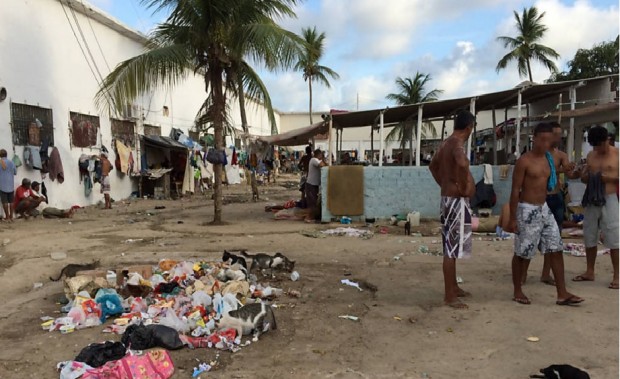 Yet the crisis in Brazil's prison system attracts considerably less political and media outrage than might be expected. President Dilma Rousseff discussed the issue during the 2014 presidential debates, saying that she believed Brazil had to change its entire prison strategy, and that rehabilitating prisoners was absolutely essential. In September a law was introduced that makes the provision of high school level education in prisons a legal requirement.
But at the same time, the powerful "Bullet Caucus" in the Brazilian parliament is pushing for a tougher stance on crime, including lowering the age of criminal responsibility from 18 to 16, which, according to an article by Stephanie Nolen in The Globe and Mail, would add an extra 32,000 people to the prison population in its first year.
It is not all bad news for those who find themselves on the wrong side of Brazilian law, however – provided they have the means to extricate themselves from their situation. Last week 28-year-old business administrator Juliana Cristina da Silva knocked down and killed José Airton and Raimundo Barbosa, city workers who had been painting a cycle lane in the Zona Norte region of São Paulo, while almost three times over the legal alcohol limit. She then fled the scene and was only stopped by witnesses 3 km away.
Following a night at a police station she was released on R$15,000 (U$3,850/£2,500) bail the next day, and will now spend the undoubtedly lengthy wait for her trial at liberty. It was the latest in a long, long list of similar cases in Brazil.
The sentencing of drunk driving fatalities is a controversial issue around the world, and there are obviously differences in the legal status of Juliana's crime (which is considered homicídio culposo, or manslaughter) and the offences committed by, or the charges awaiting, many of the prisoners in jails like Pedrinhas or Curado.
But at the same time, the right to bail and quickly granted provisional freedom of the former, compared with the denial of human rights and barbarous conditions doled out to the latter, provided a jarring reminder of the sense of inequality that often seems to surrounds the Brazilian justice system.
As an article in Carta Capital magazine entitled "Justice is Rich and White" argues, while such a system appears to automatically assume that the lower-class prisoners in the ruined cells of its overcrowded jails are marginais and bandidos ("thugs and criminals") when denying them pre-trial hearings and even the most basic living standards, a better-off Brazilian such as Juliana is treated rather like "a good girl who made a mistake".
That, perhaps, should not come as too much of a surprise, for in doing so Brazil's penal system merely reflects the divisions that run across the country's society like deep, jagged scars.