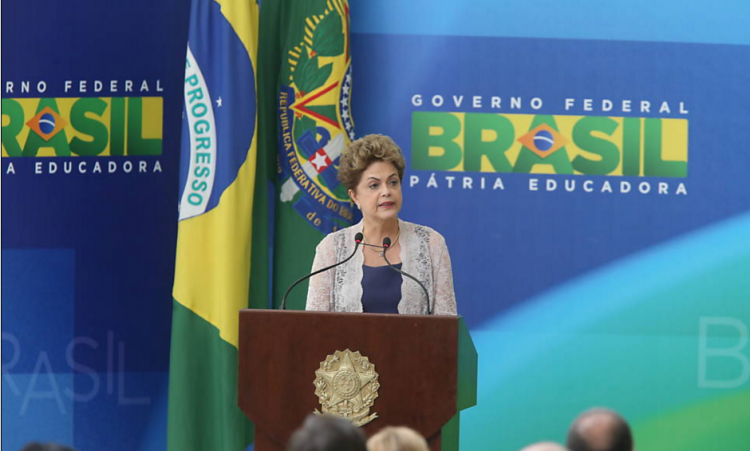 The economy tanked, President Dilma Rousseff faced toxic approval ratings and the threat of impeachment, the shoddy, megalomaniacal caperings of the likes of Eduardo Cunha, the Speaker of the country's Lower House, dragged an already grubby political landscape further into the mire, and the internet reflected back a society that often seemed riven by social and racial differences. Here, From Brazil looks back at some of the key themes of Brazil's annus horriblis. 
By James Young
Belo Horizonte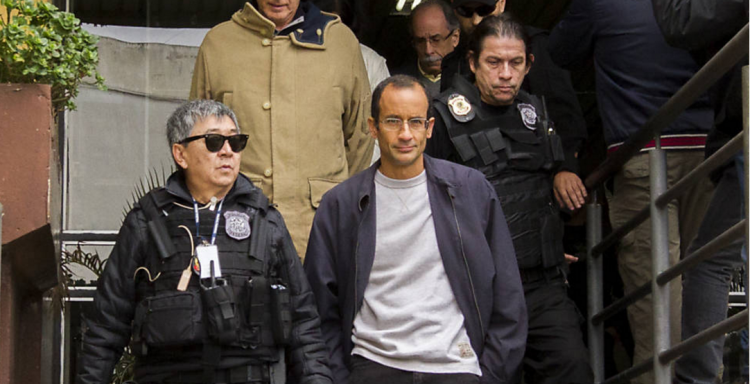 Working at the Car Wash:
In 2015 the sheafs of stodgy political news that take up the front sections of most Brazilian broadsheets finally contained something to interest ordinary readers, as the Federal Police's Operação Lava Jato (Operation Car Wash) investigation into corruption at giant state-controlled oil company Petrobras dominated the headlines.
The probe into the billion dollar bribes racket has seen the arrest of top executives from a number of Brazil's leading construction companies, along with several major political figures, including the former treasurer of the governing Worker's Party, João Vaccari Neto. It has also made a household name of the scheme's bagman turned informant Alberto Youssef, and earned Newton Ishii, known as O Japa or "The Jap", a police officer present at many of the arrests, his own carnaval theme tune.
Despite the damage wreaked upon Petrobras and an already reeling economy, many observers have suggested that by bringing down senior business leaders and crooked politicians Operation Car Wash represents proof that Brazil has finally sickened of its seemingly ingrained culture of impunity, and also demonstrates the healthiness of the country's separation of powers, plus the strength of its judiciary – Lava Jato has brought about the first ever arrest of a sitting Brazilian senator, Delcídio do Amaral.
Cynics, however, would point out that much the same was said around the time of Brazil's last enormous corruption scandal, 2005/2006's Mensalão ("Big Monthly Payment") swindle (and the enormous corruption scandal before that, and the one before that…), and suggest that it will take decades to root out the institutionalised culture of graft that riddles the country's political framework.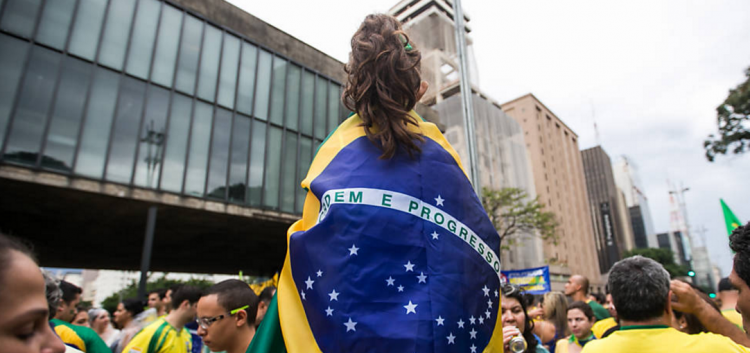 Protest Songs:
If things were bad in Brazil in 2015, then at least there was no shortage of people willing to speak out against them.  Many of the year's demonstrations had an anti-government theme – from the panelaço (pot-banging) demonstrations that echoed from the balconies of apartment buildings in August, to the hundreds of thousands that took to the streets in the same month to call for impeachment, an end to corruption, and in some disturbing cases, military intervention.
Critics, meanwhile, dismissed such protesters, who in many cases were drawn from the better-off sections of Brazilian society, as merely reflecting upper middle class self-interest. In response, pro-government supporters took to the streets in smaller, but still significant, numbers in December.
Perhaps more encouraging than such partisan affairs was the #NãoFechaMinhaEscola ("Don't Close My School") protest movement in São Paulo, where thousands of students occupied their threatened schools and eventually forced the state government to suspend an educational reform programme that would have meant the closure of hundreds of learning institutions.
There was also what at least one article described as an embryonic "Women's Spring" movement – a series of public actions in support of women's rights, built around opposition to proposed law changes that would further hamper Brazil's already extremely limited access to abortion.
Further highlighting the wrongs of the country's often unpleasant culture of machismo was the online #MeuPrimeiroAssedio ("My First Harassment") campaign, where, following the posting of a number of lewd comments about a 12-year-old female contestant on Brazil's MasterChef Junior TV show, tens of thousands of Brazilian women used social media to recount the first time they had suffered sexual harassment.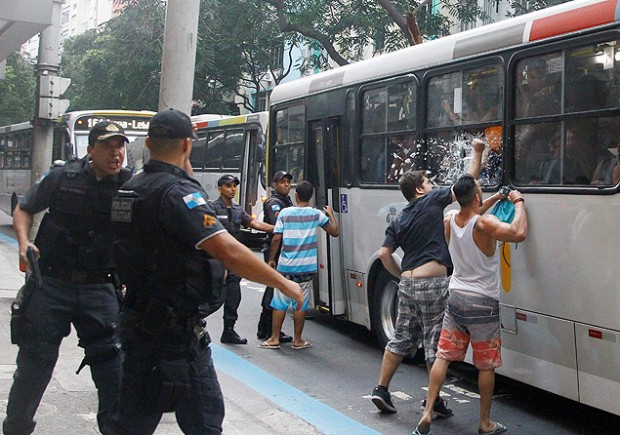 Fear and loathing on the internet (and everywhere else):
If social media has allowed many of Brazil's previously disenfranchised groups to find their voices, it has also given other sectors of society space to share the rather less edifying contents of their minds, and 2015 saw a number of incidents of online racism. Comments such as "I'll pay you with a banana" and "lend me your hair so I can wash the dishes" were left on the Facebook page of black actress Taís Araújo in November, while TV journalist Maria Julia Coutinho suffered similar abuse in May.
Imbecilic TV comedy show Pânico Na Band, meanwhile, briefly thought it would be acceptable to feature a character known only as The African, played by a "blacked-up" white actor, who spoke only in grunts and shrieks and acted in what the show's creators appeared to believe constitutes typical "African" behaviour – scratching at parts of his body, tearing at plants and leaves and performing a dance of thanks for the judges of a cooking contest.
Away from the headlines, such high-profile instances of prejudice reflected the reality of life for millions of black and working class Brazilians. The country's social divisions came to the fore once again in September when, following a number of mob robberies on the city's beaches, Rio de Janeiro police instigated searches of public buses running from the poorer northern suburbs to the wealthier seafront districts of Zona Sul.
At the same time, local residents set up vigilante groups to deal with the threat. "We're looking for kids in cheap flip-flops, who look like they haven't got R$1 in their pockets," said one of the brave urban warriors. "It's obvious that they're here to steal," said a shop worker from Copacabana. "If they want terror, we'll give them terror. It's self-defence."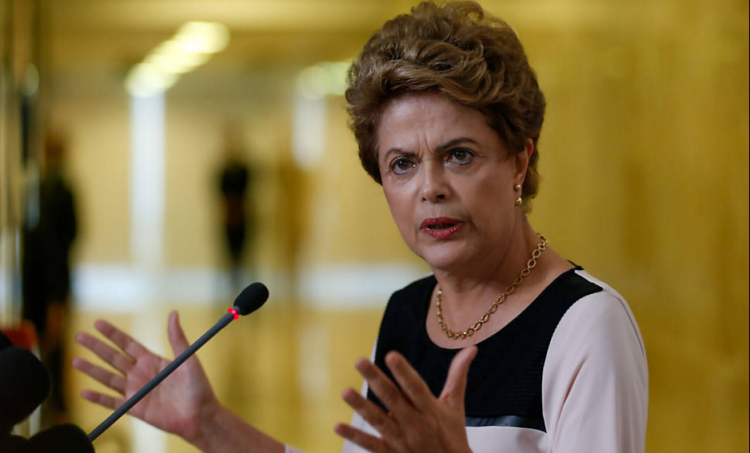 The Ballad of Dilma…
The storm clouds of impeachment have arguably been building in Brazil since President Dilma Rousseff narrowly clinched a second term in office back in October 2014, following a surly and spiteful contest. At the time, opposition leader Aécio Neves claimed he had lost not to a political rival but to a "criminal organisation", while his PSDB party muttered darkly about being the victims of electoral fraud. Rousseff's foes have been gunning for her and her governing Worker's Party ever since.
The argument for impeachment often seems to follow one of four strands: (a) we don't like Dilma very much (Rousseff's approval rating sank as low as 8% in August) (b) Dilma used to be president of Petrobras (see Operation Car Wash, above) and so must be a crook (c) we don't like Dilma very much and (d) the government's pedaladas fiscais, or financial manoeuvres, where transfers to banks responsible for making a number of welfare programme payments are deliberately delayed, making the overall financial situation look rosier (or at least less terrible) than it actually is. Such manoeuvres, say those calling for impeachment, are illegal.
The pro-impeachment movement believe the pedaladas fiscais represent their smoking gun, and proceedings against Rousseff are now underway. The government, meanwhile, say the pedaladas have been common practice since 2000, when the opposition PSDB was in power, while Brazilians who oppose impeachment describe the process as a coup. No one knows how this particular novela will end, but two things are guaranteed – it won't be short, and it won't be pretty.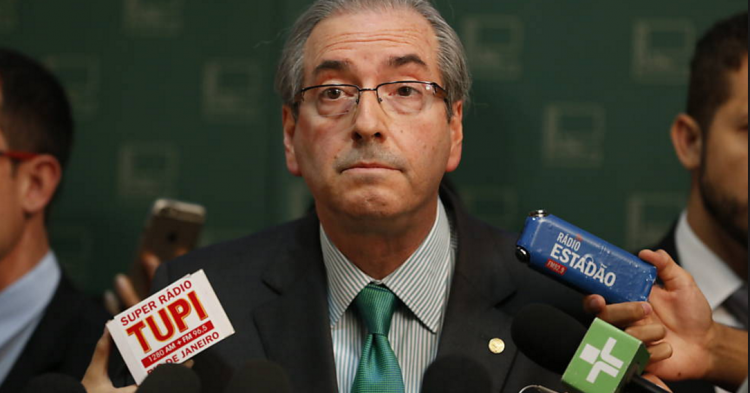 …and Eddie
No pantomime would be complete without a villain, and there have been few shadier politicians in Brazil in 2015 than Eduardo Cunha, dubbed the country's Frank Underwood by a number of commentators. While Cunha has not (yet) pushed a reporter under a speeding subway train, his skulduggery in other areas seems unbounded.
"In all my time in politics, he's the most Machiavellian figure," Ivan Valente, the experienced president of the left wing opposition party PSOL, told The Guardian in an interview in October. "Cunha is a politician who is opportunistic, intelligent, ambitious and corrupt."
Since being elected Speaker of the Lower House in January, Cunha – whose PMDB party remain, officially at least, Rousseff's allies – has made it his mission to add to the President's woes at every turn, leading campaigns to overturn government sponsored legislation or pushing through his own, usually government-unfriendly, bills.
At the same time, Cunha has been accused of taking millions of dollars in bribes as part of the Petrobras swindle, and of stashing the money in Swiss bank accounts. At least his alleged machinations have lent the often deadening weight of the recent corruption sagas a touch of glamour – Cunha's wife reportedly used some of her husband's ill-gotten gains to pay for lessons at Nick Bollettieri's exclusive tennis academy in Florida.
At the same time, he has attempted to use his authority to accept or reject impeachment petitions to curry favour with both the opposition and the government.
Cunha, an ultra-conservative evangelical Christian who supports the creation of a "Heterosexual Pride Day" in response to what he sees as a growing "gay ideology" in Brazilian society, finally pulled the trigger to initiate impeachment proceedings mere hours after Worker's Party deputies announced they would support an Ethics Committee investigation into his denials of the existence of the (alleged) Swiss loot.
Despite recently having had to endure the indignity of an early morning police raid at his home, Cunha snorts at suggestions he might step down, as well as the Frank Underwood comparisons. "He's a thief, a murderer, and a homosexual," he is reported to have said, "and I'm not".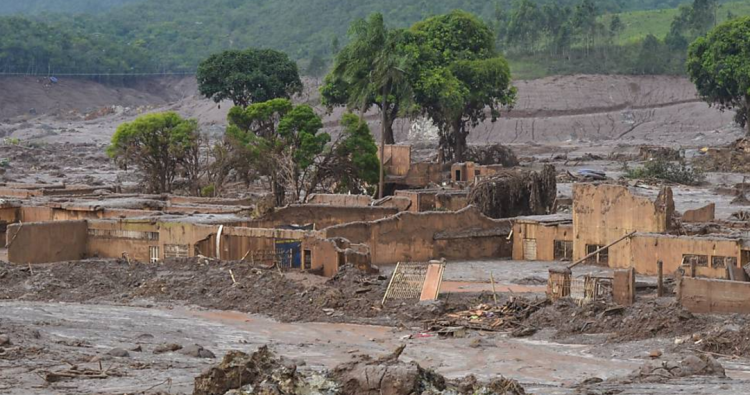 Sweet River No More
One of the most distressing sights of the year was the devastated landscape around the town of Mariana in the state of Minas Gerais after millions of gallons of mining waste burst free from a collapsed tailings dam.
At least 15 people are known to have died in the flood, and the ensuing environmental damage is likely to be catastrophic, with the sludge now having flowed down the Rio Doce ("Sweet River") to reach Brazil's Atlantic coast. "This is a permanent blow. The cost is irreparable. A lot of life forms are never coming back," Professor Carlos Machado, a researcher at the Oswaldo Cruz Foundation in Rio de Janeiro, told the LA Times in December.
Describing the dam burst as a natural disaster is misleading, however. This is a tragedy with human hand-prints all over it, with the aftermath revealing both the potential negligence of the mine's operator, Samarco (a joint venture between the Anglo-Australian mining company BHP Billiton and the Brazilian firm Vale), and the failings of Brazil's "outdated mining code and decrepit regulatory system". According to an article in The Daily Telegraph, only 400 of Brazil's 15,000 mining dams were inspected in 2014.
The environmental news was little better elsewhere – a critical water shortage saw São Paulo suffer long periods of water rationing as the south east of Brazil underwent its worse drought in 80 years, while almost a thousand towns and cities in the dry inland regions of the north east of the country declared a state of emergency because of a lack of water.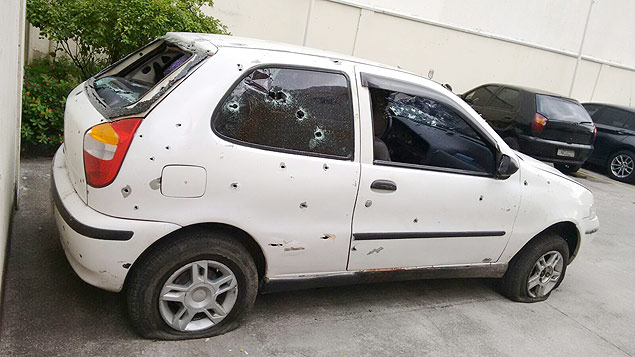 The Killing Fields
Police killings in Brazil are hardly a recent development – according to a report by the São Paulo based Brazilian Forum on Public Safety there were 11,197 homicides carried out by police between 2009 and 2013, a rate of six a day. Even so – perhaps it was down to greater media awareness or the ubiquitous presence of cell phones, useful for filming or photographing wrongdoing – the relentless stream of negative headlines involving Brazil's police forces this year felt unprecedented.
From 10-year-old Eduardo de Jesus Ferreira, who was shot and killed by police in the Complexo do Alemão favela in April (his mother claimed that a policeman standing over her child's body told her "I might as well kill you, just as I killed your son, because I killed a bandit's son") to the five young men slaughtered when their car was sprayed with bullets in the Lagartixa community in the north of the city in November, Rio de Janeiro was the scene of many of the police killings.
The September murder of four young men outside a pizza restaurant in Carapicuíba in Greater São Paulo (a police officer, who claimed the men had mugged his wife, was later arrested and accused of the crimes), and the death of 20-year-old Alisson Campos da Silva, shot and killed by police as he reached for his cell phone – which the officer in question believed was a gun – in Recife earlier this month, shows that Brazil's police murders, whether in the form of trigger happy cops on duty or extra-curricular vigilante killings, and which invariably seem to involve young working class black or dark-skinned men – are a national, not a local, disgrace.
As the writer and journalist Xico Sá put it when writing about such young men in an essay inspired by the footballer Flávio Caça-Rato (Flávio the Rat Catcher), who grew up in poverty in Recife – "some, like Flávio, escape, thanks to football, funk or rap, but most are lost along the way, little Rat Catchers doomed to a life amidst the human refuse or, worse, ended by the bullets (nothing stray about them) of the police – almost always dead by the time they are 30."