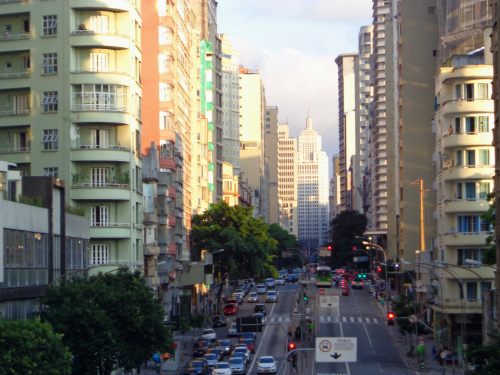 As the World Cup kicks off in São Paulo today, Claire Rigby presents Brazil's big bad city and reveals its best-kept secret: a heart of gold
Claire Rigby
São Paulo
World Cup visitors, welcome to South America's biggest, baddest metropolis. São Paulo's reputation precedes it like a shadow, slinking ahead with tales of hardship, violence and crime, and more recently, of a wave of protests, strikes and mass occupations. The city's mean-streets image are enough to give even Brazilian visitors a moment's pause as they approach its sprawling perimeter for the first time.
Once inside the megacity, the often dystopian landscape doesn't help. Despite its many lovely nooks and crannies, parts of São Paulo look like a city in the aftermath of an invasion – blackened, dusty and spattered with illegible graffiti, with what look like refugees roaming the streets, wrapped in blankets, bewildered. At the other extreme, featureless towers rise like luxury ghettoes from empty streets, with cars sliding in and out of their subterranean carparks silently, like drones.
There's no avoiding it: when Rio and Buenos Aires were in the line for the stunning good looks, São Paulo was busy elsewhere – jostling for its plucky, down-to-earth charm, maybe, or queuing patiently for the calm, quiet courtesy that is the city's surprising hallmark.
There's plenty of that kind of human treasure here if you look past the scrappy cityscape. First and foremost, the vast majority of São Paulo's inhabitants – who don't deserve the chaotic, badly designed city they are forced to endure – are friendly, unassuming, and above all, courteous in a wonderfully old-fashioned way. With the odd pang of trepidation over whether things will all run smoothly, for the most part paulistanos are excited to be receiving an influx of foreign visitors, albeit a little inexperienced at doing so – bona fide international tourists are a very rare sight in São Paulo.
But there's no shortage of enthusiasm for making people feel welcome. Out and about over the last few days, I've lost count of the time people have excitedly asked whether I, an obvious gringa, am here for the Copa; and people have suddenly started speaking to me in halting English, or freezing with stagefright, even when addressed in clear Portuguese. When a Brazilian journalist from this newspaper went undercover yesterday as a tourist, pretending to be from Croatia, one man offered to drive him to the nearest metrô station and told him, "Take down my phone number in case you need anything".
It's one of SP's best-kept secrets: that visitors are very, very welcome here. Another one is that when foreign tourists finally come to leave São Paulo – especially the more adventurous, city-loving type of visitor – more often than not they do so feeling unexpectedly fond of the place.
So drop off your bags, grab a shower – northern Europeans may like to note that hygiene is everything here, and unkempt and interesting is not a viable option – and hit the streets with the help of these handy SP pointers, below.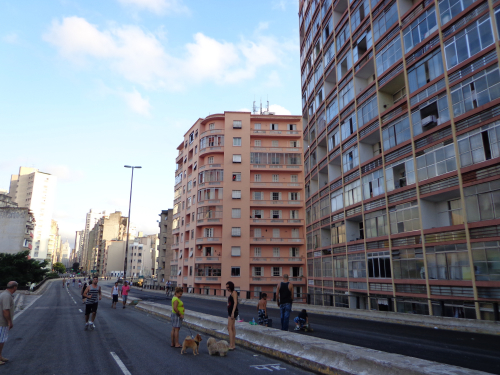 How to Learn to Stop Worrying and Love São Paulo
MAKE FRIENDS – This is not the ideal city to be on your own in. If you can, try and hang out with any locals you're lucky enough to meet, since they'll know what's going on, and where to take or send you. In terms of conversation, football looks like a winner over the next few weeks in particular, even if only in sign language; or ask well-to-do paulistanos where is good for lunch – they adore lunch, and they love talking about it. Some possible places to find your new best friends: at the serpentine communal counter at Bar Balcão; outside any number of Rua Augusta bars, in the smoking bit; in the jostling, very noisy crowds around the corner of Aspicuelta and Mourato in Vila Madalena; and at Tabuleiro do Acarajé, a friendly little snack joint close to Praça Roosevelt, where people often end up chatting. (The latter is included in a roundup I did of my top ten places for budget dining in São Paulo, here.)
SPEAK UP – Try some Portuguese, as few people beyond the neighbourhoods of Jardins, Vila Madalena, Itaim Bibi and others of the city's cosmopolitan, upmarket regions speak any English at all. A smile and a friendly "Tudo bem?" ("Everything OK?") is a nice greeting; and if the same is asked of you, an expressive "Tudo" will be perfect. "Thanks, bye" is "Ciao, obrigado" if you're a man, and "Ciao, obrigada" if you're a woman.
CUT SOME SLACK – Despite the above, you might notice sparks of well-intentioned panic in the eyes of people you address in the humbler parts of town, or attract a few curious looks: unlike Rio, SP receives a tiny number of international tourists, and many of them stay closeted in swish hotels. Be ready to overlook any social awkwardness from those unaccustomed to meeting foreigners.
BE COOL – Paulistanos have elegant, indirect ways of saying things, and although they're no pushovers, they rarely flat out say "No" to anything. Try playing along, so if you're invited somewhere you don't intend to go, just nod and say you'll try and make it. It's not seen as lying: it's impolite to refuse. On the street, people may prefer to send you off in any given direction than admit they have no idea where something is. Luckily, a certain amount of lateness in reaching your destination is acceptable, so take it easy on other people, too: being visibly annoyed at their lateness will be seen as rude.
LOOK BOTH WAYS – Be exaggeratedly careful in crossing the road. Drivers aren't accustomed to assertive pedestrians, and they won't be expecting to account for your presence at all.
DITCH THE BIKE – Getting to know a new city by bicycle might sound like a great idea; but in São Paulo, don't even think about it. It's suicidally unsafe to ride in traffic here, especially if you don't know the city. There are safer, monitored cycle lanes on Sundays, including along the iconic Avenida Paulista, and a cycle path along the city's perimetrical rivers, the Tietê and the Pinheiros. Avoid both rivers at all costs, however, unless you fancy retching as you cycle along their stinking, heaving slicks of filth. Stroll or cycle along the Minhocão instead – it's a brutal concrete flyover that slices through the city at 3rd-storey level, but is closed to traffic on Sundays and after 9.30pm, when it becomes a fascinating, well-frequented and peaceful place for a stroll.
CHECK YOUR ROUTE – The system of signage is very poor in São Paulo, many people don't know the areas they are standing in well at all, and even taxi drivers don't always know their way around. Study your route beforehand, and if a taxi has no GPS and the driver looks at you doubtfully in the rear-view mirror, abandon it and find another.  Taxis are generally excellent in SP: clean, efficient and professional; and if you download one of the apps – EasyTaxi or 99Taxis – you'll be laughing. But if your taxi driver is using the GPS system to watch television as he or she drives, then I don't know what to tell you. They do that a lot.
LOOK DOWN — Don't leave without a look at São Paulo from high up – the sight of the city reeling away endlessly on every side is an unmissable shock. The Edifício Italia, by Praça da Republica, is the easiest, highest and probably best option. If a cocktail in the swish Terraço Italia piano bar isn't a possibility, its attached viewing terrace is free to visit between 3pm and 4pm, Monday to Friday.
PARK UP – Paulistanos like to direct visitors to Parque do Ibirapuera, a massive park that gets very busy on weekends. It's a nice park, and it has a wonderful collection of buildings by the late, great architect Oscar Niemeyer. Prettier still and far more accessible for visitors with limited time to spare is Parque Trianon, a beautiful, deeply shady scrap of remaining Atlantic rainforest at the heart of Avenida Paulista, opposite the stunning MASP art museum.
EXPLORE — Unlike in Rio, where the beach is a relative leveller in bringing people together, physically at least, the classes are rigidly separated in São Paulo, with geography, custom and an elaborate social structure conspiring to keep it that way. Well-to-do paulistanos have a crippling phobia of coming face to face with the poor, and they avoid SP's downtown like the plague because of it – it's not just their fear of crime, though it's that too. Partly in consequence, parts of downtown are spookily empty at weekends and at night; but during the day, it's the most interesting part of the city, hands down. It's also the location of the FIFA Fanfest, in Vale do Anhangabaú, where you'll be able to watch all the matches on the big screens in a FIFA-fun-for-all-the-family! atmosphere. That's the theory, anyway. So pick out some places you'd like to see downtown, check to make sure that they're not in the middle of cracolândia ('crack-land'), and get to know São Paulo. The city awaits you with interest.
Follow @claire_rigby on Twitter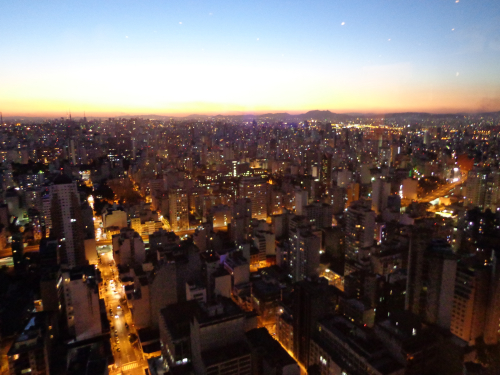 All photos © Claire Rigby